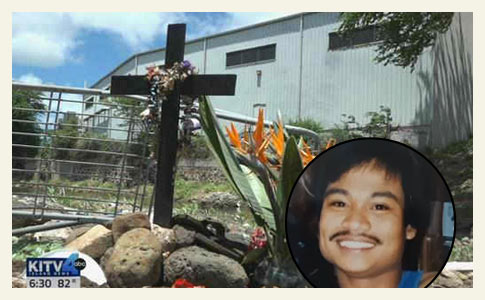 A cross marks where Crisencio Aliado, 52, was killed by two pit bull-mixes.
Dogs Returned to Owners
UPDATE 08/12/16: It was announced this week that Honolulu authorities released the two pit bull-mixes that killed a homeless man back to their owners. On July 29, the two pit bulls escaped the fencing from the dog owners' business, ContainerLand, and fatally attacked 52-year old Crisencio Aliado who was washing his clothes in a nearby stream. Police are apparently waiting on a formal report from the medical examiner's office before taking any further action.
"Normal" dog owners would have relinquished the dogs to authorities to be euthanized after a fatal attack. An antisocial dog owner would not.
There appears to be no state or local statute that allows police to impound and euthanize a dog that kills a person when a case lacks evidence supporting criminal charges. So in Honolulu, when a dog escapes its owner's property and kills a person on public property, no criminal charges apply unless the dog was previously declared dangerous. That is not uncommon in other states, but lacking the authority to impound and euthanize a dog that kills a person is uncommon.
All that local law requires in this case is for the ContainerLand owners to keep their two pit bull-mixes "secure" at their home. The public's safety is entrusted to the very same delinquent dog owners who failed to keep their animals secure at their business and the result was the violent mauling death of an innocent man. City Councilman Joey Manahan and Honolulu attorney Richard Turbin, who has represented dog attack victims in the past, both expressed alarm to KITV.
"That is a frightening prospect, when you have dogs who have killed a human being, running loose in a neighborhood." - Attorney Richard Turbin.
Turbin talked about a state statute that allows for any person to file an application with the courts of Hawaii for a "dangerous dog" designation if the person believes it is dangerous. We could find no reference to this in online searches, but Texas has a similar statute and is commonly seen posted on city or county animal control websites. That this right exists for Hawaii citizens, but is hidden from view, is the direct failure of the Hawaiian Humane Society and the city of Honolulu.
Nearby businesses also told KITV the same dogs had gotten loose in the industrial area before. Surveillance footage might exist for the deadly attack as well. One company said that police looked at surveillance video that showed Aliado picking up cans along the stream. Police did not say if they viewed any attack footage. Homeless people in the area told KITV they believed the same dogs were involved in previous attacks, but it is unknown if any were reported to authorities.
Second Victim Comes Forward
On the heels of this KITV update, the news group published a follow up, reporting that a second victim came forward. Francine Kornegay, who lives under the airport viaduct, told KITV she was attacked over a year ago by two dogs near the ContainerLand store in Kalihi. A witness called emergency responders who arrived shortly after the attack. Kornegay said she believes a man let three dogs out from behind a fenced area when two of the dogs, both pit bull-mixes, attacked her.
"I was in a wheelchair for a while after [the attack], I could not walk, anything. I couldn't care for myself." - Francine Kornegay
The owners of ContainerLand admitted that they helped Kornegay, who was transported to Tripler Army Medical Center. They paid for her antibiotics and brought her food, reports KITV. The owners said they had five dogs at that time -- at least three were pit bull-mixes according to their personal Facebook pages. The owners were unsure if the same dogs were involved in both attacks. The owners said two of their dogs died in 2015. One was memorialized on their Facebook pages.
The owners of ContainerLand said they feel terrible about the attacks, reports KITV. But they did nothing to prevent the mauling death of Aliado either. Their dogs had attacked at least once before and nearby business owners said their pit bull-mixes had escaped on previous occasions. Under an agreement with the Hawaiian Humane Society, the ContainerLand owners are "not to walk the dogs in their neighborhood," KITV reports. Quite the penalty after their dogs savagely killed a man.
---
---
Photographs of Suspected Dogs
UPDATE 08/04/16: On Tuesday, the Honolulu medical examiner determined that 52-year old Crisencio Aliado died from multiple dog bite injuries. A follow up news report by Khon 2 revealed the two dogs involved in the attack were pit bull-mixes that belonged to the owner of the nearby business, ContainerLand. Aliado was a homeless man who had been washing clothing in the nearby stream when the dogs attacked, according to the victim's friend Norbert Cardoza.
The Facebook profile for ContainerLand shows it was created by Michael Souza (his name is literally in the URL). Souza's father, Norman "Pops" Souza, who passed away last August, started the business, according to his obituary. ContainerLand is also known as Diamond Head Distributors or Island Distributors, states a reviewer on the business' Yelp page. The father's obituary also states these three business names along with the name, T&R Distributors.
The son is also listed as a business owner for ContainerLand and Diamond Head Distributors, the businesses share the same address.
Michael's personal Facebook page states he is married to Candace. Both of their Facebook pages overwhelm with photographs of their pet pit bulls. Between the two, they appear to have at least three pit bulls. However, the black male, named Bailey, died in January 2015, which leaves the two others as the culprits.1 The couple also breeds pit bulls and Michael apparently prefers the mix of 3/4 pure pit bull terrier with 1/4 pure pointer. It is unknown if the owners will face criminal charges.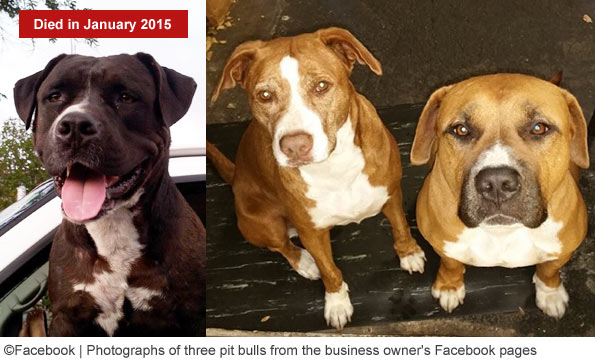 ---
08/04/16: Homeless Man Killed
Honolulu, HI - On Tuesday, the Honolulu medical examiner determined 52-year old Crisencio Aliado died from multiple dog bite injuries. Aliado, a homeless man, was attacked in Kalihi, a neighborhood of Honolulu. Khon 2 reports the attack occurred behind ContainerLand, a party supply warehouse. The two pit bull-mixes belong to the business owners. Witness Reno S. said, "There was a dead body. A guy was mauled. It looked like his leg and his head was all bloody."
Crisencio Aliado was found dead at about 7 pm Friday, July 29, on a stream bank near Marukai, along Kamehameha Highway.
One of Aliado's friends, Norbert Cardoza, said Aliado was washing his clothes in the stream at the time of the attack. "He was the most mild-mannered person you could meet. Didn't bother nobody. Just that he was homeless," Cardoza said. The owners of ContainerLand confirmed their two pit bull-mixes were confiscated after the deadly mauling and are currently being held at the Hawaiian Humane Society. The owner's claimed their dogs "somehow" escaped their fenced warehouse.
The last fatal dog mauling in Hawaii occurred in 2008, the death of 2-month old Iokepa Liptak.
1
When we published on August 4, we did not know that Bailey died last year. Upon further examination of the owner's Facebook photos, this became clear, so we updated that portion of the paragraph. Notably, on Bailey's memorial photo, one can see the container boxes in the background. In comments on the instagram photo, people ask, "What happened?" but the owner does not respond. Now a year and half later, the couple is set to lose their remaining two pit bulls due to the horrific violence, destruction and death they inflicted upon a homeless man.
Related articles:
07/01/14: 2014 Dog Bite Fatality: Woman Dies After Pit Bull Attack in Southeast Houston