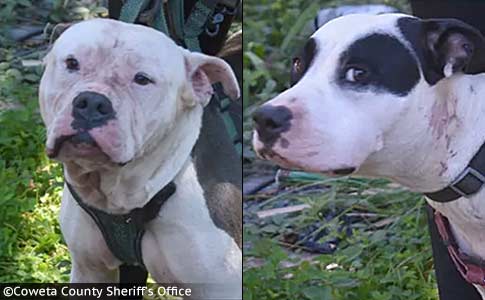 The two pit bulls that carried out a deadly attack in Coweta County, Georgia.
Man Killed by Dogs
Newnan, GA - A 21-year old man is dead after being mauled by two pit bulls in Coweta County. Alex Binyam Abraha of Atlanta, a possible intruder, entered a home on Walt Sanders Road on September 24 and encountered two pit bulls. He was found dead on the front porch when the homeowner returned. Coweta County sheriff's deputies responded to the scene. The Georgia Bureau of Investigation (GBI) medical examiner ruled the cause of death to be a dog mauling.
Investigators say that evidence indicates that Abraha was inside the home where the dogs were located, but at some point died outside the home. Investigators say the homeowner, who was not home during the fatal pit bull mauling, does not know the man or why he would be inside his residence. According to deputies, Abraha has active warrants out for his arrest in Fulton County. No charges are expected against the homeowner, who law enforcement did not publicly identify.
Fox 5 News captured footage of the home's front door and porch, which has a sign stating, "Never mind the dog, beware of owner!" Another sign states, "Lord, make me fast and accurate. Let my aim be true and my hand faster than those who seek to destroy me. Grant me victory over my foes and those that wish to do harm to me and mine. Let not my last thought be, 'If I only had my gun.' And Lord, if today is truly the day that you call me home, let me die in a pile of empty brass."
A week after the deadly dog mauling, investigators still do not know how Abraha arrived at the home in rural Coweta County, which is adjacent to Fulton County. No vehicle was found. Animal control officers seized both dogs. The future of the dogs, whether they will be returned to the homeowner, is undetermined. Typical comments left on social media include, "The dogs were just doing their job!" and "Even if it was an intruder, trespassing is not a death penalty crime."
View the DogsBite.org Google Map:
Georgia Fatal Pit Bull Maulings
.
Related articles:
08/25/21: 2020 Dog Bite Fatality: Doctor Found Dead in a Ditch was Killed by Roaming Dogs
08/07/20: Teenager Suffers Critical Injuries, Crushed Trachea, in Violent Pit Bull Attack in Georgia
---
Baseline reporting requirements:
Law enforcement departments across the United States should release consistent "baseline" information to the media and the public after each fatal dog mauling,
including these items
.