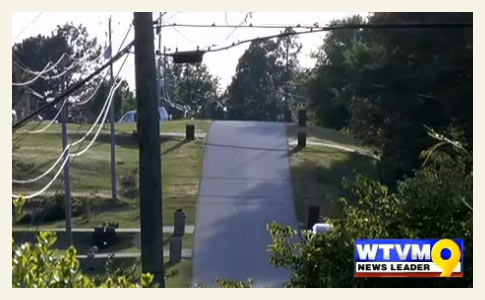 'Ponytail' Excuse
UPDATE 05/30/14: In case readers missed Blackfish, a 2013 documentary about a killer whale living in captivity involved in the deaths of three people, most recently a trainer at SeaWorld, you might not fully understand the "ponytail" excuse. This excuse is not a product of Steve Klemetti -- owners of killer dogs rarely have original ideas -- but rather an excuse popularized by SeaWorld after the death of Dawn Brancheau in 2010. Blackfish pulverized SeaWorld's "ponytail theory."1
Pit bull owner:
Klemetti said the day of the attack, his wife, Victoria, was with Morrison, who had looked after the dogs before. When Morrison knelt down to pick up a tennis ball they were playing with, the first thing the dogs went after was Morrison's ponytail.
"I think what happened is that she had a ponytail and she reached down to get something and one of the dogs said "Hey, this looks like my rope toy" and jumped up," Klemetti said. - Steve Klemetti, speaking to Opelika-Auburn News
SeaWorld:
The killer whale that drowned a veteran trainer was just curious about her ponytail and dragged her into the water to investigate a new toy, the former head of animal training at SeaWorld Orlando said Friday…
It was playful curiosity, Lacinak said, and not a bloodthirsty attack. Brancheau's ponytail was merely a "novelty item" to the whale ...
"It was a novel item in the water, and he grabbed hold of it, not necessarily in an aggressive way," he said. - Thad Lacinak, speaking to CBS News2
We remind readers that Klemetti's three pit bulls completely scalped 20-year old Katie Morrison right in front of one of their owners, his wife Victoria Klemetti, who was helpless to stop the dogs. Steve Klemetti does not stop with the "ponytail" blame game either. He insinuates that being "down on their level" -- aka Katie bending down to pick up a tennis ball -- is an excuse for his dogs to "go primal" and to "go instinctual," which is why "I never get down on their level," he said.
Finally, as if on "Classic Pit Bull Owner Cue" Steve Klemetti called the brutal attack a "freak incident," despite the fact that pit bulls kill more people than all other dog breeds combined. In the first 101 days of this year, pit bulls maintained an average kill rate of every 9.2 days. Klemetti also claims to cry every time he recalls a touching moment with one of his killer dogs. He regrets his wife's decision to put the three dogs down, "It's like part of your family is gone," Klemetti said.
05/16/14: Attacking Dogs Put Down
On May 15, the Opelika-Auburn News published an alarming news article about the three pit bulls that brutally attacked a 20-year old woman on April 28, peeling off her entire scalp, in front of their owner.3 Katie Morrison died in the hospital due to her severe injuries on May 3. Lee County Sheriff Jay Jones said there is not a state law or local act that mandates putting the dogs down. Further, Jones explained, "the dogs' owner has gone back and forth on bringing the dogs home."
This is not the first time such horrific, pathological behavior has been demonstrated by the owner of a fatally attacking pit bull.
Residents were appalled to learn that the three pit bulls might be returned to their owner. Lee County District 3 Commissioner Gary Long said, "I was shocked that the potential was there for those dogs to go back to the neighborhood." A hearing was held in district court to determine the outcome of the dogs, but the court declined to issue a ruling, citing it had no legal authority to do so. "Absent of criminal activity," Jones explained, at least at this point, the court declined to rule.
The following day, May 16, the Opelika-Auburn News reported that the dogs were put down that evening. The report also named the owners of pit bulls, Steve and Victoria Klemetti of Phenix City. Lee County Sheriff Jay Jones said the owners ultimately chose to have the animals put down. According to a court order, the Klemettis had the option to give the dogs away provided that they inform the new owners of the dogs' violent history and that the Sheriff's Office be notified.
The investigation is ongoing and will be presented to a grand jury sometime in the future.
05/04/14: Scalping Victim Dies
Smiths Station, AL - The Lee County coroner reports that a young woman hospitalized for severe pit bull injuries last week has died. Katie Morrison, 20-years old, was getting acquainted with the dogs, preparing to "watch" the four dogs4 while their owner left town, when three of the dogs, pit bulls, turned on their owner and Morrison. The May 2 WTVM article also noted that Morrison's "critical condition is not improving." She was added to the DogsBite Fatality Watch list at that time.
The dog owner's sister, Billie Mixon, said the two were in the company of the dogs for about three hours but then, "when she bent down to grab the tennis ball, one jumped on, then the other jumped on, and the dogs turned different than they've ever been before."
Neighbors on Lee County Road 504 in the Heather Brooke neighborhood recall what happened next. They said three of the four pit bulls turned on their owner and the visiting 20-year-old woman was nearly scalped. The owner also sustained injuries trying to pull them off.
"I looked over the fence and I saw that lady laying there. What I remember was her head -- there was almost no hair left. The head and the face were covered with blood," said Gabby Witt. - Dante Renzulli, WTVM.com, May 2, 2014
WTVM interviewed several neighbors after the attack. Jodie Marshall said, "Even the animal control officer was frightened. They didn't know how they were going to get the dogs out, they were very aggressive." David Witt said he was not too surprised. "I figured that sooner or later it was going to come down to that because these dogs had previously attacked other dogs in the neighborhood, and it was just a matter of time before they went after a human," Witt said.
Morrison was transported by ambulance to Midtown Medical Center in Columbus and then transferred to Grady Memorial Hospital in Atlanta. She succumbed to her injuries Saturday night. Coroner Bill Harris said she suffered severe head injuries and multiple laceration and puncture wounds all over her body. The dogs' owner voluntarily transported her dogs to animal control and surrendered them after the attack. The dogs remain in the state mandated 10-day quarantine.
---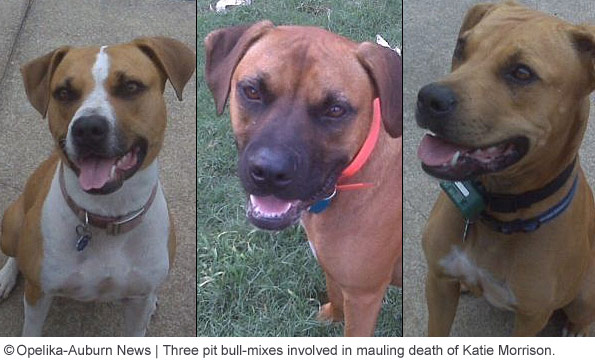 ---
View the DogsBite.org Google Map:
Alabama Fatal Pit Bull Maulings
.
1
Film response: "Although eye witness accounts and a video of events just prior to the take-down seem to strongly contradict the notion that Dawn was pulled in by her ponytail, it is most important to note that according to SeaWorld's own Management during courtroom testimony, Tilikum was desensed to ponytails and therefore did not find them a novelty. The brutal nature of the prolonged, aggressive attack and the facts in the autopsy strongly suggest that Tilikum's behavior was anything but novel curiosity. These facts were internally corroborated by senior level training staff at SeaWorld." See full Blackfish documentary online. See also a review by Ken Brower in National Geographic.
2
In April 2014, the U.S. Court of Appeals for the District of Columbia Circuit upheld a federal occupational safety agency's finding against SeaWorld Entertainment Inc. after the death of Dawn Brancheau.
3
News articles cite conflicting dates of the initial attack, April 28 and April 30. They also refer to "Monday" of that week, which was the 28th.
4
According to an Opelika-Auburn News article, Lee County Sheriff Jay Jones said, "The three dogs that attacked the victim are pit bulls. The fourth, which was not involved in the attack, is of a different breed, Jones said."
Related articles:
04/21/14: U.S. Fatal Dog Attacks Accelerate During First Part of Year (January 1,2014...
04/11/14: 2014 Dog Bite Fatality: Pit Bull Kills 5-Year Old Boy in St. Clair County, Alabama
02/28/14: 2014 Dog Bite Fatality: 4-Year Old Girl Killed by Dogs in Tallassee, Alabama
09/23/13: Collection of Pit Bull Scalp Attack Victims - DogsBite.org