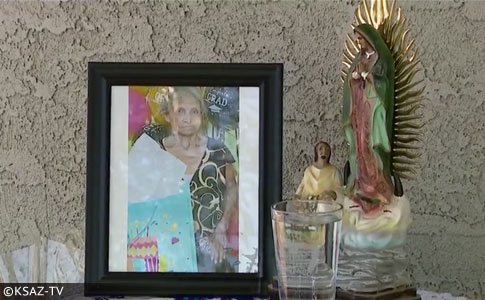 Maria Ruiz, 77-years old, died after being attacked by four pit bull-mixes in Phoenix.
Failed to Impound
UPDATE 07/14/21: Returning to the question of the role of animal control, Maricopa Animal Care & Control, the latest news report from KPNX addresses the two previous occasions MCACC responded to the home of Alejandro Hernandez. On July 6, four pit bull-mixes belonging to Hernandez escaped his property again and fatally mauled 77-year old Maria Ruiz while she sat on her porch. Hernandez has since been charged with one count of felony negligent homicide.
The most recent visit by MCACC was April 2021, after a neighbor reported that Hernandez' dogs were running down the street trying to bite people. MCACC captured the dogs and loaded them into a truck to impound them. But that never happened. Apparently, Hernandez' mother begged to have the dogs back and that all dogs were "safely returned to her." Despite the rarity of fatal dog attacks, we often see this behavior by animal control departments prior to a fatal dog attack.
"He was fully aware that his dogs were vicious and also that the security of the yard he kept them in was completely inadequate." - Prosecutor
First of all, why wasn't Hernandez' mother also criminally charged? Secondly, why didn't MCACC impound the dogs in April? The role of animal control being a type of "sympathetic social worker" to irresponsible dog owners -- in this case the owner had four pit bull-mixes with a history of aggression and escaping a property with "completely inadequate" security -- played a distinct role in Ruiz' death. Ruiz' family members are now questioning this dereliction of duty by MCACC.
Instead of impounding the "pack of dogs" in April, MCACC released the dogs to his mother with full knowledge that the owner (and his mother) had "completely inadequate" fencing on their property. A proactive, public safety response would have been for MCACC to impound the dogs, cite the owner for all relevant violations, charge the owner impound fees, and not release the "pack of dogs" back to the owner until the "completely inadequate" security problem had been resolved.
We emphasize "pack of dogs," because for thousands of years mankind has known of the dangerousness of "pack mentality" in canines, even the "Dummies" book series addresses this aggression issue. Returning a single dog with known vicious propensities back to a property with "completely inadequate" security is bad enough. Returning a pack of four powerful dogs with a history of escaping and aggression to this same inadequate condition is reckless and negligent.
---
07/07/21: Owner Charged with Felony
Phoenix, AZ - A 77-year old woman is dead after being attacked by four dogs, police said. Police were dispatched to the area of South 6th Street and Broadway Road just after 7:00 am for reports of a woman being attacked by dogs. When first responders arrived at the scene, they found Maria Elisa Sebastian Ruiz in critical condition. She was transported to a local hospital, where she later died of her injuries. Ruiz was on her own front porch when the dogs attacked her, police said.
Phoenix police said the dogs were not "provoked" before the attack.
The dogs were described at "Staffordshire terrier-mixes," which is another euphemism for pit bull-mixes. It's unclear if this description came from the owner, Alejandro Hernandez, 33, or Maricopa County Animal Care & Control. The MCACC adoption page shows plenty of dogs labeled pit bull-mixes. Hernandez is being charged with one count of negligent homicide. Police said Hernandez told them his dogs had escaped multiple times in the past, and that they had bitten neighbors.
MCACC had also warned Hernandez in the past about his dogs escaping. He was instructed on at least one occasion to fix a gate to secure his dogs and was also issued multiple license warnings. Negligent homicide is a Class 4 felony in Arizona. The first offense carries a 1 year minimum prison sentence and a maximum 3.75 year sentence, according to an Arizona criminal defense attorney's website. The dogs were taken into custody by MCACC; one is being tested for rabies.
Wednesday Update
Family members want the dog owner held responsible. The victim, known as Elisa Sebastian, was sitting on her porch when the four dogs mauled her. Elisa, who was named after her grandmother, would not show her face on camera. She said when they tried to confront Hernandez about getting his dogs under control, he became hostile and threatening. "One of my uncles would tell him that his dogs were loose and everything, and all he wanted to do is fight and take out guns," she said.
"I just want the guy to pay for what he did to my grandma," Elisa said. "If the dogs were tied up or anything, this would not have happened. She would still be living. She would still be out here." MCACC was first called to his home in February 2020 after five of his dogs were loose -- he was issued seven license warnings at that time. In April 2021, MCACC was called out again when two of his dogs were loose. Hernandez was told at least once to fix a gate to keep his dogs secure.
Negligent Homicide
A number of dog owners have been charged with negligent homicide after their dogs killed a person. In some states, however, negligent homicide is a misdemeanor. Arizona statute § 13-1208. Assault; vicious animals; classification, would also apply to this recent fatality (Section B), but that is only a Class 5 felony. We are thrilled that police and prosecutors went with the higher charge. If convicted, perhaps Hernandez will also have to pay restitution to the victim's family.
View the DogsBite.org Google Map:
Arizona Fatal Pit Bull Maulings
.
Related articles:
01/15/21: 2020 Dog Bite Fatality: 9-Year Old Boy Killed by Two Pit Bulls in Arkansas
03/09/19: 2019 Dog Bite Fatality: Elderly Woman Killed by Neighbor's Pack of Dogs in Texas
---
Baseline reporting requirements:
Law enforcement departments across the United States should release consistent "baseline" information to the media and the public after each fatal dog mauling,
including these items
.