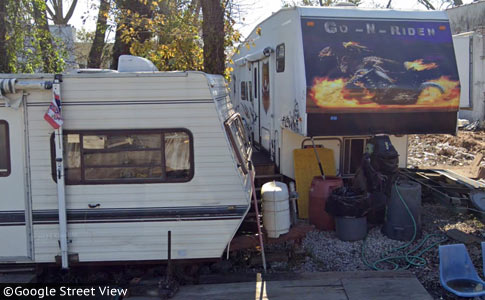 Trailers seen in the area of The Hole, where a man was mauled by two family pit bulls.
Man Found Dead
Brooklyn, NY - A 39-year old man, who suffered from cerebral palsy, was found dead with bite injuries all over his body in his trailer home on Dumont Avenue near Ruby Street in The Hole, a low-lying neighborhood on the border of Brooklyn and Queens. Wikipedia describes the small area as 30 feet lower than the surrounding area, is run down and suffers from frequent flooding. The bite injuries were inflicted by at least two family pit bulls, according to police and a neighbor.
The New York Post reports that his ears were "ripped off," a common pit bull mauling injury, and that he had suffered lacerations and puncture wounds. Police tranquilized the two pit bulls and transferred them to Animal Care and Control, according to neighbor Stephen Newell, who spoke to The Post. The victim, whose name has not been released by police, had been living in the trailer for four years with a couple, Cindy and Angel, who took care of him, Newell told The Post.
The trio had three pit bulls under the age of 5 -- Max, Ezra and America. Ezra was locked away in a backroom at the time and did not appear to be involved, Newell said. Angel and Cindy were outside for a brief time when the man was mauled. When Cindy went back inside, "it was already over with," Newell said. "Angel called 911 and they were telling him what to do to revive him," Newell said. Angel even tried to stop the bleeding. Both are very upset right now, Newell said.
The medical examiner's officer will determine the cause of death. The man may have died of natural causes before the mauling, police said. Several years ago, one coroner agency explained to us in a FOIA response that an 82-year old woman who was bitten by two family pit bulls died of natural causes and that the bites were "perimortem in nature," an injury that occurs at or around the time of death. Certainly, we have seen post-mortem mauling cases in the past as well.
---
Welcome To The Hole, John Gotti's Body-Dumping Ground. A video by Jessica Leibowitz. Produced by Jessica Leibowitz and Lauren Evans. Gothamist Films. Learn more »
---
Related articles:
06/08/16: Coroner: Dead Before Mauling - Elderly Woman Found Bitten and Dead in Antioch
05/10/16: Coroner: Dog Bite Injuries Inflicted After Death; Woman Found Dead in Brownsburg