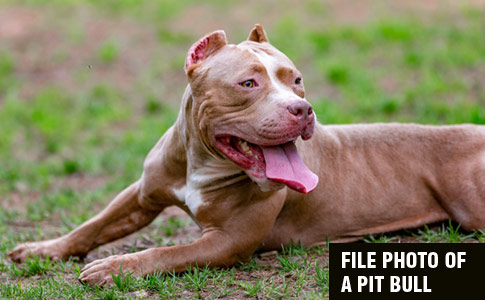 The former owner of a rescue pit bull shares story of an unprovoked attack.
Atlanta, GA - The former owner of a rescue pit bull recently wrote into our nonprofit and shared a powerful story with us. This individual is "still dismantling the beliefs I previously held about these dogs." Beliefs this person learned by "networking with other pit bull owners." This person did not expect the level of "fear, regret and guilt I would feel when the attack happened." This former owner is still very shaken by the experience and will never own a rescue dog again as a result.
This individual also comments about how many shelters adopt out pit bull-mixes under the "mixed-breed" label to "unsuspecting adopters." In January, we published a letter from a person who once worked at an open intake shelter. That letter also discussed the deliberate mislabeling of pit bulls and their mixes by shelter staff, along with adopting these dogs out to homes with unprepared adopters. An unsuspecting adopter of a pit bull-type dog is equivalent to an unprepared adopter.
---
I used to be a pit bull advocate. We adopted a pit bull puppy who was adorable and sweet with absolutely no background of abuse. She was rescued at 5 weeks along with her mom and litter mates. She was not separated from her mom too young. We gave this puppy the perfect life. At that point, I believed the lies put forth by pit bull advocates. I felt like you had to teach these dogs to be aggressive and they weren't born this way.

Well, in January 2021, my dog attacked a man for no good reason at all. He was doing nothing strange. He wasn't talking. He was standing still. By the grace of God, this man was able to mitigate the attack by holding her leash away from his body. My dog tore through his shirt and he was left with bruises and an abrasion. I didn't witness the attack in full because I had fallen when my dog pulled so I was trying to get up when part of the attack was taking place. Once I grabbed her, I immediately took her to the vet to be put down.

I'm still in the process of mentally healing from this situation. I can't wrap my brain around the fact that this was my dog that I loved and this dog had the perfect life, yet still became an attack dog. I'm still dismantling the beliefs I previously held about these dogs that they're not inherently dangerous. I learned and adopted these beliefs through networking with other pit bull owners.

Since we adopted her, I had heard about numerous other pit bulls getting into fights and hurting other dogs so we decided to get a very strong insurance policy to protect a potential victim. I researched dog bites and knew how expensive they could be. I did not expect the level of fear, regret and guilt I would feel when the attack happened. I'm plagued daily by considering what could have happened and how bad it could have been.

So, although I know sweet pit bulls, I tell people to absolutely believe this breed is dangerous. If someone were to own a pit bull, they'd need to be an expert behaviorist to keep the dog in-line, although I still would advise anyone to avoid this breed. One thing that scares me is that most shelter dogs in Georgia are pit bulls or pit bull mixes. A lot of shelters adopt them out as mixed-breeds to unsuspecting adopters. I'm so sad to say I will never own another rescue dog. The chance of getting a pit mix is too high.

I appreciate what your organization is doing to educate and safeguard the public … I'm still very shaken by my experience.
We also directed this individual to the letter submitted by the former open intake shelter worker. This person had worked with four trainers in Atlanta, who basically pointed back the blame finger instead of being honest. This was a "project dog" with impulsive aggression, despite being adopted as a young puppy into a loving home. Further, when the person tried to return the dog to the rescue, "they said they absolutely would not take on a dog with a known bite history."
This article is 100% true and spot on. My dog was spayed and was actually much smaller than most pits at 50 lbs. Maybe that's why the man was able to defend himself. We had worked with 4 trainers who all said she was submissive and it was basically our fault we couldn't make her into a normal dog. She was my 1st dog so I believed them. Since then we've adopted a wonderful pure breed dog (non pit bull-type) from a breeder and guess what? It turns out I'm not an idiot as it relates to training a dog. My pit bull was a problem dog. When the attack happened, I asked the rescue if they wanted her back and they said they absolutely would not take on a dog with a known bite history. They said there was no where for her to go where she wouldn't be a danger to others. We immediately put her down after we got off the phone with the rescue.
---
Related articles:
01/04/21: Working at an Open Intake Shelter: Deliberate Breed Mislabeling, Aggressive Dogs...
12/16/20: Ann Marie Rogers: Animal Welfare Advocate, Animal Control Officer, Public Safety...
07/31/20: 2020 Edition: 125 Behavior Terms for Shelter Dogs Decoded that Mask Aggression
10/16/19: A Pit Bull Adoption Disaster: Animal Aggression, Anti-Anxiety Medication and More