Results: Two Dead Cats, One Returned Pit Bull and Deep Regret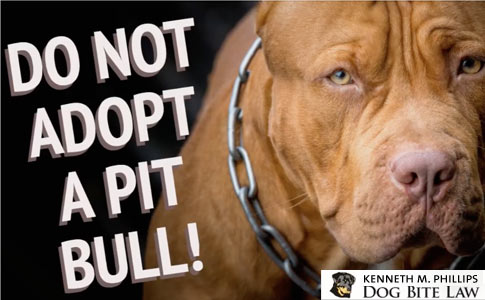 This account of a pit bull adoption disaster shows why the public is losing confidence in shelters. The adopter wrote to DogsBite.org on the day of the disaster. The dog had not been returned yet.
In addition to many public shelters routinely "encoding" and "concealing" aggression in adoption advertisements, some are also using medications to dull the behavior of unadoptable dogs.
Read firsthand what the adopter experienced, the red flags he admits to afterward, and how his belief of assuming the shelter "had the best interest of the dogs in mind," is now gone for good.
A Pit Bull Adoption Disaster
DogsBite.org - We begin this post with an image from dog bite attorney Kenneth Phillips, who began a Do Not Adopt a Pit Bull campaign in 2018. His latest video shows how the federal government mobilized after six vaping deaths, but the government says "nothing at all" about the many deaths inflicted by pit bulls over the past decade. The CDC is the "nation's health protection agency," that "saves lives and protects people from health threats," states the federal website.
Nearly 400 Americans have been fatally attacked by pit bulls since 1998, the year the CDC stopped collecting breed data in fatal dog maulings.
Enclosed is a letter from Steve (not his real name) who recently adopted a pit bull from a county shelter. When his partner asked if the dog was good with kids or cats, the staff replied, "We don't know." The "cat test" instead occurred inside the adopter's home leaving two family cats dead. The adopter also said that he was given a supply of Trazodone (anti-anxiety medication) to take home with the pit bull "to help him transition to living with us." The advice and medication did not work.
Letter to DogsBite.org
Dear DogsBite,

I learned the lessons you all are writing about the hard way today. My partner and I were at a county dog shelter and she begged me for a pit bull that she fell in love with. I resisted and took her out for lunch so she could be out of that emotional environment to make a better decision. I wanted her to think about it for a few more days. But she begged me, and I caved. We took the dog home and put him in the bedroom initially. I later opened the bedroom door to show my brother our new dog. When I did, I grabbed him by the collar with a good grip, knowing I would need to control him from harassing our cats in the kitchen behind me.

I thought he would be easy to control for three reasons. He seemed friendly. He was obedient. And he "sat" when I told him too. I am also a pretty strong guy. I honestly thought I could take the dog in a fight. Now, I am much more humble. When I first opened the door and gripped his collar, our four cats sat still and seemingly unalarmed. The dog acted curious, but not dangerous. Then he yanked hard toward the cats. His force was very strong for a 75-pound creature. I was kicking him extremely hard and beating him over the head with a chair, but the pit bull was unfazed. I think those blows would have killed a human.

Upon realizing my powerlessness, and now two dead cats, I grabbed our remaining two cats, fled that room and locked the door behind me. I have a 3-year old son, so this could have been much worse. I can't believe this happened on day ONE of the adoption. I am so happy my son is safe, and I feel like such a coward for caving to her begging and an idiot for thinking this had a chance to turn out good. My partner has to drive the pit bull back to the shelter tomorrow and although she is not scared of him, I am terrified of what might happen on the way over there. I want you to know, this shelter I think, disguises the dog's aggressiveness by giving them Trazodone while they are there. They gave us a one week supply to help him transition to living with us. That did not even help!
We certainly have seen in past years that some public shelters will use Trazodone, Solliquin or other anti-anxiety medications to turn an unadoptable pit bull into an "adoption candidate" suitable for the adoption floor. As we stated in our 2016 examination of Sonoma County Animal Services, always request the "full disclosure" of all behavior memos, medical memos and bite records for a dog prior to adoption." Please understand that "disclosure" is not the same as "full disclosure."
"Requesting these records will be much easier than 'returning' a shelter dog due to aggression." - DogsBite.org, September 20, 2016
The adoption story of Steve and his partner also addresses the emotionally charged environment of a shelter, which often supersedes rational thinking and thoughtful refection. What will you actually do once the dog is in your home, and in this case, sharing your home with four cats? This particular pit bull adoption disaster unfolded in just one day. Two pet cats lost their lives and the animal-aggressive pit bull was returned to the shelter to start the adoption cycle all over again.
What the County Shelter Told Him
We asked Steve some follow up questions, such as, "Do you recall the adoption listing? Did it say anything like, 'Must be the only dog in the home?'" Or, "Not cat tested?" Or, "Shelter favorite?" The adopter replied with more information, indicating that the shelter was fully aware the pit bull was animal-aggressive, so much so, it could not even be around other dogs. Steve saw other red flags too, but as he states, he just "assumed these people had the best interest of the dogs in mind."
It was just basic information [that the shelter provided]. I looked through the dog's records and I thought it was unusual that they only documented medical stuff but did not seem to document any behavior.

Another red flag I should have picked up on was they instructed us to keep him away from other dogs when we went for a walk with him. I thought that was maybe normal procedure but they had a fenced in dog area with like 20 dogs playing together1 so the instruction to do that when they were socializing other dogs was odd.

The only information I got about the dog was that he was a stray and he was 4 years old. They said that was the only information they had. It is information I personally asked for because if he was formerly in dog fights or anything I wanted to make sure we would pass on that opportunity.

He was not a "staff favorite" but other "staff favorites" were listed. I was even thinking that we should perhaps go for a staff favorite because it may have had a higher chance of being friendly, but your tone suggests that "staff favorite" is a ruse to offload certain dogs for whatever reason. The thing is, when out shopping, I am on alert for scams, but that sort of spammy "staff favorite" maneuver just flew over my head because I assumed these people had the best interest of the dogs in mind.

I have more to say because the situation seemed unusual. My partner asked the staff who deal with the dog regularly if he would be good with kids or cats and to their credit they did just say, "We don't know."

After we returned from lunch, in order to give more thought about adopting the dog, and when I caved, I was surprised at the quickness of the process. I asked if there is a waiting period. They said no, just give us $18 (he was on sale because he was there longer than 2 weeks).

It didn't stop me from proceeding, but I thought it was terrible that they would allow impulse purchases like this to occur. It made me second-guess if they had the animal's best interest at heart.

They didn't ask us for much information. They just handed over not only what is possibly a dangerous creature to us without proper vetting, but let's not forget they did not even do the minimal due diligence to ensure they were giving the animal to somebody who could love it instead of an impulse purchaser who would grow bored or some sort of animal hoarder.

When I was inside looking at the dogs I saw another red flag, which I ignored. Some of the dogs had been returned. Now this could be because they make it easy to make impulse purchases. But when I read the reasons for return, the word "behavioral" was rare. It sounded like bullshit reasoning. For example, I saw "wrong breed" as a reason for a return. Now I am wondering if behavioral issues are being covered up by just making up stuff like "wrong breed." I mean the animal was rescued from a shelter -- not bought from a certified breeder or anything.
In addition to private and county shelters routinely "encoding" and "concealing" aggression in adoption advertisements and "dropping" breed labels in their zeal to reach the holy grail of a 90% "save rate," they are using medications (drugging the dogs) to stunt the behavior of unadoptable dogs, and as this case shows, ceasing to document or perform any behavioral evaluations at all. "We don't know" translates into "We don't want to know" for liability or adoption purposes.
What happened to Steve and his partner is not unusual; it has become typical. After this pit bull adoption disaster, hindsight came at a high cost. Soon after our brief reply to his first email, asking a few questions, the pieces flew together for him. They were duped. They walked into that shelter vulnerable and without the understanding of what many shelters have become today. "Close the adoption" as fast as possible to reach the single metric 90% "save rate" peddled by "no-kill."
Public trust in open admissions shelters continues to erode. This couple wanted a vetted pit bull, but were duped into an animal-aggressive one.
For these reasons and more, the largest community-based shelter in Colorado, the Denver Dumb Friends League, began embracing Socially Conscious Sheltering in March, instead of the toxic "no-kill" equation. Please review the eight tenets of Socially Conscious Sheltering, which includes the priority of safety for people and pets. On the heels of the League adopting these tenets, the Colorado Veterinary Medical Association issued a statement opposing the no-kill movement.
Pit Bull Adoption Prompts "Sudden Death"
Another theme in this pit bull adoption disaster is "Sudden Death." Attorney Phillips uses this theme in his 2019 Super Bowl video. Victims in these attacks are dozens of times more likely to be pets than people. Two of the couple's cats suffered "Sudden Death" fairly instantly after the new pit bull spotted them. But the adopter quickly realized it could have been worse. "I have a 3-year old son, so this could have been much worse," he wrote. "I am so happy my son is safe."
Lastly, the very first tenet of Socially Conscious Sheltering adopted by the League states, "Place every healthy and safe animal … Safe means that the animal has not exhibited behavior that is likely to result in severe injury or death to another animal or person." The sixth tenet addresses aggression as well. The no-kill movement is 100% tolerant of adopting out animal-aggressive dogs. The safety of family pets already living in a "forever home" is not a priority of no-kill.
It is too early to tell if Socially Conscious Sheltering is just new jargon with no safety priority at all.
---
---
1
What Steve is describing, "they had a fenced in dog area with like 20 dogs playing together" is called a "Playgroup," which has become a trendy way to magically resolve behavioral problems in dogs, such as fear aggression or dog-aggression. Throw the dog into a playgroup and it's aggression issues will surely disappear. When do shelters opt to not place a dog into a playgroup? When the dog has serious animal-aggression. This Pit Bull Adoption Disaster account shows the adopted dog may have even failed at "A Challenging Dog's First Playgroup" (Page 11). How's that for "disclosure" of the dog's behavior by the county shelter?
Related articles:
05/11/18: Shelters and Humane Groups Often 'Encode' and 'Conceal' Aggression in Adoption....
10/21/17: Pit Bull Attacking Decoy Dogs Shown to Courtroom; Judge Orders Dog-Aggressive...
09/20/16: Many Shelters Candy-Coat Dogs with Aggressive Behaviors in their Zeal to Increase...