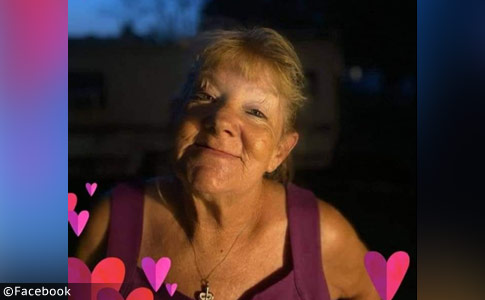 Deann Stephenson, 59, was killed by a pack dogs on February 15 in Porter, Texas.
Woman Killed by Dogs
Porter, TX - On February 15, the Montgomery County Sheriff's Office responded to a reported animal bite on Cunningham Drive at about 1:00 pm. Deputies "immediately called for EMS as they had a 59-year old female who was attacked by a pack of five dogs. The deputies attempted to stop the massive bleeding by applying tourniquets to the extremities," reports the Montgomery County Police Reporter. The victim was transported to Kingwood Medical Center in critical condition.
The victim suffered bites to her face, legs, arms, back, and neck. She died sometime after reaching the hospital. She had been walking to a corner store when the dogs ran through an open gate and attacked her. Montgomery County Animal Services took possession of the dogs. Five days later, the victim's sister, Holly Jorgensen, began a fundraiser and identified the victim as Deann Stephenson. The funds will be used to help pay for her funeral and memorial services.
We first became aware of this fatal attack on March 1, when KPRC-TV aired a segment about her death. Recall that on February 15, millions of Texan residents were without power, including this nonprofit. The high temperature in Porter that day was 25 degrees and roads were snowy and icy. Fire and EMS were severely taxed out due to fires, numerous car accidents and trying to clear roads. In the midst of this statewide catastrophe, Deann was fatally attacked by loose dogs.
After her death, family members hired attorney Patrick O'Hara, who has represented many dog attack victims in Montgomery County, reports KPRC-TV. Family members said these same dogs, or at least one of them, had previously attacked other neighbors, including a child. "And still, no criminal charges have been filed against the dog owner. This is horrific, these dogs should have been put down years ago," O'Hara said. A lawsuit is expected to be filed later this week.
The dogs' owner appears to be a business located in the 24800 block of Cunningham Drive. Hanging on the chain link fence were "Beware of Dog" signs, as well as Chlorine Gas notices. Hauling trucks were seen behind the fencing. We have certainly seen fatal attacks inflicted by junkyard-guard dogs before. In those cases, the auto repair and wrecking companies were likely required to carry insurance. It is unsurprising there will be a civil lawsuit filed in short order.
In January of this year, Montgomery County had another high profile dog attack involving a long-term reckless dog owner. Jennifer Romano, 46, was charged with two felonies -- injury to a child, a 2nd degree felony, and tampering with evidence, a 3rd degree felony -- after her fake service pit bull bit a child in the face unprovoked. Romano fled the scene after the attack. A Montgomery County judge ordered her pit bull, which had previously bitten two people, to be euthanized.
Afternoon Update
In the afternoon, the Houston Chronicle reported more information. Deann died the same day as the attack. Four dogs were involved in the February 15 attack. Montgomery County Animal Services (MCAS) identified them as a mixture of hound, shepherd and black mouth cur breeds. The animals were euthanized. Their owner, who has not been named, was issued citations for failure to provide proof of rabies vaccination and failure to properly confine the dogs, MCAS said.
A neighbor witnessed part of the attack and told MCAS that he tried to help the woman, while his wife called 911. Detectives and the Montgomery County District Attorney's Office are investigating whether any charges will be filed against the dogs' owner, reports the Chronicle. The attorney for Deann's family said that multiple people had been attacked by the dogs in the past. Unverified claims on social media said that dogs belonging to this same owner had killed a man years ago.
---
Related articles:
01/11/21: Rescuer Involved in Highly Litigated 'Gus' Case, Flees Scene After her Fake...
07/12/17: 2017 Dog Bite Fatality: Pack of Dogs Kill 79-Year Old Man in McCreary County
03/21/15: 2015 Dog Bite Fatality: Pack of Pit Bulls Kill Man in Jefferson County, Arkansas