The Dog's Owner, Jennifer Romano, Now Faces Felony Charges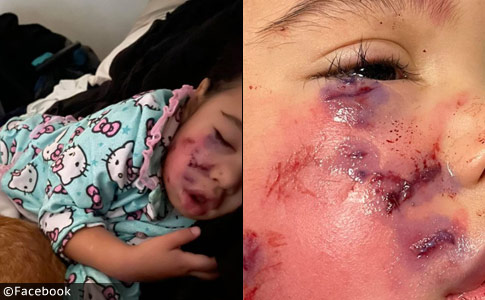 After 3-year old Ronin was attacked in the face by a fake service pit bull, the owner fled.
Charge with Two Felonies
UPDATE 02/09/21: On Monday, the owner of a fake service pit bull that attacked a child in the face was charged in connection with the attack. Jennifer Romano, 46, was charged with injury to a child, a 2nd degree felony, and tampering with evidence, a 3rd degree felony. During the hearing the judge set bond at $5,000 for the first charge and $2,500 for the second charge. KHOU captured the hearing, which shows Romano wearing a shirt with a large photo of a pit bull.
The unprovoked attack occurred on January 9, when Ronin Waldroup, 3-years old, and her family visited the Loose Caboose in Old Town Spring. Ronin was standing one or two feet behind the dog, which was wearing a red "service dog" vest, when it turned around and snapped at her face. Romano fled the scene after the attack (felony injury to a child), and according to police, Romano concealed the dog from authorities while they were trying to seize the dog (felony tampering).
Charging documents also revealed the pit bull, named "Kingston," had previously bitten two people in separate incidents; one within 12 months of the January attack. Last month, a Montgomery County judge ordered that Kingston be euthanized to prevent the dog from inflicting more harm. Though Romano initially said she would appeal that ruling, the dog has since been euthanized. Romano was ordered not to have any contact with the victim and victim's family.
---
01/26/21: Judge Orders Dog Euthanized
On Tuesday afternoon, a Montgomery County judge ruled that a dog that attacked a 3-year old girl in the face unprovoked inside a Spring restaurant earlier this month be euthanized. Justice of the Peace Precinct 3 Judge Matt Beasley ordered that "Kingston," a male pit bull terrier owned by Jennifer Romano, be put down to prevent the dog from inflicting another damaging bite. Judge Beasley rejected an argument by Romano's attorney that the canine could be "re-trained."
"I believe that shows lack of responsibility as to what went on," Beasley said. "I do believe that this would happen again...I don't trust you're a good handler for that dog....it's by your own hand and your actions that led us here today." - Justice of the Peace Precinct 3 Judge Matt Beasley
Though Kingston was wearing a service dog vest at the time, and was falsely portrayed as a service dog for Romano, it became known during the three-day hearing that the dog was only an Emotional Support Animal (ESA), which have no protections under the American with Disabilities Act. The sole function of an ESA is to "provide comfort" not to perform a task for a person with a disability. It is not known yet whether Romano will appeal the judge's ruling, but it seems likely.
The Waldroup family, who plans on pursing a civil lawsuit against Romano, issued a statement to ABC 13 after the judge's ruling. Romano may also face criminal charges due to this attack.
"The family can finally breathe knowing this dog won't be back out in restaurants wearing vests, mauling more people. We won a small part of the battle today and we're preparing to win the war. Jennifer Romano's blatant disregard for the law and public safety needs to be brought to light and businesses need to know how to look out for other people like her." [Read full statement]
Dog Euthanized
On February 3, ABC 13 reported the dog has been euthanized. Jennifer Romano, the owner of a fake service pit bull named Kingston, decided not to appeal the ruling. Previously, John Kovach, an attorney representing Romano, said, "Ms. Romano loves Kingston and is not willing to give up on him. An appeal is forthcoming." Now that the dangerous dog hearing and the outcome of Kingston is known, we certainly hope that prosecutors file criminal charges against Romano.
---
01/25/21: Dangerous Dog Hearing
The dangerous dog hearing involving the fake service dog, "Kingston," belonging to Jennifer Romano began Friday in Montgomery County. On January 9, Romano took Kingston to the Loose Caboose in Old Town Spring wearing a service dog vest. As a 3-year old girl walked toward the register, Kingston suddenly snapped at her face. "He came out of nowhere and lunged and grabbed my baby by the face… and he shook her," the mother testified at a video hearing Monday.
Romano fled the scene with Kingston after the facial attack. Little Ronin needed 14 stitches for multiple lacerations and puncture wounds, reports the Houston Chronicle. She will also need plastic surgery, her mother Cleveratta Gordon-Waldroup said. As of Monday night, the family has already raised $21,000 to help pay for the "legal action and continuous medical expenses," states the fund. Today, a witness testified that Kingston had a history of biting people in the face.
"Attorney Ronald Chen called Lily Ferguson, 19, a former roommate and friend of Romano's, who told the court this wasn't the first time Kingston had bit someone in the face. In June, Ferguson said, "He ripped my lip open and bit me under my left arm." Ferguson explained she never made a formal report about the dog bite, which she said she regretted. But she subsequently sued Romano over the injury." - Houston Chronicle, January 26, 2021
This is not the first rodeo for Romano keeping a dangerous pit bull that attacked multiple victims. In 2013, the case of "Gus" was also played out in Montgomery County. Gus was spared death and sent to California, where the dog ended up on death row again after attacking again. A Texas judge later found that Romano was negligent and misrepresented her qualifications as a dog trainer, ordering her to pay $1.3 million in damages to a victim that Romano never paid a dime of.
On Tuesday, defense will call witnesses to make his case that Kingston's life, like that of Gus, should be spared after attacking multiple people and kept under the ownership of Romano, who has already been found by a court to be an unqualified dog trainer and sued at least three times for severe injuries inflicted by Kingston and Gus. Romano also faces potential criminal charges under Texas statutes after the attack on Ronin and for fleeing the scene after injury to a child.
---
01/15/21: Biting Dog Impounded
The fake service pit bull that attacked 3-year old Ronin Waldroup in the face last week has been surrendered by its owner. Aaron Johnson, Director of Montgomery County Animal Services, said the dog was taken into their custody Thursday. Johnson became the director in 2017, according to his Linkedin page. Thus, he was not part of the "Gus" case that began at Montgomery County Animal Services in 2013 and resulted in multiple lawsuits and the dog being sent to California.
"We believe the dog caused serious injuries to this child and is a dangerous and vicious animal. We're seeking to ensure that this dog is unable to injure anyone in the future." - Montgomery County Attorney B.D. Griffin
A report from the Houston Chronicle late Friday confirmed that the pit bull, named "Kingston," was seized from its owner and taken into custody. County attorney B.D. Griffin said in a statement Friday that he is taking legal action against the owner of the dog. The dog has already been declared dangerous because it caused serious bodily injury, Griffin said. A hearing on January 22 will determine if the dog will be returned to its owner or held in county custody and euthanized.
The legal action against the dog owner could fall under Section 822.005 (1) Attack by Dog with "criminal negligence," when a person "fails to secure the dog and the dog makes an unprovoked attack on another person that occurs at a location other than the owner's real property," which is a third-degree felony. Because the victim is a 3-year old child, the legal action may also fall under Texas statute 22.04, Injury to a Child. Instead of aiding the child, the dog owner fled the scene.
---
01/13/21: Surveillance Footage
New surveillance video has been released after a woman and her fake service pit bull left the scene after her dog attacked a 3-year old girl in the face. The video shows Jennifer Romano walking away from the child's father with a brown and white pit bull wearing a red service dog vest. This appears to be the same brown and white male pit bull seen on Romano's Facebook page, named "Kingston." Investigators still have not made direct contact with the dog's owner.
On Saturday, the Waldroup family took their 3-year old daughter to the Loose Caboose in Old Town Spring. As Ronin entered the restaurant a few steps ahead of her parents, she encountered the dog. "It had a hold of her face and shook her," said a witness. The child's mother rushed Ronin to the bathroom. Her father, James, took off after Romano, who continued walking away from him. The new video has no audio, but one can see James and Romano having an animated exchange.
ABC 13 reports the Loose Caboose has received backlash after the incident, apparently about service dogs. Not only are service dogs allowed in businesses like restaurants under state and federal laws, but according to the entity's Yelp page, they are "dog friendly" too -- non-service dogs are also welcome. One reviewer said that this is "Kozmo's favorite spot to relax before we hit the shops again," referring to her dog sitting in a booth in the indoor section of the restaurant.
---
Madeline Ryan Smith, who is blind, discusses the issues of fake service dogs after learning about Ronin's facial attack. Smith also discusses why the ADA, which is full of loopholes, must change.
---
01/11/21: Dog Owner Identified
Old Town Spring, TX - On Saturday, a fake service pit bull attacked a child in the face and the owners fled the scene. Shortly thereafter, the child's mother identified the owner as Jennifer Romano. "Update: We are looking for Jennifer Romano," Cece Waldroup wrote. "She is the owner of the dog that attacked my 3-year old yesterday in Old Town Spring! Please help us find her! We have a number but it was disconnected." The police are trying to locate this person, she said.
According to Waldroup, Romano fled in a car with a man named Perry Muras. But they did not flee without being confronted by her husband. A witness captured this on video. "This was from a witness of my husband confronting the people to not leave!" Waldroup said in a follow up post. Another post zooms in on Romano's face, which is not covered by a Covid-19 mask. A friend of Waldroup, Crystal Johnson, posted more images of Romano fleeing the scene in a Toyota Camry.
On Sunday, Waldroup went Live on Facebook, making a plea to the public. "On January 9, 2021, my daughter was viciously attacked and mauled by a pit bull disguised as a service animal inside a restaurant. The owner of that dog fled from the restaurant with my husband chasing after her, begging for her to stay and show some compassion and to file a report. Please. If you have any idea of her whereabouts, please let us know. Her name is Jennifer Romano," Waldroup said.
"She can possibly be found in the Houston, Spring, Woodland or Conroe area. Please share this video as much as you can. No child or parent should have to deal with this kind of trauma. This is not the first incident. I am the third victim of this woman and her dogs." Waldroup then shows images of her daughter's facial injuries. She asks people to please share her video on social media. On Monday, Waldroup posted photographs of Romano, and the pieces flew together.
Back in 2013, Jennifer Romano of Maggie's House Rescue was called out in a petition on the grounds of fraud and demands for an animal cruelty investigation. Enter the highly litigated case of "Gus" the pit bull. Gus spent 425 days at Montgomery County animal shelter after attacking Amber Rickels,1 who had been fostering the dog for Romano. Gus was later sent to Cesar Millan's Dog Psychology Center for "rehabilitation," but landed on death row again, causing another lawsuit.
As of the afternoon of January 11, 2021, Waldroup is desperately seeking information on Romano's whereabouts. We saw in comments on Waldroup's Facebook page that Houston-based ABC 13 News is investigating. Hat's off to Waldroup and her husband James, who confronted Romano and her accomplice outside of the restaurant and were able to track down her identity. Hat's off to the bystanders who also captured video footage of the couple fleeing in their Toyota.
Monday Evening Updates
On Monday evening, ABC 13 aired a report featuring the child's parents, Cleveratta "Cece" Gordon-Waldroup and her husband James. The family had just arrived at the Loose Caboose with a close friend, Kimberly Parker. Ronin was leading the group to the line to order when she encountered the fake pit bull service dog. "It had a hold of her face and shook her," Parker said. "The lady pulled on the leash, the dog released her and she just dropped like a rag doll."
The mother rushed Ronin to the bathroom. "I just needed to stop the bleeding. I just needed to stop the bleeding," Gordon-Waldroup said. When Ronin's father learned she was bitten by a dog, he turned around and asked, "What dog?" That is when two people at the door said, "She's running that way." James chased the woman and her dog down the street, yelling to her that she needed to stay. Romano yelled back at him, "It's your daughter's fault" and drove off, he said.
Fake Pit Bull "Rehabbers"
America abounds with self-appointed "dog whispers" who claim to specialize in magical pit bull rehabilitation. The most recent notorious case is Steffen Baldwin, who currently faces 42 charges related to animal abuse and fraud. None of these fake pit bull "rehabbers," however, have such a miserable, failed history as Romano. "Gus" alone landed on death row twice after attacking at least four times, including Romano's then boyfriend, which resulted in at least two civil lawsuits.
It's unknown which of Romano's pit bulls attacked the child. Though, her now defunct website did show a white pit bull wearing a service dog vest. "Gus" never made it out of California alive after his second stint on death row in 2014. Jennifer Romano deleted her Facebook page after her fake pit bull service dog attacked Ronin and she fled the scene. The Harris County Sheriff's Office said they know who owns the biting dog and have a "meeting scheduled with her," reports ABC 13.
Channel 2 News and Fox 26 also aired segments Monday night featuring Gordon-Waldroup and her family. Investigators are considering a charge of criminal negligence against Romano.
Related articles:
08/18/20: Unmasking a Con: How a Pit Bull Activist Rose to Fame in the No-Kill Community...
02/10/19: Unmasking a Con: How a Sudden Pit Bull Activist Parleyed Role into Top Job...