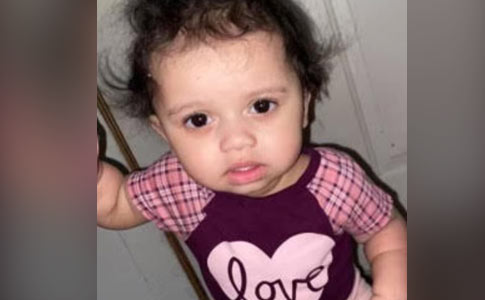 A'Myrikal Jolynn Hull died after being bitten on the head by a "pocket bully."
Bull Breed Kills Baby
Springfield, IL - A 1-year old girl is dead after being bitten on the head by a pocket bully, which is a squat "designer" pit bull hybrid breed. The breed name is misleading, as these dogs can be quite large (weighty) due to their heavy muscular build. There is an "extreme" version as well. " The pocket bully variety, "is simply shorter than the standard American bully," according to the ABKC website, and "are not to be penalized for exhibiting heavily muscled, massive, bulky body type."
The attack occurred in the 800 block of Indiana Avenue. Family members said the baby got too close to the dog while it was eating from a food bowl. Two teenage uncles has to pry the dog off her, indicating the bite was far more disastrous than a bite-and-release. The attacker was a female pocket bull. Family members said the dog had no violent history with humans or other dogs. Family member Cory Painter said she was in disbelief. "The dog [has] never snapped before."
EMS rushed the baby to HSHS St. John's Regional Trauma Center. She was pronounced dead at 9:26 pm. The Sangamon County Coroner, Jim Allmon, issued a statement confirming her death. An autopsy will be scheduled. The coroner's office and the Springfield Police Department are investigating her death. A GoFundMe identified the baby as A'Myrikal Jolynn Hull. "Unfortunately tragedy hit tonight! And she was attacked by the family pet of 4 years," states the fundraiser.
Last year, also in Illinois, there was significant media attention after a shorty bull, -- a "designer" bull breed unrecognized by the AKC and UKC -- attacked and killed its owner, 52-year old Lisa Urso. That dog had a history of aggression, including attacking her boyfriend twice in the weeks leading up to the fatal biting incident. Many newspaper headlines declared at the time that a "French bulldog" killed this able-bodied 52-year old female. Those headlines were inaccurate.
Suspected Dogs
One of the child's grandmothers is engaged to a man affiliated with "Antwaun Kang Kennels Readus," a Springfield-based pocket bully breeder. These two dogs are seen on her fiancé's page. Given their age of at least 4-years old, both are likely suspects. The fawn colored dog is a female.1 The sex of the tri-colored dog is also female. The grandmother commented on both dogs, "My baby," and "Mommy fur baby." It was reported the child's mother lived at her grandmother's home.
---
---
Household Confirmed
As we suspected above, A'Myrikal lived with her grandmother Bobbie Jo Stengel (Bobbie Jo Franklin on Facebook), according to a report by The State-Journal Register. Stengel is also the child's guardian. Cory Painter, who organized the child's fundraiser, told the Register the dog's behavior was out of character. "The baby walked by the dog as she was eating and reached for her food," Painter said. "This is nothing new. The dog would eat snacks out of the baby's hand."
However, on Thursday, the dog latched onto her head and would not let go. The child's two teenage uncle's had to pry the dog off of her.
Painter has known Stengel for 17 years and lives close by. The two share a 6-year old grandson, who witnessed the violent attack on his younger sister. The boy is now staying with Painter. She said he did not sleep after the attack and believes that counseling would be beneficial. "He doesn't understand all of this," Painter said. "So I think that getting him the right kind of help immediately is going to be very important." The dog is currently being held by Sangamon County Animal Control.
View the DogsBite.org Google Map:
Illinois Fatal Pit Bull Maulings
.
1
"Kang's Tiny" is so elite, she has her own Facebook page and is pictured on the kennel's marketing materials.
Related articles:
01/03/21: Baby Dies New Years Eve After Man Reports Finding Dog on Top of Her in Dayton, Ohio
05/12/20: 2020 Dog Bite Fatality: Woman Found Mutilated and Dead After Attack by Own Dogs
---
Baseline reporting requirements:
Law enforcement departments across the United States should release consistent "baseline" information to the media and the public after each fatal dog mauling,
including these items
.