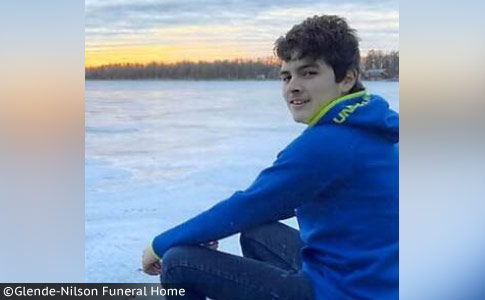 Dion Bush, 14-years old, was killed by a dog imported from Poland in February 2020.
Ully for Sale Advertisement
UPDATE 12/15/20: Advertisements sent into DogsBite.org indicate that Ully, a male long hair German shepherd that was imported from Poland in late February, was still available for sale on December 8. Two days later, Ully attacked and killed 14-year old Dion Bush. Ully was also advertised as being 4-years old, not 3. Ully's owner and the victim's mother, Jennifer Bush, operates LakeView Shepherds. She has since taken down her website (see: Internet Archives).
Commenters on this post have provided more details about Ully and Bush. First, the intact dog was infertile. Between the spring and fall, Ully underwent three failed breeding attempts. According to an April 13 Instagram post by LakeView Shepherds, Ully was seen by the "Repro vet" and was part of the "billionaire club" with "strong swimmers" (had a high sperm count). Bush also has two females, Jurnee and Willa. Both females had Ully breedings, but neither produced litters.
No litters were sired by this dog, at least not in the U.S., according to commenter Lynn who spoke with Bush about the sale of Ully. After the third expected litter failed, Bush put Ully up for sale. Bush told Lynn that Ully "isn't aggressive," but he was in show training and bite work in Poland. Bush also told her, "He can get a little mouthy when over excited." That is atypical language for working dog owners, but typical language by shelter staff when masking aggression in dogs.
"I considered purchasing him," Lynn wrote. "But her comments made my husband nervous. I am heartbroken for her loss but also very concerned that she tried to sell him to us or any other family. It seems her site has been removed of all content and her Facebook page has been changed to 'blog.' I am hoping she provides deposits back to all families considering buying upcoming puppies from her." Lynn and her husband dodged a disaster, as did every other potential buyer of Ully.
Commenter Denny pointed us to the LakeView Shepherds Yelp page. Jessica, of Elk River, gave the breeder a one-star rating: "I selected a puppy from this breeder that ended up biting a chunk open through my ear when I was laying on the ground. It was yanking on it like a chew toy." She also posted a picture of her ear injury. The breeder did offer "to take the dog back" due to him being ill and his dominance/aggression issues, Jessica wrote, but did not return the $500 deposit.
Police killed the "extremely aggressive" dog at the scene, citing at the request of the owner and for "public safety" reasons. The StarTribune reported Monday that importing dogs from other countries into Minnesota is regulated by the state Board of Animal Health. "We don't have a record of [Jennifer Bush] being licensed as a commercial dog and cat breeder," said board spokesman Michael Crusan. All three commenters questioned the judgment of this dog breeder as well.
---
12/11/20: Teenager Kill by Imported Dog
Battle Lake, MN - A 14-year old boy was discovered dead after being attacked by the family dog, according to the Otter Tail County Sheriff's Office. The attack occurred Thursday afternoon in rural Battle Lake. Shortly after 3:00 pm, deputies responded to a welfare check at a home on Twin Lakes Road, Otter Tail County Sheriff's Lt. Keith Van Dyke said. When they arrived, they found the teenager in the yard. It was clear to the first deputy at the scene the boy was deceased, he said.
The 3-year old dog was purchased from Poland earlier this year.
The family dog, a Polish long hair shepherd, was standing near the teenager's body and was "extremely aggressive" when the deputies arrived on scene, the sheriff's office said. The dog was put down due to public safety and at the request of its owner. The welfare call came from the boy's father, who has a medical condition and cannot leave the house, Van Dyke said. He called out to his son, but got no response. He immediately called the sheriff's office afterward, he said.
The Valley News reports the teenager had not been heard from for about three hours. The Otter Tail County Coroner's Office is assisting the sheriff's office with the investigation that remains active and open. The dog has been transported to North Dakota State University for a necropsy. The boy's identity has not been released. The rural community of Battle Lake is 30 miles east of Fergus Falls and 175 miles northwest of Minneapolis. The population is about 930 people.
Imported Dogs & Teen Deaths
There are plenty of German shepherds, both short and long coat, in the U.S. Unless they were seeking the dog for a specific purpose, such as protection or breeding, it would be unusual to order a dog from an Eastern Bloc country, where many dogs used in police work stem from. The victim was also 14-years old, an extremely rare age for a dog bite fatality victim. In 2019, a 14-year old boy was killed by a pack of protection bred dogs owned by trainer Scott Dunmore.
Over the 16-year period of 2005 through 2020, only 6 teenagers, ages 13 to 19-years old, were killed by dogs, 1% of all dog bite deaths (6 of 566). Stunningly, half of those teenagers were killed in the single year of 2019. The last time we reported a fatal dog mauling in Minnesota was 10 years ago, after the death of infant Robert Hocker in Independence. In the most recent death, a rare dog breed, a rare victim age group and a rare state, equates to three rarities at once.
Afternoon Updates
The Detroit Lakes Tribune reports the boy's family raises German shepherds (thus, the imported dog). Van Dyke said the attack happened after the teenager went out to tend to the dogs. "The father was incapacitated with a medical injury so he wasn't able to take care of the dogs himself," he said. The boy was a ninth grader at Battle Lake High School. On Friday, the school sent a letter to families informing them of his death and that counseling would be available for students.
The Star Tribune reports the attack occurred in the 30800 block of Twin Lakes Road. There is a breeder of long coat German shepherds who lives on this block, according to web searches. Her name is Jennifer Bush and she operates LakeView Shepherds Kennel. She advertises on K-9classifieds.com (police dogs). Her breeding bitch is a progeny of dogs with IPO titles. The culprit dog was not your average pet dog. At 3-years old, the dog may have held titles in protection too.
Notably, the "Our Stud" page is blank. We predicted this was the case because the stud was the killer (the breeder removed the page after the Thursday attack). Internet Archives show the stud is "Ully" and "was imported from Poland Feb. 2020 and greeted me with pure happiness and licking. Sweet, sweet guy! He is social and loves to be loved on," states the website. Ully "comes from amazing and proven lines and was sired by "VA1 BSZS 2016 Jackson vom Zisawinkel IPO3."
The teenager has since been identified as Dion Bush.
The website continues, "Ully is a very go with the flow and even tempered male. He is highly intelligent and adjusted in our home very well. He has a silly side; loves to play and make us laugh." Ully also savagely killed a 14-year old boy on December 10 and the breeder tried to hide this. How many puppies has Ully sired since being imported from Poland -- not six months ago, but nine months ago? The breeder forgot about the Internet Archives, but our nonprofit did not.
---
The circumstances caused by Covid-19 should never be underestimated. But typically between November 1 and December 15 of each year, there are 5 to 7 reported dog bite fatalities, not 2.
Related articles:
06/12/19: 2019 Dog Bite Fatality: Dighton Dog Attack Leaves a 14-Year Old Boy Dead...
10/25/14: 2014 Dog Bite Fatality: 7-Year Old Boy Killed by Trained Protection Dog in Wisconsin
02/19/10: 2010 Dog Bite Fatality: 11-Day Old Baby Killed by Family Husky Dog in Independence
---
Baseline reporting requirements:
Law enforcement departments across the United States should release consistent "baseline" information to the media and the public after each fatal dog mauling,
including these items
.