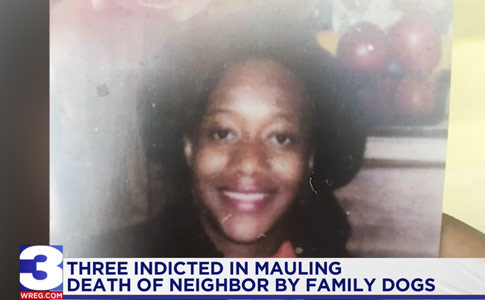 Doris Arrington, 59, was killed by four unsecured dogs on April 22, 2020 in Memphis.
Woman Killed by Dogs
Memphis, TN - A Shelby County grand jury indicted three people in connection to a fatal dog attack that occurred in April. Shelby County District Attorney General Amy Weirich said that Phyllis Jones, 61, her daughter Kimberly Jordan, 40, and Jordan's son Dedricz Perry, 22, were taken into custody Tuesday by U.S. Marshals. All three face reckless homicide charges for owning the dogs involved in the attack that left Doris Arrington, 59, dead. All three have since bonded out of jail.
The attack occurred about 8:00 am in the 1200 block of Capital Avenue in the New Chicago area. Police were dispatched to the area and found Arrington's body. Authorities said Arrington had severe trauma to her legs and arms. Her cause of death was "massive blood loss." A statement issued by U.S. Marshal Tyreece Miller states, "Unsecured dogs were deadly weapons in this horrible crime. I'm pleased that the Marshals Service had a hand in bringing the owners to justice."
After the fatal attack -- that lacked any media coverage in April -- Memphis police located four dogs with blood on their mouths and coats. Multiple complaints had been made to Memphis Animal Services and the Mayor's Action Center prior to the deadly mauling, Weirich's office said. Residents had complained the dogs were aggressive and could escape their enclosure. One man told WREG the dogs previously chased a man up a tree. No breed information was released.
Of the three-generation family member defendants, Jordan had four fairly recent photographs of dogs on her Facebook page. On February 22, 2019 she was selling several pit bull puppies; the sire and dam are seen in the comments. Jordan was selling each puppy for $200. The four dogs could equate to two adults and two puppies about 15 months old at the time of the fatal attack. Reckless homicide is a Class D felony in Tennessee with a prison sentence of 2 to 12 years.
View the DogsBite.org Google Map:
Tennessee Fatal Pit Bull Maulings
.
Related articles:
07/23/19: 2019 Dog Bite Fatality: Man Mauled to Death by Pack of Dogs in Southwest Memphis
11/21/18: 2010 Dog Bite Fatality: Pit Bulls Kill Man, Injure Four Others in Memphis
---
Baseline reporting requirements:
Law enforcement departments across the United States should release consistent "baseline" information to the media and the public after each fatal dog mauling,
including these items
.