Call-To-Action: Send in Your Stories of Scofflaw Dog Owners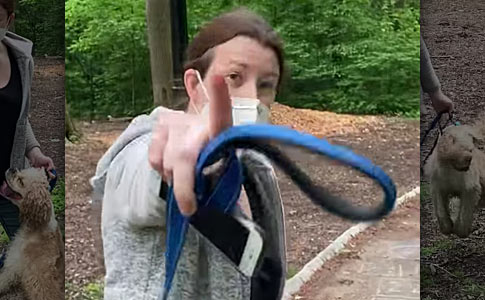 Scofflaw dog owner Amy Cooper reacts after being told to leash her dog in the Ramble.
---
On October 14, 2020, it was reported that Amy Cooper made two false 911 calls that day. In the second call, previously unreported, Cooper claimed the man tried to assault her. "The defendant twice reported that an African American man was putting her in danger, first by stating that he was threatening her and her dog, then making a second call indicating that he tried to assault her in the Ramble area of the park," said Joan Illuzzi, a senior prosecutor. Read the DA's full statement.
---
Overview of Confrontation
New York, NY - On Monday, a video went viral showing a female dog owner "calling the cops" on a black man after he asked her to leash her dog in an area that requires leashes. The woman is white and her intent is clear, "I'm going to tell [the cops] there is an African American man threatening my life." Amy Cooper becomes agitated after Christian Cooper (no relation) begins filming her. Christian tells her, "Please don't come close to me" and "Please call the cops."
Amy proceeds to call the police, as Christian continues to film her. For the safety of his own life, Christian should continue filming her. Amy tells dispatchers, "There is a man, an African American … He's recording me and threatening me and my dog." Amy feels so "infringed upon" and "fragile" she nearly chokes her own dog, while trying to hold onto its collar -- she still has not leashed her dog either. In a matter of seconds, Amy manages to threaten the life of Christian and her own dog.
---
Monday, May 25, 2020 - The Ramble in Central Park
Central Park this morning: This woman's dog is tearing through the plantings in the Ramble.
ME: Ma'am, dogs in the Ramble have to be on the leash at all times. The sign is right there.
HER: The dog runs are closed. He needs his exercise.
ME: All you have to do is take him to the other side of the drive, outside the Ramble, and you can let him run off leash all you want.
HER: It's too dangerous.
ME: Look, if you're going to do what you want, I'm going to do what I want, but you're not going to like it.
HER: What's that?
ME (to the dog): Come here, puppy!
HER: He won't come to you.
ME: We'll see about that...
I pull out the dog treats I carry for just for such intransigence. I didn't even get a chance to toss any treats to the pooch before Karen scrambled to grab the dog.
HER: DON'T YOU TOUCH MY DOG!!!!!
That's when I started video recording with my iPhone, and when her inner Karen fully emerged and took a dark turn...
---
Intimidation, rage, assault1 -- even fatal assault -- after telling a dog owner, who is flouting a leash law, to leash his or her pet is nothing new to us. Threats of calling the cops and worse, frequently come in the wake of telling a scofflaw dog owner to adhere to the law. The degree of "entitlement" these dog owners express, just like Amy did, should put the public on notice that scofflaw dog owners often engage in escalating hostile behavior when a person asks that they leash their pet.
Within 24 hours of the filming, Amy had surrendered her dog to the rescue group she had adopted him from, and had been fired from her high-level finance job at Franklin Templeton. Christian, who graduated from Harvard, expressed conflict about her fate. "I'm not excusing racism," he told media outlets. "But I don't know if her life needed to be torn apart." Amy later admitted in a statement that she was the one who had acted "inappropriately by not having my dog on a leash."
In 2017, the Seattle Times examined the attitudes of dog owners and those who aren't wild about dogs. Some in the latter category "vent their frustration about 'self-absorbed dog owners' on Internet forums." Others have "resigned themselves to being yelled at" when they speak up in public spaces. "My biggest gripe is all the dogs who are let off leash in parks despite the leash laws and the hostile reaction you frequently get if you say anything," a retired English teacher said.
Colleen Lynn, the founder and president of DogsBite.org, a nonprofit public education website, said the conversation is often erroneously cast as being for or against canines when it should be about entitlement.

"I don't think this is an issue of 'not liking' dogs," she wrote in an email exchange. "What alarms and annoys people are negligent dog owners and their careless, thoughtless attitude toward others. - June 9, 2017
Finding instances of dog owners being filmed after being told to leash their pet on YouTube proved to be difficult.2 But Carolin von Petzholdt has several videos dedicated to it. Like Christian, she is a bird lover. One incident of taking her parrot to a county park nearly resulted in assault. This particular dog owner is the antithesis of what we mean when we say that scofflaw dog owners will often engage in escalating hostile behavior when a person politely asks them to leash their dog.
Leash laws are a simple public safety measure. Scofflaw dog owners take pride in breaking the law and are the first to declare "victimhood."
This dog owner classically projects his own wrongdoing onto Carolin (failure to leash, presuming he has the right to come to a public space and "take it over"). Carolin is assertive, but knows the situation is escalating. After taking a photo of her license plate, the male dog owner eventually saunters away. She states, "Some dog owners are really inconsiderate and really jerks." When Carolin returns home, she calls the police to understand what she should do if this occurs again.
---
When Carolin free-flies her parrot named Hope, she reminds dog owners to leash their pet.
---
Exponential Entitlement
Central Park is 843 acres. The Ramble is a heavily wooded 38-acre section described as a "wild garden" and supports over 230 bird species. Dogs are only allowed in the Ramble leashed. In many parts of Central Park, dogs are allowed off-leash from 6:00 am to 9:00 am and from 9:00 pm to 1:00 am when the park closes. At the time of Amy Cooper's "entitlement meltdown," it was between 7:30 am and 8:00 am, when hundreds of park acres were open for off-leash dogs.
Amy wanted a private oasis for her dog smack dab in the middle of a protected environmental area. Christian Cooper is not only a birdwatcher; he is a board member of the New York City Audubon Society. So when Christian said the dog was "tearing through the plantings" and he told Amy to leash her dog, he was speaking as an expert. Unlike members of the public who are not or would only be "silent and stew" after seeing such an activity, Christian spoke up immediately.
Amy did not only lose her job and dog, she may face criminal charges for falsely reporting an incident. The NYC Commission on Human Rights has also opened an investigation into the incident. The Central Park Civic Association even issued a statement asking the mayor to impose a lifetime Central Park ban on this lady "for her deliberate, racial misleading of law enforcement and violating behavioral guidelines set so that all can enjoy our city's most famous park."
Call-To-Action: Send Your Stories
For 13 years we have been fielding complaints about scofflaw dog owners, who flout leash laws, and complaints about dogs "tearing up" ecologically fragile areas. Virtually all remain in private email exchanges. The viral video involving the two Coopers during Covid-19 shows that these issues should be written about more, and certainly, they should be recorded more. "Entitled" dog owner Amy is nothing new to us, but she weaponized racism too, sinking her own career.
Despite this incident becoming a national issue, dominating media coverage, a major factor is being left out of every story. Scofflaw dog owners like Amy are a dime-a-dozen. Such owners routinely engage in escalating hostile behavior after being asked to leash their pet. If more dog owners followed leash laws, an insurmountable number of injuries could be prevented each year. This includes bite injuries and non bite injuries, especially to bicyclists, caused by unleashed dogs.
We want to hear your stories about hostile responses from scofflaw dog owners who flout leash laws. After learning about the Central Park incident, one person told us, "I was chased by a man using his leash as a whip when I was pregnant, simply because I asked him to leash his dog." Another said, "Just a couple of weeks ago, after I told a man his dog was supposed to be on a leash (again on a public sidewalk near my home), he yelled at me, 'Just die! Just die!'"
Send us your stories of hostile dog owners flouting leash laws or leave them in comments!
---
Christian Cooper gave an interview with The View. "The Ramble is an area of Central Park, which is protected because there is a lot of wildlife there and a lot of delicate plantings," he said. "So it is posted all over the Ramble that dogs are supposed to be on a leash at all times. Unfortunately, we've had a problem with this for many, many years. People think, "Ah well, it doesn't really apply to me." We've been fighting for awhile to get enforcement," Cooper said. "A lot of us have been recording these incidences of scofflaw behavior regarding the leash laws, so I pulled out my mine to document it so that we would have some evidence of what's going on in the Ramble."
---
Related articles:
12/10/19: Dramatic Attack Footage Shown in Vicious and Dangerous Dog Hearing
12/06/18: San Francisco Animal Control: Vicious and Dangerous Dogs Unleashed