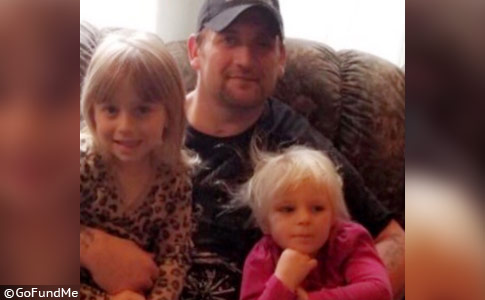 Robert "Joey" Quick died after saving his daughter from a dog attack in Iowa.

Mother Mourns Son
Fort Madison, IA - On June 1, the Lee County Sheriff's Office issued a news release stating that on May 31, the Fort Madison Police Department responded to a dog attack at 102 Avenue C. Upon arrival, they found a large dog attacking a man, lying on his back, in the front yard of the home. "The dog was very aggressive and did not release the man," states the release. "The officers on the scene did have to discharge a weapon to dispatch the animal to stop the attack."
After first responders rendered aid to the adult male victim, they found 33-year old Robert Joseph Quick Jr., of Dallas City, Illinois, lying in the doorway, also injured from the dog attack. Quick told officers to help his 5-year old daughter first, who had been bitten in the face by the dog. They located his daughter and rendered her first aid. Quick was later pronounced dead at Fort Madison Community Hospital, "after tremendous efforts to save his life on scene" were unsuccessful.
A GoFundMe created for Quick's funeral costs, states that he had a heart attack at the scene and could not be revived. As of Friday, June 7, no cause of death has been released by the coroner's office. His mother, however, Deb Newman, recently shed more light on his dog attack injuries. There were injuries to his jugular vein in the left side of his neck, his nose was "ripped open" and more. The severity of Quick's injuries classifies him as a dog bite fatality in our data collection.
"(There were) bites in Joey's jugular vein in the left-hand side of his neck, and then there was bites in his right arm," Newman said she was told. "His nose was ripped open, he had blood coming out his ears. There was a bite-mark on his temple, and there was bite marks on his hands. - Des Moines Register, June 7, 2019
Earlier news reports stated that one of the male victim's injuries were "superficial." If the coroner eventually makes that determination about Quick, his death will not be included in our fatality statistics. Otherwise, we include all cardiac arrest cases when the victim also suffers severe dog bite injuries. This method of classification has been true since we began collecting data in 2007. Police described the dog, which attacked two grown men and one child, as a brown male boxer.
According to Newman, Quick had recently moved into his mother's home in Dallas City, Illinois. His estranged wife and their two daughters lived about eight miles away across the Iowa border in West Point. On May 31, Quick brought two of his four children with him to retrieve an inoperable car at 102 Avenue C in Fort Madison. Newman said his daughters went inside the home and were attacked by a "very big" boxer. Quick rushed into the home to save his two young daughters.
"Joey ran into the house, and I guess he was the only one strong enough to pull the dog off," Newman said, recalling what she was told by a witness who was dog-sitting the animal in the home. "Joey threw the dog out of the house." - Des Moines Register, June 7, 2019
The dog not only went after Quick and his daughters, it attacked a 49-year old man who lived at the home. Persons at the home had been dogsitting the animal, according to police. Police have not identified anyone living at the home, nor the owner of the dog that attacked three people, sending all three to the hospital. "It's gonna take a long time to come to terms with it. My son is no longer alive because of that dog," Newman told the Des Moines Register. "Yeah, I'm angry."
Newman also said, referring to the family dogsitting the animal, "They haven't even apologized. They keep saying how nice the dog was, they can't believe it was mean." Quick's 5-year old daughter, who suffered dog bite injuries, "wasn't told (about her father's death) right away," Newman said. "She was finally told the other day that her daddy's sleeping in heaven. It's kind of hard to tell a young girl, and they don't want her to feel guilty, so he's sleeping in heaven."
Related articles:
02/28/19: 2019 Dog Bite Fatality: Greenville Woman Severely Mauled by Her Own Dogs...
01/18/18: Persistent 'Wild Animal' Theory Finally Derailed, Elderly Man was Killed by a Pack...
---
Baseline reporting requirements:
Law enforcement departments across the United States should release consistent "baseline" information to the media and the public after each fatal dog mauling,
including these items
.