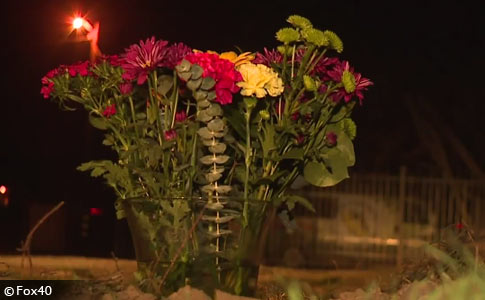 Flowers mark where Deborah Onsurez, 56-years old, was killed by dogs in Modesto.
Suspected Pack Captured
UPDATE 01/03/18: Seven dogs believed to be involved in the mauling death of a woman have been captured. Authorities identified the dogs by using images from surveillance cameras on businesses near the attack site. On Saturday, Stanislaus Animal Services and Modesto Animal Control located five of the dogs, one was dead and another was injured, both believed to be hit by cars. The injured dog was put down. The remaining three dogs were brought to the shelter.
Two more dogs were captured in traps on Sunday and Monday. The five dogs were placed on a 72-hour hold. No owner is expected to reclaim them. "They are not adoptable; when the time comes all will be euthanized, "Animal Services Agency Executive Director Annette Patton said. "In the area of Crows Landing Road there are a lot of stray dogs. It is an ongoing battle for us and the community out there. We can easily round up 30 stray dogs ... in a half day," Patton explained.
They were very aggressive. I was here when they were brought in. One of them had to be chemically captured -- very aggressive dogs. You can tell they've been running as a pack." - Annette Patton, Stanislaus Animal Services
The captured dogs were a variety of mix-breeds, including: doberman pinscher, German shepherd, Queensland heeler, Labrador and pit bull. Six puppies believed to belong to one of the impounded dogs were also captured in a den area near the attack site. The puppies, despite being the prodigy of fatally attacking dogs, will be available for adoption in several days. Of the six puppies, all appeared to be German shepherd-mixes except for one black-and-white pit bull-mix.
---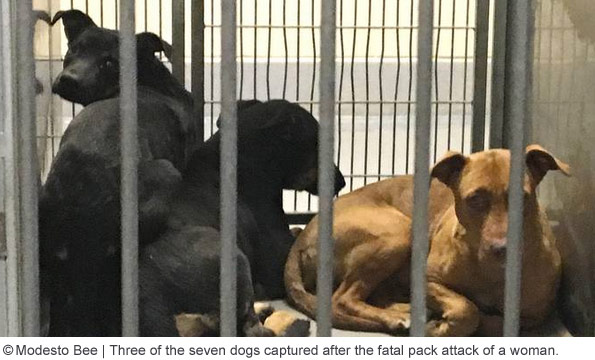 ---
12/30/17: Sheriff's Office Media Release
Modesto, CA - Authorities believe that loose dogs killed a woman Thursday morning in Modesto. Emergency responders were dispatched to the 500 block of Crows Landing Road about 7:50 am, states a release from the Stanislaus County Sheriff's Department. When deputies arrived, they found the body of Deborah Onsurez, 56, in the driveway of a business. She was pronounced dead at the scene. It's unclear why there is a "stray dog" assumption this early in the investigation.
99% of all fatal dog maulings are inflicted by "owned" dogs -- not strays, which lack ownership. Deputies and Stanislaus County Animal Services can't find these alleged ownerless "stray" dogs either. Last year in nearby Fresno County, the at large dogs of Harold Matthews mauled to death Valente Lopez Aguirre, 58, and indirectly caused the death of Robert Simonian, 74, who drowned after trying to flee the same pack of dogs. The fatal attacks happened about 2.5 months apart.
Stanislaus County Sheriff's Department

Modesto, CA - On 12-28-2017 at about 7:50 a.m., deputies and emergency services personnel were dispatched to a 911 call of an unresponsive person in the 500 block of Crows Landing Road. When deputies arrived, they found the body of 56-year-old Deborah Onsurez of Modesto in the driveway of a residence. Onsurez had severe injuries to her body, and she was pronounced deceased at the scene.

Detectives were called out to assist with the investigation. The preliminary investigation led detectives to believe the decedent was killed by stray dogs. Deputies and Animal Control officers searched several businesses in the immediate area, and no stray dogs were found. Detectives do not have any information on the breed or ages of the dogs.

We are working together with Stanislaus County Animal Services and the City of Modesto Animal Control to find the dogs responsible for this needless death. Deputies and animal control officers will be in the area of the 500 Block of Crows Landing Road on 12/30/17 to search for the stray dogs.

The Sheriff's Office and Animal Control are asking for residents in the area to be careful. If you see any stray, vicious or aggressive dogs in the area, please stay away from them and call Stanislaus County Animal Services at 558-7387, the City of Modesto Animal Control at 552-2470 or the Stanislaus County Dispatch at 552-2468.

If you have any tips, you can leave an anonymous tip by calling Crime Stoppers at (209) 521-4636. Tipsters can also e-mail tips at http://www.modestopolice.com/CrimeStoppers, or text them to CRIMES (274637) by typing "Tip704" plus the message and be eligible for a cash reward.
Previous Modesto Dog Maulings
In 2014, four pit bulls residing at 828 Glenn Avenue in Modesto, which is about 2 miles from the 500 block of Crows Landing Road, escaped their property and savagely attacked two people killing one, 59-year old Juan Fernandez. "I've never seen anything like this in the history of my career -- four dogs simultaneously attacking and killing a human being," said Stanislaus County Sheriff Adam Christianson back then. Now he's seen a fatal dog mauling twice in his career.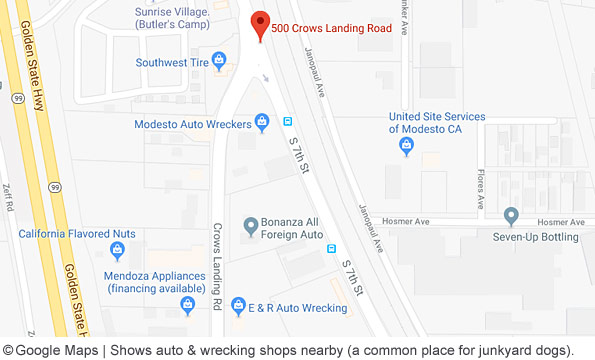 View the DogsBite.org Google State Map:
California Fatal Pit Bull Attacks
.
Related articles:
09/10/15: 2017 Dog Bite Fatality: Pack of Dogs Kill 79-Year Old Man in McCreary County
11/04/14: 2014 Dog Bite Fatality: Pit Bulls Kill Modesto Man, Critically Injure Another
---
Baseline reporting requirements:
Law enforcement departments across the United States should release consistent "baseline" information to the media and the public after each fatal dog mauling,
including these items
.