How a Pit Bull Fulfills its Destiny: Breed-Specific Traits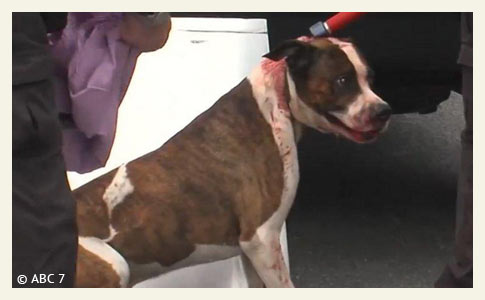 Family pit bull named "Scarface" mauls family after owner tries to put a sweater on it.
Family Pit Bull Berserks
Tampa, FL - In a story that has gone national now, we remind readers of breed-specific traits. Last Friday, WTSB reported that a family pit bull named "Scarface" attacked three family members after its owner tried to put a sweater on it. Brenda Guerrero, 52, went outside to put a sweater on the dog, when it began attacking her. When her husband, Ismal Guerrero, 46, intervened, the dog attacked him too. Their 22-year old son also intervened, stabbing the dog in the head and neck.
All three fled the house, leaving the pit bull in the backyard. Police and animal control responded to the bloody scene. Animal control officers shot the dog with a tranquilizer gun, but the pit bull was still able to get back into the home where two children were present. Police used a Taser and a bean bag gun on the dog before finally catching it. Guerrero's granddaughter, Tina Harris, said she underwent surgery Friday and is recovering from her injuries at Tampa General Hospital.
Breed-Specific Traits
Any other dog breed objecting to being handled for a sweater fitting would have barked or at best, nipped. The hold and shake bite style, which caused Guerrero serious injury, is a pit bull specific behavior, as is repeatedly attacking. The dog continued its assault after being stabbed in the head and neck, shot with a tranquilizer and Tasered. "When they Tased the dog the dog was still pulling away and was able to release the prongs from the Taser," Officer Eddy Durkin told ABC 7 News.
---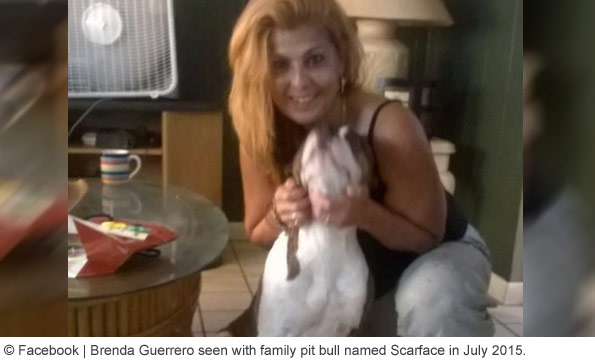 Related articles:
10/10/16: Level 1 Trauma Dog Bite Studies in All Regions Report Pit Bulls Highest Prevalence
06/24/15: Anchorage Pit Bull Attack: The Mechanics of a "Classic" Unprovoked Pit Bull Attack