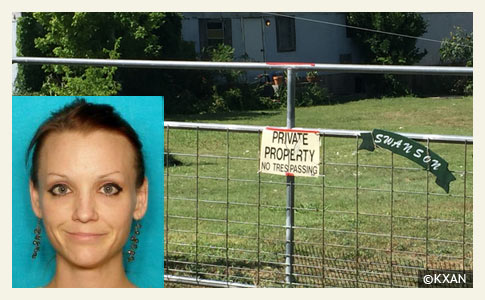 Erin McCleskey, 36, was killed by a pack of dogs in northeast Travis County.
Judge Orders Euthanasia
UPDATE 06/24/16: On June 15, Erin McCleskey, 36-years old, attempted to serve court papers to a home on Fay Street in northeast Travis County. She exited her vehicle, leaving it running, and opened a gate that led onto the property. As soon as she entered, a pack of dogs on the property mauled her to death. Sarah Scott, the chief administrator for the Travis County Medical Examiner's Office, said that her body was found after a neighbor investigated her car by the unlatched gate.
"A neighbor reported a vehicle was running and parked in front of the gate ... This led the neighbor to check out the yard." - Sarah Scott
Authorities impounded six adult dogs, described as four labrador-mixes and two Australian cattle dog-mixes. 14 puppies were also located on the property. The dogs' owners were not present when the fatal attack occurred. On June 24, a Travis County justice of the peace ordered all six adult dogs to be euthanized after hearing testimony about the numerous bite injuries the dogs inflicted. After the ruling, the dogs' primary owner, Terry Swanson, vowed to appeal the decision.
Swanson and his uncle, Robert McCray, and McCray's wife, Marjorie Kalinec, have been the primary caretakers of the dogs. McCray is the person who discovered McCleskey's body. The dogs' owners blamed the victim for her own violent mauling death during the hearing, saying that McCleskey failed to heed the property's no trespassing sign. Justice Herb Evans, however, had the final word, noting: "She didn't deserve to die, and these animals don't have a license to kill."
"We're victims. This never would have happened had she listened to the signs. … I feel like I've been violated." - Marjorie Kalinec, caretaker of the dogs
Assistant County Attorney Annalynn Cox, who argued on behalf of the county to have the dogs euthanized, "expressed indignation" by the lack of any remorse shown by the dogs' owners for her death, reports the Austin American-Statesman. We will add to this extreme narcissism, a total lack of empathy and antisocial deviance, the building blocks of a sociopath.1 Studies show these traits are often seen in owners of vicious dogs. We see them all the time after a fatal dog attack.
---
06/16/16: Woman Found Dead
Manor, TX - On Wednesday, deputies were dispatched to the 12300 block of Fay Street in response to a 911 call made by a caretaker who had come to the property to feed dogs, according to a news release issued by the Travis County Sheriff's Office. Deputies arrived about 9:00 pm and found a woman dead that had been attacked by a pack of dogs. Authorities identified the victim as Erin McCleskey, 36-years old, of Austin. The location of the attack is northeast of Austin.
A medical examiner later determined McCleskey had been dead for at least five hours before being discovered by anyone. - KXAN News
"It appears Erin McCleskey was visiting the residence on a business related matter and entered the front gate of the property where she was attacked by the animals," states the release. Her body was transported to the Travis County Medical Examiner's Office where an investigation into the cause of death has begun. Authorities impounded six adult dogs that were loose on the property. Officers also located 14 puppies that were confined on the property, states the release.
Evening News Updates
The Austin American Statesman reports that McCleskey was a process server who visited the property on Fay Street yesterday to serve civil papers. Sheriff's office spokesman Roger Wade said the 20 dogs -- six adults and 14 puppies -- belonged to Terry Swanson who has been away for the past month and had left a caretaker in charge of feeding his dogs. About 9:00 pm last night, the caretaker arrived on the property and found McCleskey's dead body near the front gate.
The Statesman spoke to Casey Cox, the chief operating officer of EZ Messenger. McCleskey was an independent contractor and was serving papers for his company that day, Cox said. She is also the daughter of his business partner, Michael Shapiro, and lived with her parents, Cox said, "so it's definitely hit home for us." The Statesman tried calling Donald Swanson, who is listed on records as the owner of the property, along with Terry Swanson, but their numbers were disconnected.
Our hearts go out to McCleskey's family and friends. She died alone in a vicious pack attack that apparently began after she opened the gate.
The adult dogs are described as labrador-great pyrenees mixes and two husky-Australian cattle dog mixes, according to the news release. They are being held in quarantine. It's unknown where the Swansons are currently. Interestingly, KXAN reports that despite 20 dogs being on the property, the sheriff's office told them, "they do not believe this was a breeding situation." It is unclear what else one would call six dogs and 14 puppies penned separately in an outdoor area.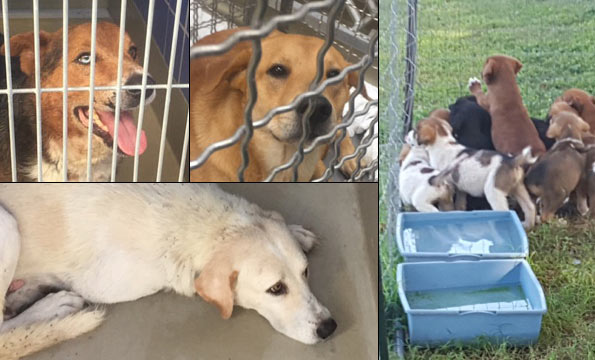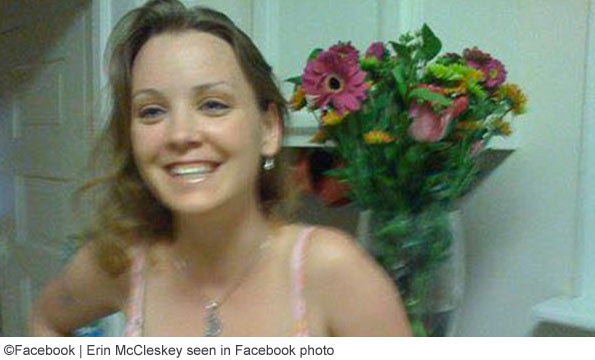 ---
Join Texas Dog Bite Victims' Advocacy - Join our Texas email list to stay informed
1
Break each part of Kalinec's statement down and consider it closely. "We're victims" -- as in we are the "real and only" victims in this case. Next Kalinec blamed the victim for her own violent death. Finally she said, "I feel like I've been violated." We can only imagine how horrified McCleskey's family must have been hearing their abysmal, narcissistic testimony. We don't think an appeal -- assuming there can be one -- will change the judge's order.
Related articles:
06/12/16: 2016 Dog Bite Fatality: Woman Dies After Vicious Dog Mauling in Southern Dallas
05/19/16: 2016 Dog Bite Fatality: Man Mauled to Death by Pack of Dogs in Miami-Dade County
03/25/16: 2016 Dog Bite Fatality: Elderly Woman Dies After Violent Dog Attack In Thurston County