Asks: If States and Cities Can Have BSL, Why Not State Parks?
Click an image to see a larger version and description on the DogsBite.org Facebook Page.
Michigan - A woman recently emailed us parts of her attack story, both she and her Goldendoodle were viciously attacked by a
pit bull while visiting a state park. She was with her husband and friends sitting around her fire pit at her campsite when the pit bull suddenly appeared. She said she would have posted her
photos to her own Facebook page, but "Amazingly," she wrote, "my friends
and family have already been cruel enough in defending the
'friendliness' of pit bulls."
We were sitting around OUR fire pit on OUR lot at a state park when the pit bull quietly came onto our lot. He walked between all of us and the fire pit, passed my dog, turned around, stood in front of him for a second then attacked him. It was HORRIFIC. He brought him down and my dog went submissive, got several wounds on his stomach. Then the pit bull dragged him by his head. When I tried to save my dog, he came after me.

Afterward, I tried to find out why they weren't banned from such a family friendly place (A STATE PARK CAMPGROUND!!!) and they said they could not ban a specific breed. People can't believe a little 35-40 pound pit bull could bring down my 110 pound Goldendoodle. They certainly can, instantly!

My attack never made the news because the police weren't called. I wish it had made the news, people should know that these monsters are allowed in campgrounds filled with children! If it were an hour earlier, there would have been 2 year olds sitting in little chairs around the fire ... it could have been THEM in the jaws. - Goldendoodle owner
Her writing is so immediate and jarring -- exactly how these attack occur -- that we asked if she would share more with DogsBite readers. What follows is an extended account of what happened based on a series of follow up questions that we asked. Like most people, until that night at the state park campsite, she could not have imagined what such an attack entails. Underlined text portions (our emphasis) indicate that these areas are discussed at the bottom of this blog post.
What happened after the attack?
After the dog let go of me, I felt the blood gushing in my jacket and took it off. I had no idea how badly I was hurt. Everyone started scrambling for a towel because the blood was just gushing out. I, however, was trying to get my dog into the camper because I did NOT KNOW if the pit bull was secure, I only knew he let go of me. My husband managed to secure the dog by looping MY dog's leash around its neck and holding it between its legs. There was blood all over the camper door from me trying to take care of my dog. Everyone was telling me not to worry about my dog and that I had to go to the hospital NOW! My husband grabbed me and put me in the car before I even knew how badly my dog was hurt. I had him call about 6 times from the hospital to check on his injuries.

The owners showed up after we got in the car and headed to the hospital. That was about 10:30 pm. All they said was: "That's my dog, I'll take him." They NEVER asked WHAT HAPPENED or if anyone was hurt!!!! - Goldendoodle owner
What happened at the vet?
I don't get out of the hospital until after midnight. We brought our dog into the local vet the next day, which was a NIGHTMARE. The desk clerk was really nice when we got there and asked what happened. We waited forever to get in. They shaved him, cleaned out the wounds, and gave him some antibiotic pills. We didn't realize how bad it was until he was shaved. Our vet bills total over $400. My husband had gone to run an errand and while I was waiting for him in the waiting room, a lot of other dog owners coming in SAW my dog and of course asked "WHAT HAPPENED?"

At the time I was trying to be discrete and only said "He was attacked by another dog". And EVERY SINGLE PERSON asked "What kind of dog?" So I told them. None were surprised and most said "of course." As I was re-telling the events to about the 3rd person, the desk clerk, who had been SO friendly when no one was there, told me "You can go wait in that room over there!" I got the feeling she was upset that I was telling people about this HORRIBLE PIT BULL!!! I had to go sit in a separate room so that people coming in wouldn't see me and hear what happened!

Luckily, my husband pulled up right after she said that, so I just glared at her and headed out the door. I wasn't educated about pit bulls at the time. I had watched Cesar Millan and heard how "it's all how you raise them" until my attack. After almost witnessing the death of my dog to the pit bull, I educated myself and have been trying to educate others. Getting a lot of backlash from friends and even FAMILY members. - Goldendoodle owner
Reaction to the incident report?
The incident report states that their dog had some "bite marks" on the top of its head. Those are not bite marks. That dog was being kicked and hit in the head with a camp chair. My dog never got a bite in! He rolled over in submission almost immediately and the pit bull bit him in the stomach!!

Also, "(the owner) stated that (the pit bull) likes people but doesn't like new dogs." So, bring him to a state park which is known for having a lot of dogs and kids and then don't keep your eye on it? Let it wander off your site at 10:30 pm and not even notice, even when blood-curdling screams are coming from a few streets over? By the way, I don't think this dog should be around people either!
- Goldendoodle owner
How is your world and life today?
I have started writing a letter to the Department of National Resources headquarters about banning dangerous dogs from the state park. They said it can't be done, but if countries, states, and counties can have BSL, so can state parks!

MY PTSD is so bad, I can't go for walks, I practically RUN in and out of my house to get me and my kids into my car, and EVERY. SINGLE. TIME. I am outside, I am looking everywhere for a pit bull. I don't let my kids play outside because I saw someone walking a white and black pit bull down our country road. Scenarios run through my head about them coming after me, my children and my dog. I have nightmares EVERY NIGHT about them coming after my kids. The emotional damage from this attack far outweighs the physical damage done to me and our family pet! - Goldendoodle owner
Discussion Notes
The difficulty of both human and animal injuries (Everyone was telling me not to worry about my dog and that I had to go to the hospital NOW!) The most common pit bull attack involves the dog attacking a pet dog -- pit bulls were selectively bred to attack and kill dogs in a fighting pit. In many cases, one or more persons are injured trying to save their dog from certain death. Without immediate human intervention these attacks usually result in the death of the pet dog. Injured humans and animals are treated at different facilities -- two different types of hospitals. Immediate medical attention is often required; so both victims may be gone from the scene by the time police arrive. This often adds to the difficulty of identifying the owner of the attacking pit bull. Fortunately, her friends were on scene when park officials arrived.
Predictable pit bull owners (They NEVER asked WHAT HAPPENED or if anyone was hurt!!!!) This always comes as a complete shock to victims. They cannot understand the mindset of pit bull owners. This mindset, however, is a dime-a-dozen amongst pit bull owners and is termed "narcipitism." Maul Talk Manual - Narcipitism was coined to describe the classic pit bull owner who does not apologize or even solicit information about the welfare of a person who was seriously injured by their dog. Narcipitism initially comes as a shock to pit bull attack victims, who can't imagine this psychological condition. Most often, people who chose to own pit bulls are not normal dog owners. Readers must recognize this truth before an attack. Having to "see it to believe it" is the most painful way to reach this realization.
A question victims can always count on (And EVERY SINGLE PERSON asked "What kind of dog?") We commonly tell victims that there is no need to include "breed" when recounting your attack to friends, relatives, co-workers, hospital workers and others. As the Goldendoodle owner expresses, "every single person" will ask you, "What kind of dog?" For feisty victims who want to pursue this debate with others, we tell them to fire back: "What kind of dog do you think it was?" We promise this will result in an unforgettable expression by the initial questioner. This is all rhetorical, as the person who asked "What kind of dog?" already knows the answer to the question. But, allowing a person to fully conclude this answer on their own helps he or she validate what they already suspected was true!
The myth that gets children killed and leads to an obscene number of serious injuries (I had watched Cesar Millan and heard how "it's all how you raise them" until my attack.) As we describe in Essay of a Fatal Pit Bull Mauling: "However, when one looks at the situation in this light -- which groups are spreading the false myths, which groups fail to refute these myths and how many entertainment and news organizations broadcast these myths -- one must also ask: Where can a person go to receive reliable information about this dog breed? Usually, a person only finds DogsBite.org when it's too late." Currently, a death row pit bull from Texas that was "saved" and rehabilitated at Cesar Millan's Dog Psychology Center after attacking a woman is now on death row in California for attacking two more people.
Painful and real backlash (Getting a lot of backlash from friends and even FAMILY members). Unfortunately, the dangerous myth, "it's all how you raise them," propagated by veterinarians, animal welfare organizations, megastar Cesar Millan, a host of cable TV shows and print media is a tough myth to dispel. As addressed in the essay: "From a psychological standpoint, the simplest form of the myth, "It's the owner," answers all of the questions to an average person about the dangerous breed issue. Challenging this belief disrupts and threatens the beholder's world." Add to this that since the conviction of Michael Vick (post 2007), there has been a growing backlash about saying anything negative about pit bulls at all, despite the fact that they kill more human beings than all other dog breeds combined.
Pit bulls often ignore dog signals (He rolled over in submission almost immediately and the pit bit him in the stomach!!) Randall Lockwood, PhD: "Likewise, [pit bulls] are disrespectful of the traditional signs of submission and appeasement … most dogs are hardwired to respond to a display of submission by cutting off aggression because it means you have won. But if you are a fighting dog and the object is to inflict the most damage possible, a submissive gesture is just a new opening. In the early 80's, I started hearing from the Humane Society ... They would put that dog into a pen with a German Shepherd, and the German Shepherd speaks "dog," ... and the German Shepherd would go belly up, and the pit bull would just disembowel him. They don't speak that language. They ignore that signal."
Known dog aggression is unacceptable in the 21st Century (Also, "(the owner) stated that (the pit bull) likes people but doesn't like new dogs.") Pit bull owners, rescuers and advocates, along with a countless number of animal welfare groups, no-kill groups and shelters, adopt out dogs, primarily pit bulls, with known dog aggression. While misguided or wishful thinking may be behind their actions, such actions lead to a public safety nightmare, which is another reason why these groups have zero business operating in or influencing the area of public safety. There is no neighborhood or public place where a known "dog-aggressive" dog is safe. Humans error, a door is opened, out bolts the pit bull that destroys a dog being walked on its leash and sends that pet dog's owner to the nearest emergency room.
Emotional injury is underreported and underemphasized (The emotional damage from this attack far outweighs the physical damage done to me and our family pet!) Readers must understand how painfully significant, yet under researched, emotional injury is following a violent dog attack. The description by the Goldendoodle owner is 100% on mark. Part of this trauma stems from the sudden and uncontrollable nature of these violent attacks. They can happen at anytime and just about anywhere. For most of us, unless a policeman is within yelling distance, you are Shit Out of Luck. Some of this trauma will fade for the Goldendoodle over time, but it never fully goes away. You can never go back to the person you were before the violent dog attack. We are sorry to be the bearer of this bad news.
We thank this Goldendoodle owner so much for sharing her important story! Our hearts go out to her and her dog. Her sharing this story will prevent new attacks and inspire new advocates. Thank you so much! Below is a photo of her dear Goldendoodle before being mauled by a pit bull.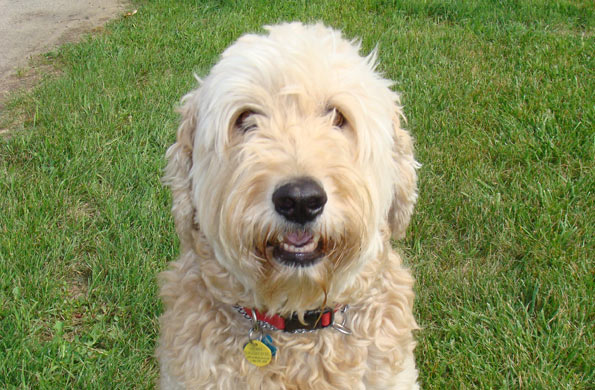 Related articles:
05/07/14: Letter: After Pit Bull Kills Dog and Maims Man, Victims Seek to Advance Public...
08/29/13: East Texas Woman Severely Mauled by Pit Bull at 'Dog Friendly' Private RV Park
05/31/13: DogsBite.org Featured as Guest Columnist in Support of Pit Bull Bans