Pit Bulls Attack Husband, Wife and Their Two Golden Labradors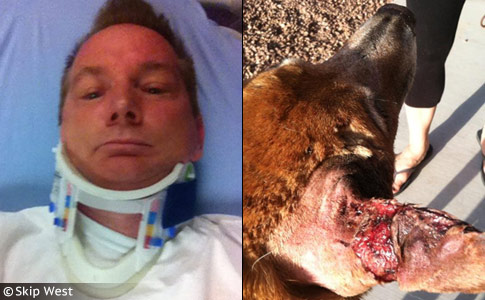 The West family and their two dogs were attacked by loose pit bulls inside a gated community.
Valley Couple Attacked
Las Vegas, NV - On May 9, 2014, Skip and Marie West were returning from exercising with their two senior dogs, when total chaos erupted. Two loose pit bulls attacked all four of them, sending Skip to the emergency room and his dog, Viper, to the emergency vet clinic. Skip provides a blow-by-blow account of the harrowing attack. KTNV News reported the attack back in May and has a video that shows additional images and the gated community where the attack occurred.
Readers need to realize that this is exactly how it happens -- mass chaos unleashes. The degree of injury you and your pet dog will suffer is Luck of the Draw. Whether passersby will help is also Luck of the Draw, as Skip and Marie learned. Along with sharing serious injuries, many victims of pit bull attacks also share the confrontation with a "Classic Pit Bull" owner, such as Darnell. This Narcipitism often shocks and appalls them, having never imagined this psychological condition.
Our lives have changed forever

Back in November, both my wife and I decided it was time to lose some weight and that we needed an exercise routine. After the holidays, now into 2014, we both started programs and exercising with our two older Golden Labs, Viper and Charlotte. After 5 months of tough work, my wife lost 30lbs and I lost 37lbs.

On May 9, 2014, after my wife came home from work, we started our routine and got our dogs with their leashes to run. We live in a gated, surveillance and patrolled housing HOA development area. As we were finishing our run, we approached the exterior gates. Now walking, we saw two pit bulls inside our development chasing a little girl. She ran into an unlocked door (we later found out, that was not her home). Soon, the two pit bulls turned their attention on us. They were still a good distance away and began running towards us. With my wife, myself and two dogs still outside of the gates, we were safe. That is until a car drove up to the automatic gates and opened them.

"The other had his whole head inside his mouth. That pit bull was trying to rip Viper's head off. He was clamped down, pulling it from side to side." - Skip West

The two dogs are now running directly at all four of us with nothing in place to stop them. We did not run or look directly at the two pit bulls (both were neutered males we found out later). One was tan and the other was black and white, about 80lbs each. As the dogs ran up to us, the tan one jumped up and clamped down on my right forearm. The other one bit into my left ankle. Simultaneously, my wife is trying to get though the pedestrian gate. I manage to grab one pit bull and throw it about 6 feet -- this was hard as neither pit bulls had a collar on. The other pit bull went after Charlotte, my 10-year old female Lab. I got Charlotte and that pit bull apart and tried to get her into the gated area. Then another car drove through the gates, opening them, allowing the two pit bulls to come back into the locked area we had just managed to reach. The fighting, of course, starts all over again.

Viper, my male Lab, is 12-years old and tries to protect my wife from being attacked. The two pit bulls tag team my wife to the ground and bite her finger. Viper tries to help me free my wife from their attack. There were about 20 people watching this unfold and only two older ladies came out to help us. All the men that were out that day did nothing! As I help my wife, my wife tries to help Viper. Then the two pit bulls tag team Viper.

At some point during the struggle, Charlotte got out of her collar. She takes off toward home as both pit bulls take Viper to the ground. One was ripping his leg and scrotum area and the other had his whole head inside his mouth. That pit bull was trying to rip Viper's head off. He was clamped down, pulling it from side to side. My wife was able to pry that pit bull off of Viper, but the other one got Viper's ear and tried to tear it off.

The black and white pit bull then takes off after Charlotte and the tan one chases after Viper, who had started running down the street the other way. Both of my dogs ran in opposite directions; I ran after Charlotte and my wife ran after Viper. While running down the street, I do not see any dogs, not ours or the pit bulls. By now, it has been 20 minutes since the attack began.

Then some kid drives up to me -- I am bleeding all over the ground and out of breath. He asks me, "Have you seen my pit bulls?" The kid, who we later learn is 24-years old and named Darnell, then tells me to stop taking pictures of his car (I wanted them for police! Fortunately, I had my cell phone with me). Then he tells me "It's a rental," so it does not matter. He exits his car and leaves his door open. One pit bull runs up to Darnell. He puts the dog in his car. The dog however, jumps the seat, escapes and charges off after another child!

Darnell says "Don't worry, they don't bite."

In the chaos, I start looking for Charlotte again. I reach the end of the street and can't go on. Then a lady comes up to me and asks if I want some water. I say, "Please." She brings me out some water and I drink some. That's when police, animal control, fire trucks and paramedics arrive. My wife shows up about 30 seconds later with a woman who had picked up Viper. She put him into her truck (inside her quad cab, he was bleeding badly). She also found my wife and brought her to me before they took me to the hospital.

I want to interrupt here because this did not have to happen. Darnell claims to the police and on the reports that he lives 22 miles from the attack, even though Darnell has been in our gated area for the past few months (must have a code to get into the area). Why is he here and how did he know that his dogs were 22 miles from home?

After I was released from the hospital, my family came over. Viper was in bad shape with his many injuries and there was blood all over my home. Charlotte was in a little better shape with only some bites, but could not walk. Both of our Labs were taken to an ER veterinarian. Due to the cost of damage to Viper, we had to apply for financial assistance and be put on a payment plan with the veterinarian. At that time, the Vet was advising us to remove the ear at a cost of over $2,500 (that was just the ear cost). Viper had to stay with the Vet that night.

My wife did not go to the hospital, but did have to see her personal physician. She received medical care and medications. At the same time, I went to my physician to receive more shots and medications. One item that I had to be put on is for treating angina and hypertension, due to having chest pain from fighting with two 80lb pit bulls.

This attack has taken a part of our life away from us, which we will never get back!!!

It is now the end of June and the owner has not once said, "sorry" or tried to get a hold of us to see how we or our dogs are doing. It's like he does not care if we lived or died. In the state of Nevada, a dog has to bite twice before they will be put down. I understand that Darnell called animal control after the 10-day quarantine and requested that both of his dogs be euthanized. This was his request, though I do not disagree with this decision.

This is still on going.

Skip West | Las Vegas, Nevada
Related articles:
05/14/14: Family Dog Attack: 'Gripper' Breed Pack Attack Leads to Devastating Near Fatal...
05/07/14: Letter: After Pit Bull Kills Dog and Maims Man, Victims Seek to Advance Public...
04/30/14: Pit Bull Attack Survivor Attends Court Hearing and The Universal Prayer...