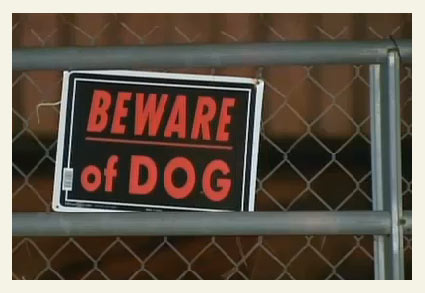 Beware of Dog sign on fence of child mauling victim's home.
Local Club Acts
Spaulding County, GA - This week we learned about another airlift to Children's Healthcare of Atlanta at Egleston due to a life-threatening pit bull mauling. 5-year old Lilly Goodson was brutally attacked by the family pit bull on Wednesday in her own fenced-in backyard. Capt. Dwayne Jones told the Atlanta Journal-Constitution, "When the officer arrived, the dog was latched onto the child's face." The officer was forced to shoot the pit bull while it still had the child in its jaws.1
A "landing zone" for the helicopter was established in a nearby shopping center to pick up the child and fly her to Egleston.
Today, it was announced that the Griffin Shrine Club of Georgia stepped in to help Lilly. This is the third child pit bull mauling victim from a southern state taken into the Shriners Hospitals for Children program since 2011. Other victims include: Brandon Williams of Cocke County, TN and George Sumrall of Columbia, SC -- both also suffered severe facial injuries. All three children are being treated at Shriners Hospital for Children in Cincinnati, Ohio -- a Verified Burn Center.
Prior to the attack, the Griffin Shrine Club had already adopted the Goodson family for Christmas, buying gifts for Lilly and her three brothers and sisters.2 After learning about the horrific pit bull mauling, the Griffin Club put plans in motion to transfer Lilly free of charge to the Cincinnati hospital. "She is going to need several extensive surgeries. There is no way without the help of Shriners hospital that the family could afford to do that," said club member Bill Hatchet.
The child was listed in critical condition yesterday and is still not stable enough to transfer.
1
Griffin Police Cpl. Stan Phillips shot the dog once. Phillips fired a second round after the pit bull went to re-engage again. At that point, the dog fled. Phillips pursued the dog and fired "several more rounds until it dropped."
2
The last thing this child's struggling family ever needed was a pit bull.
Related articles
07/29/12: Cocke County Dog Mauling Victim Moves into New Home Built by Volunteers