Scapegoats: Part 1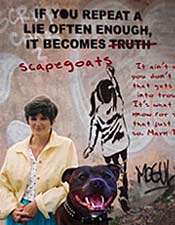 DogsBite.org - Back in August, The Truth About Pit Bulls ripped the rug out from under the Nanny Dog myth invented by pit bull fancier Lillian Rant in 1971. This month, the authors tackle the Bloodhound myth penned by Karen Delise, the former owner of the Nation Canine Research Council, and perpetuated by Jane Berkey, the company's new owner. The myth operates by blurring the lines about historic bloodhound breeds so that citizens are left believing that McGruff the Crime Dog once "tormented the populace."
"Pit bulls weren't always considered dangerous dogs -- that honor has shifted from breed to breed throughout history. In the 1880s, bloodhounds tormented the populace. In the early 20th century, Newfoundlands were the canine terrors. By the 1960s and 1970s German Shepherds and Doberman Pinschers led the pack, until Rottweilers took over in the '90s. And today it's pit bulls." (Erin Carlyle, "Dangerous Dogs of North Minneapolis," City Pages, August 25, 2010)
There were indeed savage bloodhounds in the late 1800s, but they where not "real" bloodhounds, which have zero offenses in the 27-year dog attack report compiled by Merritt Clifton of Animal People. According to the writers of Scapegoats, the two ferocious breeds that were used to "capture runaway slaves, exterminate the Seminole Indians and terrorize union soldiers" were the Cuban and Siberian bloodhounds. Unsurprisingly, the breeds share a common ancestry with the pit bull.
"The White English Bulldog Preservation Society describes Cuban Bloodhounds as similar to the Presa Canario or the Dogo Argentino, dogs that most people classify as pit bull type dogs. The WEBPS describes the dog used by the United States Army during the Seminole Indian War, "This dog depicted could easily be mistaken for an APBT, yet history records this to be a Cuban Bloodhound, known in the south today as the Brindle Bulldog." The WEBPS claims that only the name is extinct, not the dog and that it still exists in the south as the Brindle Bulldog. The Cuban Bloodhound was not a scent hound, it bore absolutely no physical or temperamental resemblence to the true British Bloodhound. The Cuban Bloodhound was in fact a big game hunting and guarding dog, much like the Presa or the Dogo. A dog with a violent function. It was bred to be a fearless dog that used brute force to capture runaway slaves, exterminate the Seminole Indians and terrorize union soldiers."
To learn more about the Bloodhound myth, please read the complete post.
It is important to point out that many public references in the future may contain the Bloodhound myth, such as news stories, anti-BSL talking points and pit bull mauling threads. Followers of DogsBite.org, and those who actively support our position in the pit bull debate, must be aware of this. Please report all Bloodhound myth references to the Comments section of the Scapegoats blog post or directly to Craven Desires. Bloodhound owners, fanciers and rescuers should as well.
Related articles:
08/18/10: New Blog Dispels "Nanny Dog" Myth Invented by Pit Bull Fanciers
Photo: The Truth About Pit Bulls