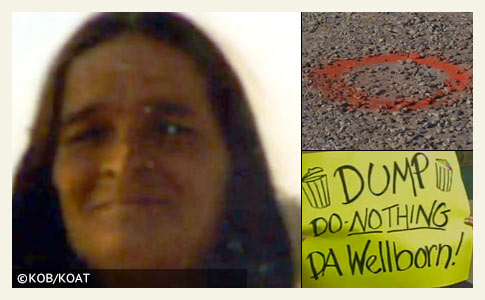 Margaret Salcedo, 48-years old, was brutally killed by four pit bulls on Easter Sunday
Dog Owners Jailed
UPDATE 10/19/11: In a sudden turn of events, the couple whose pit bulls mauled Margaret Salcedo to death Easter Sunday were jailed yesterday after two persons from Child Protective Services came forward with new information about the dogs. Joseph Hardiman, 40-years old, and his wife Maria Angelica "Angie" Hardiman, 32-years old, face charges of conspiracy and four felony counts of violating the New Mexico Dangerous Dog Act, according to court documents.
The news comes a few weeks after District Attorney Clint Wellborn announced that charges would not be filed, unless credible sources came forward with information showing that the dogs' owners "knew of the propensity of a dog to inflict serious injury." The new information was provided to Wellborn a day after his announcement. Both employees had seen the pit bulls and heard about their upbringing during supervised visits between Angie Hardiman and her daughter.
During two supervised visits in 2010, Angie Hardiman allegedly told one of the employees she and her husband "were going to train the puppies to be attack dogs and that they were going to sell them as guard dogs," according to Tuesday's filing. At a subsequent meeting, Angie Hardiman reportedly brought one of the dogs - Diesel - into the CYFD office, where it lunged at an employee, repeatedly growling and snapping at her until she retreated.

Angie Hardiman was not allowed to bring the pit bulls to subsequent meetings.

However, at another meeting, Angie Hardiman reportedly mentioned that she had had to euthanize her dogs' mother "because she hurt another dog ... crush(ing) all the bones in the other dog's head," court documents state. (Ashley Meeks, Silver City-Sun News)
The victim's brother, Gary Salcedo, and a group of local residents had pressured Wellborn to charge the Hardimans under the state's Dangerous Dog Act for months. Speaking to the ABQ Journal, Gary Salcedo said, "Has this been a very emotional, draining task? Yes. Has it been financially draining? Yes, but it's something that had to be done. And that makes it worthwhile. That's the key fact, that somehow, somewhere, she (Margaret Salcedo) will get justice."
09/29/11: DA Will Not File Charges
Last week, the Las Cruces Sun News reported a foretelling update in the mauling death of Margaret Salcedo. The paper wrote that more than four months after she was savaged to death by four loose pit bulls while walking along a public road, the local district attorney is "prepared to announce" if criminal charges will be filed in the case. A telltale sign that no charges would be brought was included in the second paragraph about the dogs' owner:
...former Truth or Consequences police Officer John Hardiman, a certified dog handler and trainer.
As expected, District Attorney Clint Wellborn announced yesterday that charges would not be filed. Wellborn's reasoning mainly relies upon the absurdity of state law. Like Texas, New Mexico is governed by a "one bite" rule. In 2005, the family of Emma-Leigh Chambers-Allen helped pass a state felony law,1 but the law is moot unless the owner knew or should have known that his dogs were vicious. Wellborn said that investigators were unable to uncover such evidence.2
Wellborn also said that Hardiman had worked with a variety of police departments, including one month for the Truth or Consequences police in 2008 and had two certificates showing advanced training with guard dogs. The investigation found that both of the certificates were falsified. "But even if the certificates were authentic," Wellborn said, "it does not prove that Mr. Hardiman had knowledge that the dogs had the propensity to inflict serious injury or were vicious."3
04/26/11: Neighbor's Respond to Attack
KVIA.com reports that the victim, Margaret Salcedo, was the mother of two with one grandchild and another on the way. Arriving officer James Harrington said, "The first thing I saw was the female subject lying on the roadway with four of these dogs surrounding her, literally on top of her, ripping chunks of flesh from her." Neighbor (and Maul Talker) Linda Roth said in one breath, it was a "blood curdling scream" and in the next breath, "It's not the dog, it's the owner."
This deflection of blame away from the pit bulls, who violently killed an innocent woman, is shameful and pathetic. Truly Ms. Roth, it was not the dogs' owners, John and Maria Hardiman, out on the pavement Easter Sunday "ripping chunks of flesh" from Salcedo. It was their four pit bulls, who reportedly had no prior incidents of aggression. The Hardimans are responsible for all criminal and civil penalties. But let's be clear on who did the actual ripping and killing.
04/26/11: Imagery of Dogs Captured
Imagery of three of the four pit bulls has been captured by KOB.com. Witness Laura Russell was also interviewed. Russell won't be forgetting anytime soon what she saw, specifically the horrific condition of Margaret Salcedo after being ripped apart by four pit bulls. One pit bull can and will brutally attack and kill an adult. Four pit bulls? Salcedo, who is described as a loving person without a mean bone in her body, did not stand a whisper of a chance against these dogs.
Our hearts go out to the Salcedo family.
04/25/11: Victim: Margaret Salcedo
Truth or Consequences, NM - In a developing story, a woman was killed Easter Sunday by four pit bulls in a New Mexico town. Margaret Salcedo, 48-years old, was walking alone when the four dogs, who had escaped from a private residence, viciously attacked Salcedo. Police Chief Patrick Gallagher said the victim was "bitten on all her extremities and lost a lot of blood." She died within hours of reaching the hospital. The dogs belonged to John and Maria Hardiman.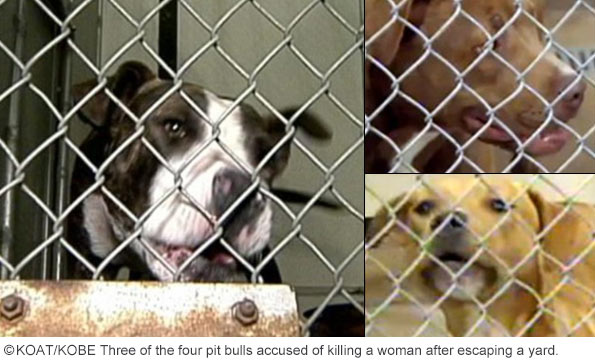 1
The wording of the felony penalty law (77-1A-6) re-emphasizes the state's "one bite" rule: "Prosecution pursuant to this section requires a showing that: (1) an owner knew of the propensity of a dog to inflict serious injury."
2
Truth or consequences?
3
Owning four pit bulls ought to be evidence enough. More details about the DA's findings is located in an ABQ Journal article, unfortunately, the paper has a pay wall.
Related articles:
03/03/11: 2011 Dog Bite Fatality: Pontotoc County Man Killed by Three Pit Bulls
08/21/10: 2010 Dog Bite Fatality: Tracey Payne, 46, Killed by Pack of Pit Bulls in...
12/10/09: 2009 Dog Bite Fatality: 70-Year Old Dies After Violent Maiming by Pit Bulls
Photos: KOB.com