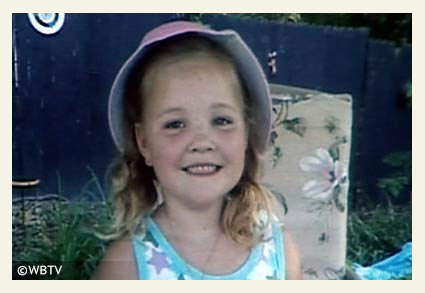 Pit bull attack victim, Makayla Woodard.
Grand Jury Indicts Pit Bull Owner
UPDATE 03/16/11: A Union County grand jury has indicted the owner of the pit bulls that killed Makayla. The indictment formally charges 23-year old Michael Gordon of Waxhaw with felony manslaughter in connection with her death. Deputies arrested Gordon Thursday inside the Union County courthouse while he was to appear on the felony and misdemeanor charges. In the weeks leading up to the attack, Waxhaw police officers had warned Gordon about restraining his dogs.
Makayla's family has set up a petition website to help prevent future pit bull maulings.
01/19/11: Commissioners Set Up Panel
In the wake of Makayla's death, the Waxhaw board of commissioners set up a panel to study how to deal with stray and potentially dangerous dogs. The City of Waxhaw had an animal control officer in training before the fatal incident who is expected to go on duty in the next two months. Mayor Daune Gardner said that the entire community is "torn up" by what happened. The swift actions by the commissioners are not uncommon following a deadly attack.
Last year, San Bernardino County, California, Hinds County, Mississippi and Memphis, Tennessee enacted stricter dog control laws following a fatal pit bull mauling. DogsBite.org encourages cities not to wait until there is a death prior to adopting proactive dangerous dog laws. The Charlotte Observer article also notes that the owner of the dogs that killed Makayla remains uncharged, but the case has been turned over to the Union County district attorney.
01/13/11: Charges Expected in Deadly Attack
News agencies have been steadily updating details about the pit bull mauling that killed Makayla and left her grandmother hospitalized. WCNC reported that neighbors had complained many times about the two dogs who often ran loose and that police officials had a hard time discussing the case because the injuries were so "gruesome." 9 News reported that Police Chief Michael Eiss said that charges against the dogs' owner may come soon.1
Like in the 2010 the death of Anastasia Bingham, Makayla was only home that day due to school closures for snow and ice conditions. Exactly where Makayla was when she was attacked, either in her yard or the dog owner's yard (the homes are next door or across the street from one another -- reports vary), does not matter given that the dogs had escaped their restraints, and the expected charges against the dogs' owner, 23-year old Michael Gordon.2
01/12/11: Pit Bulls Kill Child, Injures Grandmother
Waxhaw, NC - In a developing story, two pit bulls killed a 5-year old girl and severely injured her grandmother. Makayla Woodard and her grandmother were attacked by the dogs just after 11 am on Rehobeth Road behind the Captain's Galley seafood restaurant. Both pit bulls, owned by Michael Gordon, were fatally shot by law enforcement after the incident. The victims were rushed to Carolinas Medical Center-Union, where Makayla later died from her injuries.
According to police, the grandmother, 67-year old Nancy Presson, was injured trying to get the dogs off Makayla. As of 4 pm Wednesday, Presson was under sedation and listed in stable condition in the hospital's emergency department. Makayla's mother (and Presson's daughter) told WBTV that her mother's injuries were severe, but that she would survive them. Police had visited Gordon's home around Christmas and warned him about restraining his pit bulls.
1
Information is still unclear in some areas and unfolding.
2
Craven Desires left a link showing that Gordon is a convicted felon, released from prison in 2010.
Related articles:
11/11/10: 2010 Fatality: East Texas Child Killed by a Pet Pit Bull
10/25/10: 2010 Fatality: "Very Loving" Pit Bull Kills Baby in Jacksonville Home
06/25/10: 2010 Fatality: Terry Child, 5-years old, Killed by Neighbor's Pit Bull