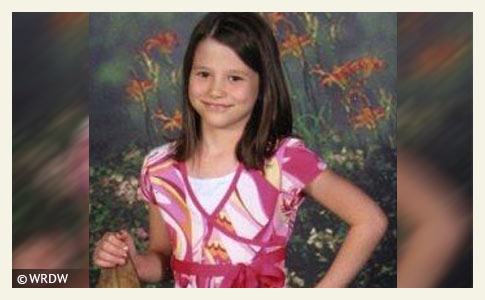 Kristen Dutton, 9-years old, was fatally attacked by an akita new to her home.
Fatal Neck Injury archived
McCormick County, SC - A 9-year old girl was killed by a dog Saturday at her grandfather's home in Modoc. Kristen Dutton, a fourth grade student at Meriwether Elementary School, was taken to Medical College of Georgia Hospital, where she was pronounced dead. Her grandfather, Mickey Abercrombie, had purchased the 98-pound Japanese akita1 -- a breed with a well known heritage of dogfighting and guarding -- just three weeks earlier for his grandchildren who lived at his home.
Kristen was reportedly playing with the dog when it turned on her, biting her fatally in the neck. McCormick County Coroner Faye Puckett said that Kristen's younger brother saw her laying in the yard and alerted their grandfather. The Department of Health and Environmental Control took the dog into custody. The dog will be euthanized. Kristen's grandfather said the 4-year old dog had never displayed a "hint" of aggression, even though he had only known the dog for three weeks.
      Mickey Abercrombie purchased the pet about three weeks ago for his grandchildren, who lived with him at his home on Hood Drive in Modoc, along with their mother.

Just hours before the attack, the grandfather had taken the dog on a walk, along with the children. Later, Kristen took the dog on a walk by herself, without incident.

Abercrombie told authorities he fastened the dog up to its runner beside the kennel before going inside to help his grandson with his homework. Kristen stayed outside to bond with the new pet. - Bianca Cain, The Augusta Chronicle, January 26, 2011
1
Akitas usually make the "Most Dangerous Dog Breed" lists that circulate the news media. A 2010 Daily Beast article, which based their results on the Merritt Clifton report, ranked Akitas as the fourth most dangerous breed.
Photo: The Augusta Chronicle