Fatalpitbullattacks.com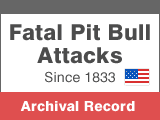 DogsBite.org - For several years, DogsBite.org has been gathering historical fatal dog attacks, incidents occurring prior to 2005, and posting them to a web page. The number of fatal pit bull maulings grew so voluminous, that we decided to launch a new website, Fatal Pit Bull Attacks, to list these attacks along with brief facts about the history of breed-specific laws. Nearly all of the historical incidents were found through Google News Archive Search.
As stated on the new website, U.S. fatal pit bull maulings have surpassed 150 since 1998, the last year the CDC studied fatal dog attack data. The only difference between 1998 and today is that pit bulls are killing at a much faster rate. In the 20-year period studied by the CDC, pit bulls and their mixes killed 76 persons, averaging 3.8 deaths annually. During a recent 6-year period, from 2005 to 2010, pit bulls averaged 17.3 deaths annually, up roughly 450%.1
We encourage persons who have been tracking fatal pit bull incidents to review the site. A submission form is located in the right column to submit new information. We do not believe that we have a complete listing of incidents occurring between 1999 and 2004 or between 1970 and 1945. The new website is a product of many hours of research provided by a handful of dedicated persons. We thank those involved and hope for your continued participation.
1
Data updated February 3, 2011.
Related articles:
2010 U.S. Dog Bite Fatality Statistics - DogsBite.org
2009 U.S. Dog Bite Fatality Statistics - DogsBite.org
2008 U.S. Dog Bite Fatality Statistics - DogsBite.org
2007 U.S. Dog Bite Fatality Statistics - DogsBite.org
2006 U.S. Dog Bite Fatality Statistics - DogsBite.org
2005 U.S. Dog Bite Fatality Statistics - DogsBite.org