By Dorothea Malm
A guest writer for the DogsBite.org Blog.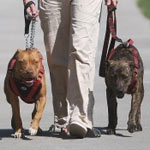 What's worse than pit bulls and their nutters in your neighborhood? Pit bulls with nutters who follow you into neighborhood shops, restaurants and hop on the bus with you. It's all the rage right now. If you don't mind lying and committing fraud, all you have to do is have or pretend to have a disability and pretend your pit bull is trained to help you with it. Slap a vest or a laminated tag that says "Service Dog" on your pit, buy a meaningless "registration certificate" and you're all set!


Melissa Merrill needed some attention, so she talked to Jomay Steen at the Rapid City Journal about her seizure disorder which requires not one, but TWO pit bull service dogs who are trained to sit and howl or go and get someone. (Why not both, since there are two?)


Because her seizures can occur anytime, at least one dog needs to be awake to help her at all times.


Seems the service dogs being pit bulls hindered the Merrill family housing search, forcing them to live in a campground for a while. If these were actual service dogs and Missy had a legal disability, everyone who turned the Merrills down would have committed a crime and infringed Missy rights under the new ADA guidelines, yet there is no mention of anyone alerting authorities to redress the issue. Instead, Melissa went to the media, and told a lot of lies.


Here is a list of the lying nutter's pack of lies, identified with help from people at Service Dog Central who discussed this scammer in their discussion boards.
List of Pit Nutter Pack of Lies: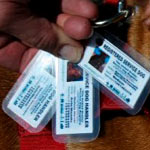 Necessity of two service dogs that have been trained to sleep in shifts. Unheard of. (I know no one bought that one. User Roxie even said, "Laughed my socks off over the dogs sleeping in shifts!")
Seizure dogs are not typically trained to howl in response to a seizure and only TV Lassie can "go get help." Imagine how effective it would be if not Lassie but a pit bull were running toward a stranger and barking insistently. A seizure response dog typically stays with the person to keep them from harm or might be trained to activate an alarm device, and also carries information for responders. Click here and here to read why a pit bull is probably a particularly poor choice as a seizure response dog.

1

There is no government or ADA accredited registry for service dogs. Some municipalities have voluntary certifications, and training facilities certify that the dog has passed their training program, but most people who rely on certificates and registries as proof, have just bought a piece of paper from an online scam operation.
You don't need "a note from your doctor" if you have a disability. In the United States, "disabled" and "disability" are legal terms, not medical terms. If the legitimacy of one's disability were challenged in court, a judge could consider a doctor's opinion, but would not be bound by it. Some municipalities allow people to get a prescription from a doctor to travel with an emotional service dog, though these are not considered service dogs by the ADA.
A close up of the tags (See thumbnail images below the nose washing photo) on the one dog shows that there are 2 different picture IDS of two different "service dog handlers." So, not only does one person seem to own 2 service dogs, at least one of the dogs is serving 2 handlers with disabilities. Again, unheard of!

Incidentally, service dogs and their owners are not currently required to be in possession of or to show any proof of disability or of training for the dog.


What would "responsible" pit owners say about this reckless, irresponsible, fraud pit nutter? You know, those pit nutters who yell to the rooftops, "I'm Educated! I Have a Job! I'm A Professional! I Own My Own Home! I Don't Live In A Campground!"


Well, when she's a pit nutter veterinarian living in the Miami-Dade County pit bull ban area while hiding an illegal pit bull, she'd say, "I found a loophole!" and write a blog post about it. She did this because she has no idea what the word "loophole" means. The essence of the loophole is that it is LEGAL. It may be unethical, unsavory, unwholesome and unintended, but it is legal. What she is telling the whole world, and ultimately the Dade County ADA office, is she's breaking the law and willing to commit fraud!
Patricia Khuly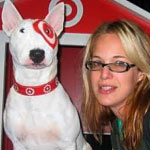 Patricia Khuly VMD, MBA2 writes very succinctly in her Fully Vetted blog (See: Pit Bulls in Miami-Dade Find a Loophole, But is it Fair?) that though she has in the past condemned other people for making their pit bull into fake service dogs, now that its convenient for her to do so, she will. And she'll call it a political statement to make herself feel more important.


The centerpiece of her evil plan was to get her pit bull, Pinky, certified as a therapy dog. She was then told, repeatedly, and by people who own service dogs, that a therapy dog is NOT a service dog and not covered under the ADA and that certification does not protect her pit bull from being rounded up and euthanized. (Pit bull owners in Miami-Dade, like those in Denver, flout these bans because they have nothing at stake, and they don't mind one whit putting the life of their pit bull in very real jeopardy.) Apparently, she only removed Pinky to safety outside the ban area after a complaint was lodged with a website to which she is contracted. Vaya con Dios, Pinky.


When Khuly's not advocating breaking the law and putting dogs' lives in jeopardy, she is blogging about such useful topics as: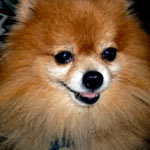 The result of veterinarian Patricia Khuly's advice will likely result in more tragedies like poor Buddy's demise in front of dozens of people within the close confines of a bus. Buddy's neck was broken and he slowly died from blood loss in his elderly owner's lap after a "50-pound Rottweiler-Shar Pei mixed breed dog" attacked him without provocation.


The breed description for a male Rottweiler includes a weight range of 110 to 130 pounds. Without a photograph, it is hard to imagine a 50 pound rottweiler mix, however it might look a lot like these 50 pound, full-blooded pit bulls with black and tan markings.


Fake service pit bulls are especially popular in areas where service dog status can circumvent bans, such as Denver, Colorado, and Miami-Dade County, Florida. The scam is very appealing to liars and pit nutters because:
Unlike virtually every other country that has legislation concerning service dogs, no U.S. governmental agency, including the ADA, accredits service dog training. It is legal to train one's own dog, and no identification of any kind is required as proof of being a trained service dog.
Business owners or public service workers such as bus drivers may not ask what kind of disability a person has because to do so infringes on the civil rights of people with disabilities.
In the U.S., only a judge can make a definitive determination as to the legitimacy of a person's disability, which means the only way to dispute a claim is to go to court unless the individual admits to the fraud.
Only the State of California has a law that specifically addresses falsely representing one self as disabled and one's dog as a service dog. (If there are other state laws, I'd be glad to hear about them.)

The lack of accreditation of service animal training is the crux of this issue of fake service dogs. Three things are required to be a legitimate service dog:
The handler/owner must have a disability; otherwise the dog is just a trained dog.
The dog must be obedience trained so that the owner can maintain control of it at all times.
The dog must be individually trained to perform tasks the owner is unable to perform on his/her own.

Here is the description of the very high minimum standard of training a legitimate service dog is generally expected to have.

I URGE local and state governments, especially those with BSL, to consider new legislation that would:
Specifically address and penalize people who misrepresent themselves as disabled and/or misrepresent their dog as a service dog.
Establish a voluntary government accredited Service Dog Certification program. Issue tags identifying the dog as having passed the Assistance Dog Public Access Certification Test or a similar test.

In addition to new legislation, educate the public both about the civil rights of people with disabilities and the rights of business owners and the public to help assure that scammers can't bring potentially dangerously untrained and aggressive dogs into stores, buses, movie theaters, zoos and more.

Upon entering a public place restricted to pets, representatives are allowed to ask three questions:
Do you have a disability? This is necessary because, by definition, no dog can be considered a service dog if the handler does not have a disability. However, the handler of the dog cannot be asked the nature of their disability.
Is that a service dog?
What tasks is the dog trained for to assist you? According to the ADA, all service animals must be trained to perform a task or do work that the handler is unable to do. To preserve privacy, the handler may answer vaguely. Vague answers include, but are not limited to: Hearing, Guide, Mobility Assistance, Medical Alerts to pending medical conditions.

Whether the dog is a fraudulent service dog or a poorly trained and controlled service dog, businesses have not only the right, but the responsibility to eject all uncontrolled dogs. The ADA requires that the handler be given the opportunity to get the dog under control before it can be told to leave. The business can require that the dog leave, but they can't "kick out" the owner.


Genuine service dog owners are very highly motivated to find a dog that has a highly dependable "bombproof" temperament and to maintain the dog's responsiveness and skills through continued training. Typically, service dog owners pay a lot of attention to their dog's hygiene because expectations are high for a working dog that may go into a restaurant or store. This sets the genuine working service dog far apart from the typical pet. Allowing pit bulls and other pets to masquerade as service dogs is dangerous for everyone.
1

After a pit bull kills a person, family members sometimes blame the attack on the person's "history of seizures."
2
Patricia Khuly is a pet health columnist for USA Today. Though lacking a PhD, she clearly fits the definition of an ethics sell-out.
Related articles:
08/17/10: Department of Justice Axes Monkeys, Other Creatures From Service Animals
02/05/09: Pit Bull "Service Dog" Kicked Off American River College Campus
07/20/08: Service and Therapy Animals: Changes to the Americans with Disabilities Act (ADA)
Photos: Rapid City Journal