My Pit Bull Experience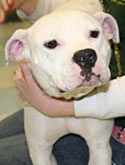 Delaware - On July 2, we received an email from Giancarla Churchman. She said that she was writing because she had been drawn to the website for sometime and that her story is one that "wouldn't have happened" had she heeded the information found on DogsBite.org. Churchman's story is one of great importance and involves adopting a pit bull into a home with three small children and a pet dog after "accidentally" getting caught up in the pro-pit bull movement.
We encourage you to read and share Churchman's story, particularly with those who are considering adopting a pit bull. After reading her story, you will understand first-hand what a thoughtful, educated and cautionary dog owner experienced after adopting a 10-month old pit bull. You will learn how she religiously followed the strict guidelines devised by members of the pit bull community, primarily Bad Rap (View: Bad Rap's New Bully guidelines), and how each of these measures failed.1
You will learn that after 60 days, and amassing 6 written pages of aggression incidents with the culmination of the pit bull, named Bella, attacking her other pet dog, Churchman requested to have the dog euthanized. Lastly, you will learn how both her veterinarian and the S.P.C.A. group, who adopted the dog to her, refused to euthanize the animal. The group then posted Bella up to their Petfinder adoption page with no mention of previous aggression or biting incidents as well.
A "Recovering" Pit Bull Owner
Churchman's letter was written March 24, three months prior to contacting DogsBite.org. Over the course of this time, Churchman came to several realizations. For instance, seeing how the shelter operated in regards to a dangerous pit bull, opened her eyes to the scope of the pit bull problem and the role many animal groups play within it. In reflection, she now sees that the 60 days of extensive training was unreasonable, though at the time, she thought it very reasonable.2
After Reading Churchman's Story
How many of you think you could be a responsible pit bull owner?
How many other well-meaning people share Churchman's story?
How many of you wonder where Bella is now?

3
Behaviorist Alexandra Semyonova
Given the nature of Churchman's experience with Bella, we shared her story with behaviorist Alexandra Semyonova. As it did for DogsBite.org, Churchman's experience struck a critical nerve with Semyonova. She has many times witnessed the grief and guilt of well-meaning dog lovers, who only realized the truth about the pit bull after they'd been misled, taken one in, and seen this end in tragedy for a child or another dog. Below, we've enclosed her summary response after reading Churchman's story.
COMMENTS ON 'My pit bull experience' – SUMMARY

By Alexandra Semyonova
August 2010

"It's clear that Ms. Churchman acted out of love for animals. As is the case with so many who are duped into trying to adopt a pit bull (or a pit bull mix), her love of dogs made Ms. Churchman want to believe that no dog could be vicious by nature. It made her believe every dog should have a chance. And because pit bulls have been flooding shelters for years and are the most euthanized dogs in the world, it seemed an act of mercy to her to give a pit bull a chance.
The really appalling thing about this story is how pit bull rescues and pit bull propaganda organizations – including many generic so-called 'humane' societies – play into this love of dogs in unknowing people. Pit bull people (and 'humane' societies) know perfectly well what the breed is all about. This is illustrated by the measures these pit bull fans advise people like Ms. Churchman to take – in particular their 'lockdown' for at least the first month. These clubs willfully ignore the safety and well-being of adopting household members, particularly children and other animals, hoping to get yet another pit bull that has landed in a shelter re-homed. That 'humane' societies often willfully go along with this is illustrated and proven by the fact that this shelter is now again advertising Bella for adoption, but without the information that Ms. Churchman provided.
In fact, Ms. Churchman did everything right to help a normal shelter dog feel comfortable in her home and begin to show his/her true doggy nature. She did everything that would help a traumatized normal dog overcome any trauma and feel safe and confident; everything that would enable a traumatized dog to for once have normal and affectionate relations with his/her housemates (human and canine) – and eventually with all the rest of the world.
The fact is that none of the measures that will help a normal dog can help a pit bull. Hand-feeding, systematic desensitization, habituation, counter-conditioning, trust-building – none of these will change the genetically determined brain disorder pit bulls are born with. When a normal dog shows aggression (they almost never attack as such), it is indeed to do with feeling too defensive to the world around them. The more a normal dog feels confident and above all safe, the less likelihood that it will show any aggression at all. In a pit bull, lack of confidence is often the only thing that keeps it from attacking. This means that if you are fostering a pit bull, confidence-building measures usually make an attack more rather than less likely.
So here's another tragedy. Ms. Churchman knows very well how to help and take care of a traumatized dog. I am hoping that this experience will only make her reject the pit bull propaganda. I'm hoping that it will not make her doubt her dog skills, nor make her reluctant to use those excellent skills to try to save some other, normal dog.
The final, and in my eyes very important tragedy is what Ms. Churchman was led to expose her own dog to. As much as she loves dogs, I doubt she would voluntarily have exposed Roscoe to such a life-changing trauma. I can forgive her because it was her love of dogs that made her believe the pit bull scene's lies, and because it's clear she won't make this mistake again. I only hope she can forgive herself. I have confidence she'll be able to help Roscoe get over this.
In closing, there is the tragedy that could have happened but didn't: it was Roscoe and Ms. Churchman's husband who were attacked, and not one of her children. Shame on the pit bull scene!"
Detailed Comments and Terminology
In addition to providing a thoughtful summary, Semyonova provides 9 pages of comments covering themes and terminology to help explain Churchman's story. Some items, such as "Lockdown" and a "Growing Confidence in the New Home," may shock owners of dogs who could never imagine this to be true of any dog breed. The last item addresses the grave irresponsibility of the S.P.C.A. group who sought to "pass on Bella" without sharing the dog's history of aggression incidents.
Detailed Comments Contents
Lockdown
Hand Feeding
Shutdown In Shelter Dogs; Growing Confidence In The New Home
Resource Guarding
Socialization
Play
'Dogs Stop' Command
Trust
Dog-Dog Aggression Is Different From Dog-Human Aggression
Instinct
Positive Reinforcement Will Work Especially With Pit Bulls
Who Started It, Who 'Finishes' It
Bella Dog-Selective With Her Aggression (P.6)
Roscoe Terrified By Bella After The Attack
Information Given By Pit Bull Contacts And Rescues, 'Humane' Societies, Etc.
Re: Sound Temperament In The Pit Bull
Ambassador For The Breed
Battling Demons (P.6)
Failure Of The Rescue To Acknowledge The Information And Pass It On To Prospective Adopters
About Alexandra Semyonova
The 100 Silliest Things People Say About Dogs
Alexandra Semyonova's book is credited by the editor of Animal People as, "The most astute book about dog behavior that we have reviewed in 23 years." Semyonova's book is available for purchase at Amazon.com and several other websites.
Nonlinear Dogs: A Website Dedicated to Telling the Truth About Dogs
From the Nonlinear Dogs website, one can review selected pieces of works by Semyonova including: The 100 Silliest Things People Say About Dogs; The Social Organization of the Domestic Dog; The Deaf Dog Manifesto and others.
Internationally acclaimed animal behaviorist Alexandra Semyonova was born in the U.S. and educated at John Hopkins University and University College London. Author of the pioneering academic paper, "The Social Organization of the Domestic Dog," she works with dogs and their owners on a daily basis and worked for ten years as
welfare inspector for the Dutch SPCA
until she was fired in 2010 for telling the truth about pit bull type dogs.
More writings »
1
Additional pit bull groups mentioned in Churchman's letter include: Animal Farm Foundation, Pit Bull Rescue Central and The Real Pit Bull.
2
While speaking with Churchman on the phone, she said she really "sucked in the koolaid." She even told her children, "all dogs are individuals." She also said that her house was "becoming a prison" with lockdown, crate-and-rotate and the other measures she was forced to take to limit Bella. Lastly, she said that when Bella attacked the other family dog on March 17, she did not have a break stick. Churchman instead used the handle of a sledgehammer to pry open Bella's jaws. This and the rest of her story is completely unreasonable for a "family pet."
3
Some time between July 8 and August 14, Bella's Petfinder page was removed. We have no additional information about the dog.
Related articles:
01/27/10: Dutch SPCA Willing to Sacrifice Other Animals to Appease Pit Bull Fans
05/05/09: Semyonova: "Heritability of Behavior in the Abnormally Aggressive Dog"
04/17/09: Crow Bar Used to Unlock Pit Bull's Jaws Engaged in Fight