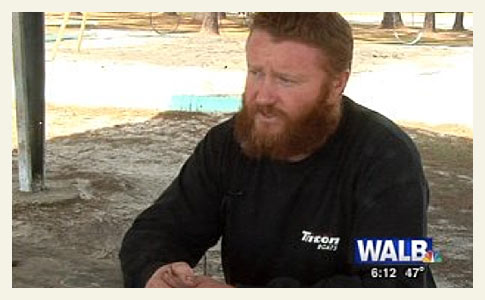 David Peppers, Cheyenne's father, talks about the unbearable loss of this daughter.
Father Wants New Laws
UPDATE 01/15/09: David Peppers, Cheyenne's father, told WALB that he does not want anyone else to go through what he's gone through. He hopes to prevent the immense pain he has suffered since his daughter's death. He says big changes need to come to Thomas County. He wants laws in place for people who own dangerous dogs like pit bulls and consequences for owners of dogs that seriously hurt people. "It needs to be changed. There's too many kids dying," said Peppers.
Peppers and several other locals want commissioners to enforce new laws. "We've got to have an ordinance to where those dogs are registered at vets, a spay and neuter type thing needs to happen. These dogs need to be checked on a regular basis. How they're pinned, how they're tethered up," he said. Peppers and his wife are divorced. His little girl lived with her mother and stepfather in Thomasville, at the home where three pit bulls killed Cheyenne in their backyard.
01/06/09: Humane Society Distorts the Truth
Thomasville, GA - A 5-year old girl was killed by her family's pit bulls while she played in her yard. Behind a fence marked with a "Beware of Dog" sign, Cheyenne Peppers was killed by the dogs. Animal control says one of the pit bulls was loose in the yard and the other two were chained. Melvin Johnson of the Thomasville Police Department said, "The child was possibly playing on the trampoline. The female dog who was pregnant possibly started the attack on the child."
The two other pit bulls were close behind. They apparently broke free of their chains and joined in the attack of the little girl. Executive Director of the Thomas County Humane Society, Carol Jones, was quick to excuse the deadly behavior of the pit bulls. She said, "You need to remember that a dog is a dog and its going to act like a dog especially in a pack situation and that's what these animals did." Once again, another humane worker horrifically distorts the truth about pit bulls.
In a 3-year period (Jan. 2006 to Dec. 2008), pit bulls killed 52 Americans. This is equivalent to a pit bull killing an American every 21 days.
According to Jones' logic, any family with 3 dogs -- be they chihuahuas or labradors -- stands the same risk of a fatal dog attack as a family with 3 pit bulls. If Jones' logic was accurate, dogs would kill thousands of children each year, not the actual average of about 25-35. In the face of a fatal pit bull attack, Carol Jones is hoodwinking the people and elected officials of Thomas County by propagating "pit bull apology" distortions instead of the truth. This behavior is unconscionable.
She adds later in the article, "I just want to remind people they need to be cautious of their family pets. They can turn on you at any time, and it doesn't matter what kind of dog. You think they are wonderful. You don't think your dog would do anything like that but believe me they will!" Not only has Executive Director Carol Jones been added to the DogsBite.org Hall of Shame, we ask that she step down from her position. American citizens will not tolerate these distortions any longer.

Please watch the video clip that depicts Jones comparing a pit bull attack to a chihuahua attack as if the two are equivalent. She says, "A chihuahua, a great dane, it really does not matter...a pit bull..."
Related articles:
01/07/09: Fatal and Serious Dog Attacks in Georgia