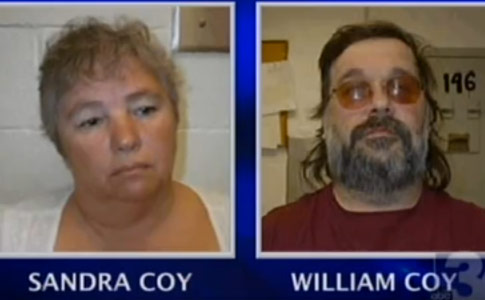 Sandra Coy and William Coy have been charged with animal cruelty again.
Sandi Coy Charged Again
UPDATE 02/06/09: In what can only be called "extraordinary timing," it is reported that Sandi and William Coy have been charged with animal cruelty again. The two were ordered out of LaRue County last year after facing 12 charges of animal cruelty. The couple moved to Franklin County and continued their abusive practices. The Franklin County property was raided December 14. Officials seized 11 malnourished pit bulls, two of which ultimately died -- leaving 50 dogs behind.
"Sandra Coy, 52, and William S. Coy, 44, both of 3387 St. Johns Road, were served Sunday with multiple misdemeanor cruelty to animals charges after Franklin County Sheriff's deputies and animal control officers raided their property Dec. 14. According to Sheriff Steve Clark, the Coys had more than 60 dogs at their property when officers received complaints that barking dogs were chained in the Coys' yard. Clark said 11 malnourished animals, two of which ultimately died from their treatment, were taken from the Coys' property in December. Nearly 50 animals remained at the property, Clark said."
02/03/09: Best Friends Hoodwinked
Amherst, OH - After Hurricane Katrina, Best Friends gave 28 rescued dogs to a man that was found guilty of fraud last week. Donald D. Chambers, 40, of Amherst, told Best Friends that he would take some of the dogs and find them homes. Best Friends gave Chambers nearly 30 dogs and $36,720 to care for them until they were adopted. But Chambers didn't spend the money on the dogs, and just three of them landed in homes. Most ended up dead.
Best Friends spokesman John Polis said of the 28 dogs given to Chambers, only three were placed. Ten were euthanized at the Lorain County Kennel. One died in a dog fight. One died of untreated heartworms. Three died and were tossed into a trash bin. Six are unaccounted for. Best Friends took back three of them. "This is about a person who took advantage of a dire situation during Katrina and used money and the animals for his own profit," Polis said.
The relationship between Chambers and Best Friends began when he presented himself as Don the Dog Guy, who had a kennel and training facility in Lorain. He traveled to Best Friend's sanctuary and spent time with dog trainers. According to Polis, "Don actually was quite popular with the trainers here and had somewhat of a following on our Web site." Now Don will spend the next year in jail. He was also ordered to pay $62,124 in restitution to Best Friends.
Don the Dog Guy still has a website listing. Customer reviews show that by July 2008, the "cat was out of the bag." The State Attorney General had shut him down. It is unknown when he acquired the Katrina dogs and when he first began being investigated for fraud.
More rescue fraud:
Pit Bull Advocate Charged with Cruelty
LaRue County, KY - On a related note, as part of a plea agreement reached in January 2008, William Scott Coy, 43, and Sandra Coy, 50, agreed to leave the county and not keep or bring animals into the county for two years. The Coys each faced 12 charges of second-degree cruelty to animals, after an investigation revealed serious mistreatment of dogs found on their property. Some of these dogs were Katrina pit bull rescues from the Louisiana Humane Society.
A web page at CampKatrina.net tells the story. Beyond the horrific animal abuse that occurred on the Coy property between August 2005 to August 2007, Sandra (known as Sandi) Coy was also President of the Kentucky All American Dog Registry Club and the Chairwoman of Responsible Dog Owners of the Eastern States, a sister group to the Responsible Dog Owners of the Western States (RDOWS). Both entities are radical pro-pit bull lobbying groups.
Sandi Coy is hardly a "class act," responsible pit bull owner. Furthermore, both Coys had previously been convicted of animal-related charges in 2003. The very people that trumpet the battle call of "responsible ownership" and lobby against breed-specific laws engage in animal cruelty, have questionable or actual ties to dogfighters, lose fighting dogs being held for criminal investigations (and 80+ feral cats) and appear to engage in fraudulent pit bull rescue.
Coy, "fuzzypaws1234," is also tied to the Chicago fighting dog transportation bust (Tony Self), which led to the Pima County dogfighting bust. She even helped establish a legal fund for "Raided2" (Juan "Rudy" Verdin) who pleaded guilty to attempted dogfighting and child abuse.
While reviewing this post in 2020, we noted that Sandra Coy and William Coy were charged with
animal cruelty again in 2012
, 23 counts of cruelty, this time at their home in Frankfort.
Related articles:
12/24/08: Anti-BSL Organization, Stop-BSL.com, Gives Donated Funds to Alleged Dogfighters
12/12/08: Edward Faron of Wildside Kennels Has Been Charged by Authorities
11/18/08: Part IV: I-Team, Fox 5 News Asks What Happened to the Dog Named Beast?
11/15/08: AJC: Director Signs Out 83 Cats; APBT Group Linked to Dogfighters