Pit Bull Attacks Three Dogs
Carson City, NE - Back in September, a 16-year old Boy Scout stabbed an attacking pit bull to death in Arizona. In that instance, two pit bulls were attacking his friend's beagle named Belle. Before Moses whipped out his pocketknife, he said he kicked one pit bull so hard that all four of its feet were in the air, but the dog still wouldn't let go. It was recently reported that another teenage boy stabbed a pit bull to death after the animal attacked a neighbor's dog, killed one of his own dogs, Emma, and went after his Labrador, Duke.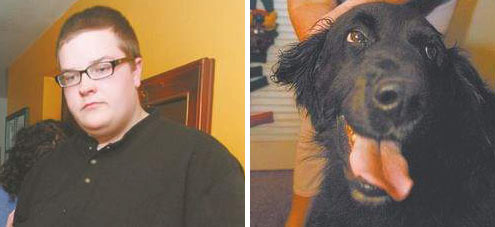 From left: 17-year old Tyler Yeoman, Duke.
The teenager's mother, Tara Yeoman can't understand why a pit bull would first bust through a neighbor's screen door -- in a home invasion attack -- to attack the man's dog, who was a Sheriff no less, and then hop a 6-foot fence to attack two other dogs. The behavior can be explained in two parts. Pit bulls are animal-aggressive, specifically, they are dog-aggressive. Pit bulls were selectively bred to attack and kill dogs. They were also selectively bred for "gameness," the ability to keep attacking even after serious violence is inflicted upon them.
The brutal sport of dogfighting created the "ultimate canine warrior," called the pit bull terrier. The pit bull's "gameness" is unmatched by any other breed. It is a trait you do not want to experience first hand, as brave 17-year old Tyler Yeoman and his mother recently did. When activated, the pit bull's drive to attack -- even in the midst of being stabbed to death -- is unfathomable to most. What happened to the Yoemans exemplifies why this breed, the ultimate canine warrior, poses a specific danger to communities that other breeds do not.
"A stray pit bull burst into an East Carson City home and attacked a dog, then jumped a fence and killed another dog before being stabbed to death by a teenage boy as it went after his Labrador on Tuesday afternoon. "I just don't understand why," said Tara Yeoman, whose dogs Duke and Emma fell victim to the vicious pit bull about 4:30 p.m. "Why was this dog out? And why was it looking for something to attack?"

Just after 4 p.m., the Yeoman's neighbor on Ballarat Street was changing a tire when the pit bull broke through the man's screen door and went after his small dog in the living room, said Carson City Sheriff's Sgt. Earl Mays. The man ran inside and beat the pit bull in the head, possibly breaking his hand, before he was able to free his dog, get the pit bull outside and call police.

But the animal didn't go far, said Tyler Yeoman, 17. The Yeomans think the pit bull jumped the 6-foot fence into their yard and killed Emma, a tiny dachshund-Chihuahua mix. It was the yelping of Duke, the family's 11-year-old, 130-pound Labrador that woke Tyler and his mother, both suffering from the flu. Tyler said he could see through the sliding glass door that the pit bull had Duke by his neck on the ground. Tyler threw a cereal bowl at the animal, but that didn't phase it, he said. His mother ran from her bedroom and struck the pit bull with a cinder block, to no avail. Then Tyler told his mother he was going to get a knife.

When he returned, the soft-spoken teen said, he began stabbing the pit bull, at least 10 times that he could recall, before it released its grip on Duke's neck. "I just wanted to shut him down," said Tyler, still in a daze. "And I did." The pit bull died at the scene. Duke did not sustain serious injury. After police arrived, they found Emma's body alongside the fence. "She was the sweetest little thing," Tara said through tears. "Her and Duke were very close. She used to stand on his back like she was a circus dog."
Related articles:
09/12/08: Boy Scout Stabs, Kills Pit Bulls Attacking Friend's Dog
08/18/08: The Art of a Pit Bull Scaling a 6-Foot Fence
08/02/08: Hero Stories: Honoring Those Who Have Stopped a Deadly Pit Bull Attack