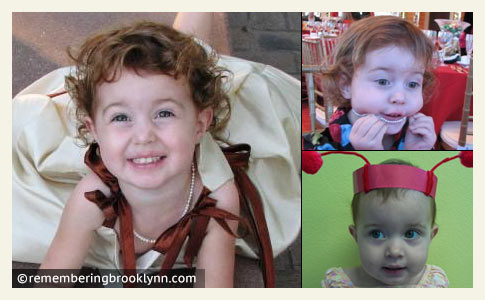 Brooklynn Milburn, 3-years old, was mauled to death by a neighbor's rottweiler.
No Charges Expected
UPDATE 01/24/09: A family representative has spoken to the Fort Worth Star-Telegram. Jeremy Moore said that Brooklynn Milburn and her 5-year-old brother, Daniel, were playing while her grandfather was in the kitchen cooking. Brooklynn slipped out the back door into the yard and had "moved a heavy metal table" that covered a small hole in the fence separating the two yards, Moore said. The dog's owner and her grandfather found the girl at the same time, he said.
"Can you imagine being asked to watch someone's children for 15 minutes and then have a child die?" Moore asked. "This is something that he will never get over.

"Everyone is thinking of something that they could have done differently that might have led to a different outcome. But the answer is sometimes bad things happen and it's no one's fault."

The Tarrant County medical examiner ruled that Brooklynn bled to death because of bites to her face, scalp and neck. The death was ruled an accident. - Fort Worth Star-Telegram, January 24, 2009
01/19/09: Charges Are Still Undetermined
Tarrant County prosecutors are still deciding whether charges will be filed in connection with a tragic dog attack that killed Brooklynn. This may indicate there is evidence that the child was "pulled through" the fence by the dog. The dog's owner said it was the first time her pet had ever hurt anyone. Sadly, fatal attacks by rottweilers and pit bulls are frequently the dog's first attack. A memorial service for Brooklyn is being held Wednesday at the Seventh Day Adventist Church.
01/17/09: 17-Year Old Rottweiler Kills Child
Fort Worth, TX - A 3-year-old girl was mauled to death by her neighbor's rottweiler. Brooklynn Grace Milburn was playing in her back yard when she reportedly crawled through a small hole in the fence separating the two yards, according to police. The 17-year-old rottweiler attacked her in the head, face and neck. The family's pastor, Mike Tucker, of the Seventh Day Adventist Church said the fatal dog mauling was "sickeningly tragic" and that the whole family is devastated.
Fort Worth Police received the call at about 6:00 pm Friday in the 3900 block of Buckhorn Place in north Fort Worth. 3-year old Brooklynn Milburn was rushed to Cook Children's Medical Center, but doctors could not save her life. Tucker said the girl's mother, father, grandfather and 5-year-old brother were inside the house when she she somehow managed to slip out the back door. The hole in the fence was so small, nobody thought the child could even fit through it, Tucker said.
Related articles:
01/14/09: 2009 Fatality: 4-Year Old Mauled to Death by Family Rottweiler
01/06/09: 2009 Fatality: 5-Year Old Chyenne Peppers Killed by Three Family Pit Bulls