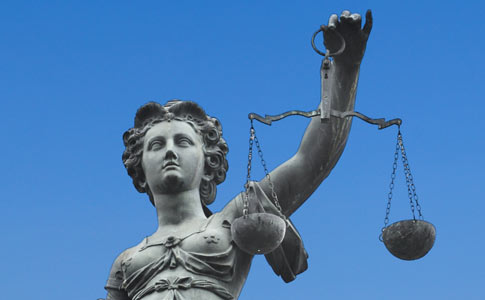 Expert Blames Owners for Attacks
Aurora, CO - In a recent blog post, we wrote about the Aurora Fighting Breed ban. Last month, Chief U.S. District Judge Wiley Y. Daniel, ruled in favor of the City of Aurora. A pit bull owner named Florence Sasek, along with the American Canine Foundation (ACF), sued the city saying the  city's fighting breed ban was "unconstitutional" and "vague." James Crosby was called on to testify as an expert witness for the plaintiffs. Crosby is listed as an expert on the ACF website. Judge Daniels rejected the plaintiff's claim and presumably Crosby's "expert" testimony.
The plaintiffs brought in an expert witness from Florida who testified that the breed is no more aggressive than any other dog.

James Crosby, the animal control manager in Panama City, Fla., told District Judge Wiley Daniel that dog attacks happen because of the owner, not the breed.

Outside the court, he said politicians go after the dog instead of real solutions.

"It's knee jerk," he said. "Something happens and politicians feel like they have to do something. The easiest thing is to legislate against the breed." - The Denver Channel, November 19, 2008
Back in July, DogsBite.org wrote a blog post about this expert witness. James Crosby is a pit bull owner and is aligned with various pit bull special interest groups, including the ACF, National Canine Research Council and Best Friends Animal Society. According to the DenverChannel, Crosby testified in Daniel's court that dog attacks happen because of the owner, not the breed. Sometime after July and prior to the recent hearing, content was removed from Crosby's website that indicated an awareness that pit bulls display unique behaviors when they attack.
---
Investigating Serious and Fatal Dog Attacks:
A Suggested Protocol, by James W. Crosby
The current protocol document located on Crosby's website (click left navigation: Investigative Protocol), previously had a section titled "Breed-Specific Legislation," which addressed behavioral differences that pit bulls display when they attack. DogsBite.org has included portions of this section below. The original protocol document is still in Google cache and can be accessed at our Scribd page as well. We have underlined areas for emphasis, but otherwise copied his original text exactly (including his typos):
"Enter now the Pit Bull, and other breeds specifically selected by Man to fight each other. These animals have several concerning behavioral difference from most other canines. When they fight, human intervention has selected for animals that do not turn off, and do not stop fighting until one, or both, are dead. There is no surrender for these animals. A fully submissive body posture is no more than another opportunity for them to disembowel their adversary.

As a corollary to this, these dogs seem to have a shorter negotiation sequence. Many times we hear of a Pit Bull or similar dog that "…just went off…" The expected precursors to a full fight seem to be lacking, much like the quick interactions we see with some teens and young adults these days; one insults another, and the first response is to "…pop a cap…" into the offender. Even popular Pit Bull sites on the Internet admit that fights between Pit Bulls can occur with little or no warning."

"...These dogs already have a propensity for tenacity and continued aggression based on years of selective breeding. One than takes and, through fear, mistreatment, or misguided training, positively reinforces the display of aggressive behavior towards humans without the establishment of a clear set of controls. This animal has now learned to manipulate its environment, to its own benefit and sometimes safety, by directing aggressions towards people, with a genetically selected lack of an off button. A bad situation has now become tragically dangerous."
Part of Aurora's justification for its ban likely relied on evidence that pit bulls show little warning prior to an attack (Lockwood Pg 133). Many cities agree that the "sudden" nature of a pit bull attack presents a grave threat. Crosby's past writings reflected the same "little or no warning" behavior. He also stated that pit bulls "do not turn off." Selective breeding for tenacity -- the ability to keep attacking even after serious pain is inflicted upon it -- is another reason why cities regulate pit bulls. Crosby's writings addressed this aspect as well.
The argument to regulate pit bulls is not about why they attack (bad ownership or otherwise), it's about how a pit bull attack differs from an attack by other dog breeds, and the substantial threat this poses to members of the community.
James Crosby (also known as Jim Crosby) is the animal control manager in Panama City, Florida.
Related articles:
11/20/08: Aurora, Colorado Fighting Breed Ban Goes to District Court
07/14/08: Comment: The Anatomy of a Whitewash, Jim Crosby