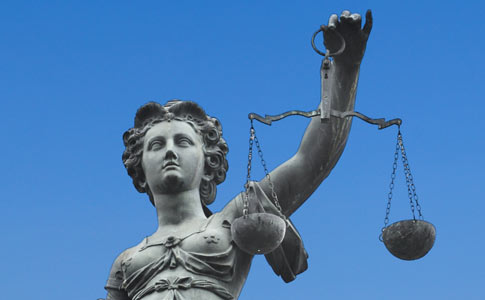 Fighting Breed Ban Upheld
UPDATE 11/20/08: Chief U.S. District Judge Wiley Y. Daniel has ruled in favor of the City of Aurora. Once again, the American Canine Foundation loses, making their "track record" undeniably horrific. The United States Supreme Court has also spoken on breed-specific law. The court rejected all grounds that a dog lobbying group brought forth: Procedural due process, Substantive due process, Equal protection of the laws and Void for vagueness.
Lobbying groups like the American Canine Foundation can intimidate cities with lawsuits. But in virtually all cases, their lawsuits are weak.
11/17/08: Doesn't Like the Muzzle
Aurora, CO - To avoid placing a "muzzle" on her pit bull-mix, Florence Vianzon Sasek is going to U.S. District Court to challenge Aurora's Fighting Breed ban. Aurora currently bans: Pit Bull Terrier, American Staffordshire Terrier, Staffordshire Bull Terrier, American Bulldog, Canary Dog, Cane Corso, Dogo Argentino, Fila Brasileiro, Presa Mall orquin and Tosa. Dogs that existed prior to the ban, such as Sasek's, must adhere to special restrictions.
Chief Judge Wiley Y. Daniel will hear the case. The case was filed on Sasek's behalf by the American Canine Foundation, a Washington state-based pit bull special interest group. Though Colorado State courts and U.S. District Courts have consistently ruled in favor of breed-specific law, Sasek's lawsuit says that Aurora's ban on the breeds is "unconstitutional," that the ordinance is "vague" and that the law was passed unnecessarily.
Aurora's ordinance already has been challenged in state court and was upheld. In January, a U.S. District Court in Colorado rejected a similar case brought against the Denver pit bull ban. The Denver case is currently pending before the U.S. 10th Circuit Court of Appeals. Courts in eleven states have upheld well-written breed-specific laws including: Ohio, Washington, Colorado, New Mexico, Florida, Arkansas, Iowa, Kansas, Utah, Wisconsin, and Kentucky.
Good luck Aurora City Attorney Charlie Richardson. It is our understanding that Judge Daniel rejected 3 of the 5 claims of this suit back in May. Today he will hear 2 claims, both of which may prove difficult: the issue of precedence and property seizure.
Related articles:
06/03/08: Aurora Fighting Breed Ban Goes to Court
02/26/08: United States Supreme Court Leaves Intact Ohio Supreme Court's Ruling..