Guide Dog Victims Speak Out
San Francisco, CA - Attacks on guide dogs, particularly by pit bulls, is a serious issue. A 2003 survey revealed that 42% of guide dog teams in the U.S. have experienced an attack. Guide dogs are trained not to fight back. After an attack, many of these valuable dogs are too mentally scarred to return to their duties. Theresa Duncan (left) and Jim Power discuss the harmful trend. Marikay Batina (right) tells how a pit bull crushed her in-training guide dog's jaw.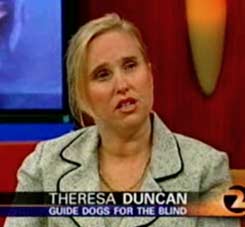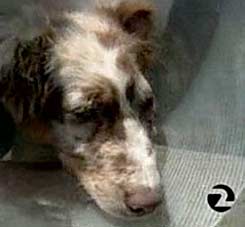 From left: Theresa Duncan and Redford.
On January 1st 2005, San Francisco instituted Pavley Law, which makes attacks on guide dogs punishable by up to one year in the county jail and a maximum fine of $10,000. It is unknown if the owner of the pit bull that attacked Batina's dog, named Rampart, was finally punished under Pavley Law. At the time this series aired, San Francisco had not yet adopted its mandatory pit bull sterilization law. Perhaps since passing it, attacks on guide dogs have fallen.
Related articles:
09/14/08: Flashback: S.F. Pit Bull Sterilization Law Has Successful Results
08/28/08: Quadriplegic Woman Protects Service Dog from Attacking Pit Bulls
08/22/08: Pit Bulls Attack Blind Man and Service, Therapy Dog
05/13/08: Pit Bull Attacks Seeing Guide Dog in Surrey