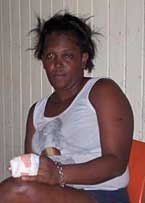 Attacking Dogs Whisked Across the Border
UPDATE 03/04/08: Fern Brown, the presumed owner of the pit bulls, plead not guilty to two charges of owning the dogs. In a twist that ensures future maulings by these dogs, Brown's attorney said that her nephew owned the dogs. He immediately whisked the dogs across the border to the country of Suriname after the incident.
03/01/08: Woman Held After Loosing Pit Bulls
Guyana, South America - Chaos broke out in Tuvcille yesterday when a resident released two pit bulls on a group of children and the dogs ended up mauling passerbyers and two employees of the Guyana Society for the Prevention of Cruelty to Animals (GSPCA).
The dogs, which were described as "huge and vicious", were let loose on four children who were playing cricket and reportedly annoying the resident because a ball kept bouncing into her yard. The children fled the scene, jumping into a drain and climbing over fences, managing safe getaways.
Afterward a report was made to the GSPCA and two employees were dispatched. When they arrived, Faye Tinch (pictured), the aunt of the children at the center of the incident, took them to the dog owner's home. She said the GSPCA employee identified himself and was in the middle of asking the woman a question when the dogs burst through the gate.
"The dog jumped on the man and the other one jumped on his co-worker. I started to run when one of them jumped on them and started biting my foot. I tried fighting with it but it was too big," Tinch said.
One of the GSPCA employees was bitten on the face and the leg while the other received a few bruises. Tinch sustained injuries to her leg, which left loose flesh hanging from it, and to her hand, which has lost all feeling to it.
After the second attack, the dogs went back into the yard and the dog owner locked the gate. She then emerged from her home and went about her business leaving Tinch and the two men lying injured on the road. Shortly thereafter, the police were called in and they arrested the dog owner.