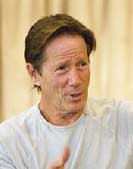 Actor Peter Strauss Injured in Pit Bull Attack
Ojai Valley, CA - Actor and citrus rancher Peter Strauss spent nearly half an hour in a confrontation with a raging pit bull. Strauss survived, but is left with injury and trauma. He describes the attack to Ojai Valley News:
While inspecting his orchards on Sunday, he saw the brown pit bull mix banging against the boards that separated his neighbor's yard. Strauss could see the dog pull his head through, and thought, "My God, this dog is going come for me." The dog did -- he charged the 32-foot distance in seconds. Strauss hit the dog with his only available weapon, a clipboard.
The dog grabbed Strauss' leg, furiously shaking his head. Strauss knew that if he went down to the ground, he was dead. He thought, "I'm going to die on my own farm like this." Strauss was able to grab a piece of wood to swing at the dog and fend him off. "I hit the dog as hard as I could," he said. "It just wasn't enough. I would hit him, and he would just shake his head."
After 20 minutes of biting and lunging, the dog finally backed off. But the attack did not end here. When Animal Control officer, Mark Wisma, arrived 25 minutes later, both he and Strauss went searching for the errant dog. "The dog flew out of a different corner of my property," Strauss said. As the dog continued lunging and snarling, both Strauss and Wisma were vulnerable.
The dog, a neutered male adopted from a Los Angeles County Shelter, had no previous record of attacks, though Kathy Jenks, director of Ventura County Department of Animal Regulation, reported that it bit someone else that day. The dog will be euthanized. Strauss was treated and released from Ojai Valley Community Hospital's emergency room with lots of stitches.
He said he was determined to keep an appointment to make a presentation to the Ojai City Council Tuesday night.