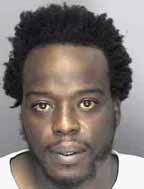 Sarasota Drug Raid Yields 14 Dogs, Abuse Charges:
Sarasota FL - After a 2 month investigation, a suspected drug house at 1735 Central Ave. was raided. Police found 14 dogs in terrible condition, tied with heavy chains, suffering from untreated bite wounds and infested with worms and fleas. The dogs all appear to be at least part pit bull terrier.
One puppy was found in a wooden box with a 1-inch slit for ventilation. Another, found in a box, had a swollen infected bite wound. Yet another was missing part of its ear and muzzle. A bicycle tire was also found hanging from a tree, an indication the dogs were being trained to fight. Those are physical signs of damage, but the dogs who have suffered behavioral damage will likely be euthanized. The risk of liability to any family who might adopt it being too great.
Thomas Spann, 27, is out on bail and is fighting for custody of two of the dogs. He claims to be a pit bull breeder. The other 12 dogs are housed away from the public. The dogs will be put through a series of tests as Spann heads to court on 34 charges, including drug possession, animal abuse and dogfighting. Also arrested were Teddy Durham, George Haygood and Anthony Haygood and 10 other people for the sale and use of drugs on the property.