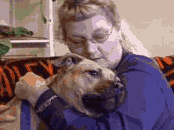 Woman, City Dispute Over Pit Bull Aid Dog
Parma, MO - Doris Hayes is deaf and claims that she needs Bonnie to be her ears. There is a problem. Bonnie is a pit bull, and the city has banned the breed.
City leaders say the pit bull is dangerous and they've had numerous complaints about the dog getting loose. Since Bonnie isn't officially trained or certified, the town can't make an exception to the law. Mayor Randall Ramsey says if the dog was certified and if Doris could keep the dog secure, they might consider her special case.
With news cameras rolling, Hayes struggles to secure the barking, growling Bonnie on the sofa. Hayes claims that Bonnie was nervous because she is not used to strangers and thus couldn't demonstrate their working relationship. The matter could be decided next week in court.
Please be sure to watch the video in the news link and watch as Bonnie fails her "real world temperament test."