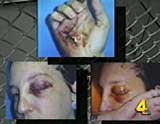 Victim Lori Woods Speaks Out
UPDATE: 1/31/07: Lori Woods wants to make sure the pit bull named Tank doesn't hurt anyone else after she was nearly killed by him -- She wants the dog put down. Last week, when visiting the dog owner's home she knelt down to grab her purse. Woods says that the dog attacked her "absolutely unprovoked, and without any warning."
The dog severely damaged Woods' eye and her head injuries required more than 100 stitches. The bleeding was so severe that she passed out on the way to the hospital. "The blood was spewing out of my head. The dog nicked a main artery," she said. Her family was told if she survived, she'd likely be blind in one eye. A week after the attack she credits much prayer for still being able to see. Her worry now comes from the thought of the dog being able to attack someone else.
Tyler Stowers, the dog's owner, wants his pet back. In yet another unconscionable act by a pit bull owner, Stowers blames the victim for the attack: "Stowers said Woods got down on all fours and went toward the dog, causing the animal to go on the defense." Like many victims of serious dog attacks, Woods asks reporters, "I can't believe someone wants to keep their dog that did this to someone. At what point do you value your dog more than somebody's life?"
Lori's insurance will not pay her medical bills. Stowers claims he will cover the costs. But this is an unlikely scenario, given that the cost may skyrocket into hundreds of thousands of dollars.
1/30/08: Dog Attack Costs Woman Her Eye, 200 Stitches
Nashville, TN - The woman, who was not identified, told officials that she was visiting the home of a friend when she bent down to pick up her purse. This is when her friend's pit bull attacked. She suffered a lost eye and 200 stitches. Metro Animal Control said it does not want the dog out on the street again. Tank, the 3-year-old pit bull, is currently in quarantine. Animal Services Director Judy Lauderbauche didn't mince words when she described how dangerous Tank is:
"I don't think there's any doubt that the woman could have been killed. She's very, very fortunate that she wasn't, even though she did sustain absolutely life-changing injuries that will take years of plastic surgery."
Tank's owner, Tyler Stowers, visits his dog in quarantine every day and said that up until Tuesday, Tank had never attacked anyone. He was emotional as he looked at his dog in the cage. Animal Control commented they believe his tears are for his dog and not the victim.
Tennessee law has no civil provision for attacks that occur on owner property. So, once again, the victim -- who was a guest on the owner's property -- has no civil recourse.