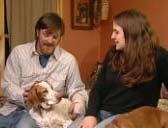 Pit Bull Attacks Man, Dogs in Home at 3 a.m.
Early Thanksgiving morning a couple woke up to their dogs growling. Standing in front of them was an 80lb pit bull. Kesna Wells, one of the victims says:
"It was terrifying. I mean, when you look up and see the silhouette of a strange pit bull at the foot of your bed, it's absolutely terrifying."
The pit bull then attacked their dogs. Kesna's fiancée, Matt Singmaster, intervened and was bitten. As they tried to wrestle the dog out of the room, they quickly realized how he had gotten in. The neighbor's pit bull had broken through their fence and entered through an open doggie door.
There have been at least 4 reported incidents this year of pit bulls entering into people's homes in the middle of the night and attacking. Most instances involve homes that contain animals, and presumably, the pit bull is after them. Not in the case of Celestino Rangel. In the fatal mauling of this San Antonio man, two pit bulls escaped their pen, unlatched his back door and mauled him to death while he slept. There were no other animals in the house.