Monday, May 7, 2018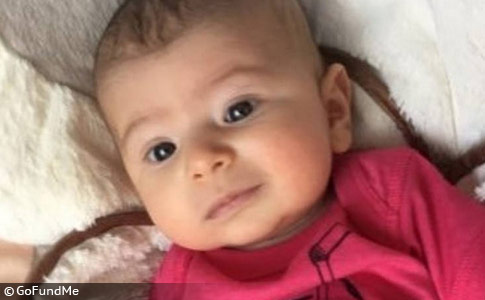 A 3-month old baby died after being mauled by a family dog in Sherman Oaks.
Baby Identified
UPDATE 05/07/18:
The Los Angeles County Coroner's Office has identified the baby girl killed by a family dog.
Gaia Nova
died shortly after arriving at Cedars-Sinai Medical Center on Saturday. At the time of the attack, Gaia was under the care of her grandmother. When she left the infant in a room to get a bottle, one of the three family dogs clamped down on the baby's head, killing her. Authorities seized all three family dogs: a rottweiler, labrador retriever, and small terrier.
Police do not know which of the dogs attacked the infant or if more than one dog was involved. Earlier news reports stated that DNA samples were taken to determine which of the dogs killed the baby. Authorities have not released the gender or spay/neuter status of the dogs or any photographs of the dogs. No criminal charges are expected. Police are calling the baby's death a "true tragedy." Gaia is the third baby girl mauled to death by a pet dog since March 7, 2018.
05/06/18: Family Dog Kills Baby
Los Angeles, CA - A baby is dead after being bitten on the head by a family dog in her Sherman Oaks home. The incident was reported at 3:25 pm Saturday in the 14400 block of Benefit Street, Officer Stacy Ball of the Los Angeles Police Department said. At the time of the attack, the baby was under the care of her grandmother. The grandmother rushed the infant to Sherman Oaks Hospital. She was then airlifted to Cedars-Sinai Hospital where she was pronounced dead.
This is a horrible case. It has touched all involved family, friends and first responders. Our hearts go out to the family and friends.

- Capt. Lillian Carranza
At the time of the attack, the 3-month old baby girl was in her own home. There were three dogs present in the home, LAPD Police Services Officer Stacy Ball said.
Police described the dogs
as a 98-pound rottweiler, 89-pound labrador and 10-pound terrier. Animal control took all three dogs into custody. It remains unclear if one or more dogs inflicted the deadly attack. KABC-TV reports that DNA samples were taken to determine which of the animals fatally injured the infant.
Circumstances of how the attack happened are also vague. Detective Moses Castillo stated, "It's a reminder to those who may have a large dog in the family and maybe have some little ones at home to remain vigilant -- constant observation of their little ones." CBS Los Angeles reports the baby's
grandmother turned her back for a moment
and when she returned, she found the infant with head and face injuries. The investigation continues. Criminal charges are not anticipated.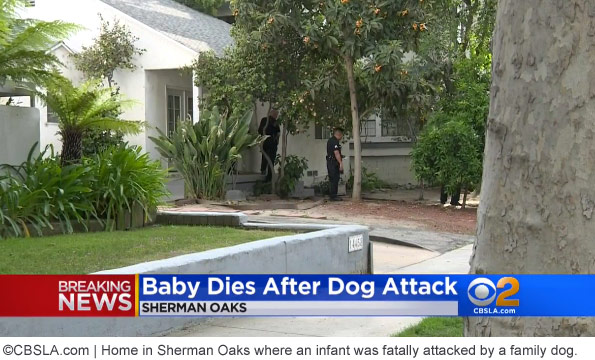 Related articles:
04/11/18:
2018 Dog Bite Fatality: Pet Wolf Hybrid Kills 8-Day Old Baby Girl in Virginia
04/06/18:
2018 Dog Bite Fatality: Dog Kills 13-Month Old Baby Girl at Babysitter's Home
---
Baseline reporting requirements:
Law enforcement departments across the United States should release consistent "baseline" information to the media and the public after each fatal dog mauling,
including these items
.
Labels: 2018 Dog Bite Fatality, Babysitting, California, Infant Fatality, Rottweiler

Please donate to support our work
DogsBite.org is a 501(c)(3) tax-exempt public charity organization. Learn more »
posted by
|
permalink
|
4 comments
|

email
|

blog rss
|

comment rss

4 comments:

Christy D | 5/06/2018 12:31 PM | Flag
I am going to guess that the culprit was the rottweiler or the "labrador retriever" (pitt bull, *cough*).

Ka D | 5/06/2018 6:31 PM | Flag
Having any 'power breed' dog around a child is idiotic. Will people ever wise up?

LibertarianThinker | 5/08/2018 10:01 AM | Flag
And I bet the family previously had said how "sweet" their dogs were and that they only thing they were capable of was "licking you to death." RIP baby girl, another child sacrificed because of an adult's "pride" in owning a dangerous animal.

Your Quiet Neighbor | 5/08/2018 12:53 PM | Flag
Sherman Oaks isn't exactly what one would call a ghetto. It's one of the most affluent parts of the LA area.

That being said, permit me to share an observation from Tucson: I'm seeing a lot of pit bulls in affluent areas. I would assume that a lot of them are "rescues." Our local humane society and animal control are aggressively marketing pit bulls to the community. Alas, a lot of people fall for this misleading sales pitch.

It's only a matter of time before our community experiences a similar tragedy. And it would be as likely to happen in the Catalina Foothills as it would on the South Side.