Friday, March 9, 2018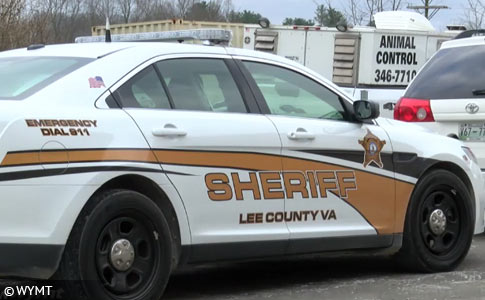 A pet wolf hybrid killed an 8-day old infant lying in a bassinet in Lee County.
Dog Kills Newborn
Lee County, Virginia - An 8-day old baby girl is dead after being mauled to death by a family dog, according to Sheriff Gary Parsons of the Lee County Sheriff's Office. Parsons' office received a call for assistance around 11:40 am Wednesday from a home in the Seminary community, which is close to Big Stone Gap and near the Tennessee border. By the time deputies arrived, the father was already en route with his injured newborn to Lonesome Pine Hospital in Big Stone Gap.
"it was very serious injuries to the upper body, and the head, the child had been seriously mauled by the animal."

- Lee County Sheriff Gary Parsons
Deputies were told the dog attacked the infant while she was in a bassinet. She suffered extensive injuries to her head and the upper portion of her body. She was taken to Holston Valley Medical Center in Kingsport then airlifted to the University of Tennessee Medical Center, where she died. Parsons confirmed Thursday the dog involved was a wolf hybrid. The father's Facebook page shows a male wolf hybrid-malamute mix that was purchased from
AE Kennel in October 2014
.
1
Parsons' said the newborn's death is being investigated by the sheriff's office and the Lee County Department of Social Services. The family also has two other older children. "We are going to continue to look into it and see what develops and of course consult with our commonwealth's attorney to see if any charges are to be placed," Sheriff Parsons said. On Thursday, Parsons
confirmed the dog was destroyed
after the baby's parent's relinquished custody of the animal.
Highest Age-Specific Fatality Rate
On February 28, we published our
2017 U.S. dog bite fatality statistics
and statistics from our 13-year fatality data set (2005 to 2017). Despite being in the 21st Century, infants continue to have the highest age-specific fatality rate in fatal dog attacks. Infants ≤11 months made up 48% of all victims ages 0-2 and 13% of all dog bite fatality victims during the 13-year period. During the early CDC study period (
1979-1988
), infants ≤11 months comprised 16% of all dog bite fatalities.
Above and beyond this disturbing 35-year trend, the
dog in this case is a wolf hybrid
-- a canid hybrid resulting from the mating of a wolf and a dog -- and a
blend of dog that is banned
at a state-level in various states across the country, including Alaska, Michigan and others. In Virginia,
wolf hybrids are legal
, but can be subjected to local regulation. For instance, the city of
Fredericksburg bans wolf hybrids
. Wolf hybrids have always maintained a position on our
Dangerous Dogs
page.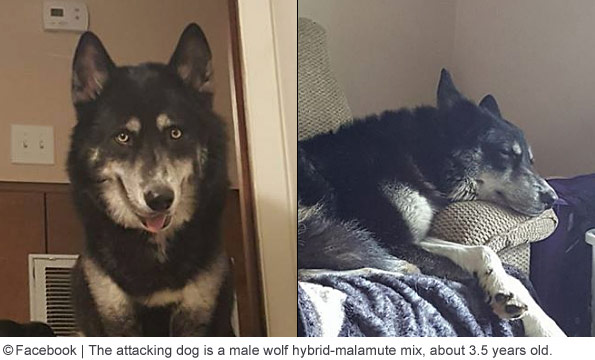 1
By Friday morning, March 9, 2018, two days after an 8-day old baby was killed by a wolf hybrid that came from their kennel in October 2014, AE Kennels removed their business website on Weebly (https://aekennel.weebly.com) and their business page on Facebook (https://www.facebook.com/ae.kennel.5). One of the co-owners even removed her personal Facebook page. We have replaced live links with static screenshots of the cached website. One can also view the AE Kennel website at the Internet Archive Wayback Machine.
A cached version of their site states they have been providing "quality northern breed mixes and wolfdogs" since 1998. The owners, Erika Andreas and Antoine Robertson, say they provide the following wolf dog blends: "Malamute Husky mix. Low content Eastern Timberwolf, Siberian husky mix. Low content Timberwolf, Malamute, husky mix. Mid content Timberwolf, malamute husky mix. And upper mid Timberwolf Malamute mix. We provide low contents with real wolf heritage for first time owners and mid contents for more advanced owners," according to their site. The kennel is located about 25 minutes from Tallahassee, Florida. An advertisement on AmericanListed.com for "Husky Whitefang" puppies states AE Kennel is based in Greensboro, Florida. An advertisement on Hobbly Classifieds for AE Kennel wolf dog hybrid puppies (70% content range), state the cost is $950 and the low content rage wolf dog puppies start at $850, according to their cached website.
Related articles:
09/29/17:
2017 Dog Bite Fatality: Family Pit Bull Fatally Mauls Infant in Knox County, Ohio
08/21/17:
2017 Dog Bite Fatality: 2-Month Old Baby Killed by Family Dogs in North Houston
08/07/17:
2017 Dog Bite Fatality: Bangor Infant Injured by Family Dog Pronounced Dead
---
Baseline reporting requirements:
Law enforcement departments across the United States should release consistent "baseline" information to the media and the public after each fatal dog mauling,
including these items
.
Labels: 2018 Dog Bite Fatality, Infant Fatality, Newborn Fatality, Virginia, Wolf Hybrid

Please donate to support our work
DogsBite.org is a 501(c)(3) tax-exempt public charity organization. Learn more »
posted by
|
permalink
|
3 comments
|

email
|

blog rss
|

comment rss

3 comments:

Catherine Hobbs | 3/08/2018 3:13 PM | Flag
So terribly sad. Those wolf hybrids should be banned in ALL states: they are NOT safe pets, especially around helpless children and babies.

Ka D | 3/08/2018 5:04 PM | Flag
http://cravendesires.blogspot.com/2015/05/craven-email-confessions-of-wolfdog.html

EyesOpened | 3/09/2018 4:21 PM | Flag
Ka D, that is a very enlightening post you shared from the Craven Desires blog. Once again we see some dog owners' strange and twisted fetishes and ideas about what dogs should be. Disgusting.

I can't even begin to imagine the trauma inflicted on a tiny baby. There just aren't words for this horrible tragedy.