Saturday, December 9, 2017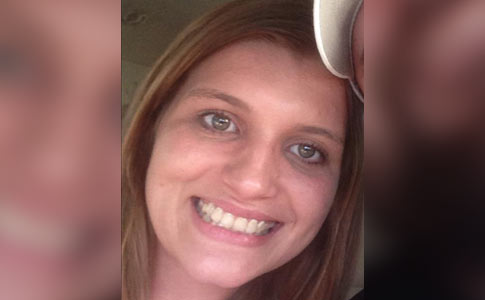 Pit bulls kill Emily Mae Colvin, 24, and injure another in Section, Alabama.
Tribute Video and Fund
UPDATE 12/09/17:
Our hearts ache for Emily's husband and family. A tribute video has been created for Emily Colvin's Funeral Fund. "Emily Mae Colvin was a bright light that shined onto this dark and stormy world. She was only 24 years old. She was a loving wife, devoted daughter, thoughtful sister, caring aunt, and beloved friend." On December 7, she was struck down by five vicious pit bulls belonging to her neighbor. The sheriff has vowed to seek criminal charges.
She'd only been married to Eric for about two years. The tribute video has many photos of their lovely wedding. "All who knew and love her are shocked and devastated because of this tragedy. She was married to Eric a little over 2 years. They were eternally devoted to each other and were looking forward to starting a family together. Eric was a loving husband who put Emily's needs before his. Emily's death will test his will and faith to its limits," states the GoFundMe page.
---
12/07/17: Pit Bulls Kill Woman
Section, AL - Authorities confirmed that a
pack of pit bulls killed
a 24-year old woman and injured another Thursday morning. 24-year old Emily Mae Colvin was discovered dead on arrival, deputies said. The Jackson County Sheriff's Office responded to a call about 9:00 am about a dog attack at County Road 121 in Section. A deputy shot and killed one of the dogs due to its aggression. Another woman was also injured. She was treated for her injuries and released.
Jackson County Sheriff's Deputies, Scottsboro Animal Control and Section Police confiscated four dogs from the property. All five dogs were described as pit bulls by authorities. The Jackson County Sheriff's Office said they had never received a call about these particular dogs before and that Colvin was familiar with them. The second victim was not identified by police nor was the block area of County Road 121 where the attack occurred. Deputies continue to investigate.
One neighbor who would not go on camera said the dogs "never used to snarl, bark or nothing … if anything they would lick you to death."
WAAY reports that all five dogs
belonged to Colvin's neighbor
. A friend of Colvin's was talking to her on the phone and came to aid her when she heard the dogs attacking, Jackson County Sheriff Chuck Phillips said. The dogs then attacked her too. She was taken to a hospital with leg and arm injuries. "Dogs can run loose, but still the owner is responsible for the damages that they do," Phillips said. "So we will be seeking charges here in this case, probably in the March grand jury."
Later in the day, Sheriff Phillips clarified an earlier statement. This is the first time these dogs have attacked a human,
he told WHNT
, but it's not the first complaint on record for the animals. "We received a call back sometime ago, maybe these dogs and the victim's dog had killed llamas that were in a pasture nearby. That's the only complaint we have ever had on them," Phillips said. The owner of the dogs could a face charge of
negligent homicide
, which is a Class A misdemeanor.
Second Fatal Pit Bull Mauling
This is the second fatal pit bull mauling in northeast Alabama in a matter of days. On November 29, about 50 miles away in Guntersville, a
pack of pit bulls killed 46-year old Tracy Cornelius
and severely injured another woman who had been walking along Jason Road. The four dogs first attacked the woman. Cornelius intervened to help save her and the dogs turned on her. Cornelius was pronounced dead at the scene. The other woman was airlifted to a hospital in Huntsville.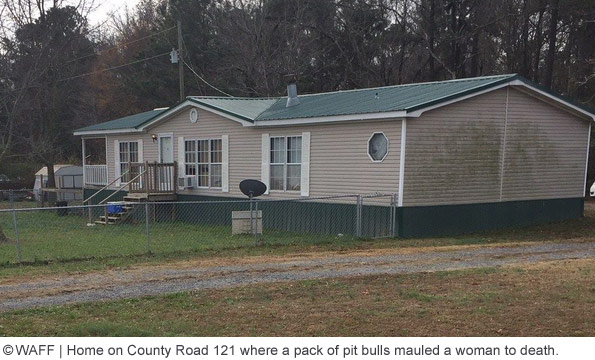 ---
Always Release Photographs
We specifically posted this Tweet to call out the irrationality of it. There is an ongoing investigation in which Sheriff Phillips has vowed to seek criminal charges. Thus, there are 100 reasons to allow these dogs to be photographed by the media. Sheriff Phillips himself should have released photographs already so that members of the community who may have seen these dogs loose and behaving aggressively can identify them and provide testimony against the dogs' owner.
In our
baseline reporting requirements
, the #2 item is releasing identification photographs. Alone, police can rarely know the history of dogs involved in fatal attacks because many incidents go unreported.
Yet, criminal charges greatly hinge on knowing this history.
There may have been an incident a year earlier involving a neighbor that moved away. Without photographs released, that person will never have the chance to say, "That was the same dog that chased me last year."
#Update

All 4 🐕 involved in the attack that killed 24-year-old Emily Mae Colvin in Jackson County are being held at Williams Animal Clinic. I asked to see the dogs, but they say because this is an ongoing investigation they couldn't let me take video/pictures of them.

@whnt pic.twitter.com/ppcMPEctG4

— Aaron Cantrell (@AaronTheNewsGuy) December 7, 2017

View the DogsBite.org Google Map:
Alabama Fatal Pit Bull Maulings
.
Related articles:
12/06/17:
2017 Dog Bite Fatality: Pack of Dogs Kill Woman, Injure Another in Guntersville
10/05/15:
2015 Dog Bite Fatality: Autauga County Woman Killed by Family Dogs
07/01/14:
2014 Dog Bite Fatality: Pit Bull Kills 5-Year Old Boy in St. Clair County, Alabama
---
Baseline reporting requirements:
Law enforcement departments across the United States should release consistent "baseline" information to the media and the public after each fatal dog mauling,
including these items
.
Labels: 2017 Dog Bite Fatality, Alabama, Fatal Pack Attack, Fatal Pit Bull Attack

Please donate to support our work
DogsBite.org is a 501(c)(3) tax-exempt public charity organization. Learn more »
posted by
|
permalink
|
11 comments
|

email
|

blog rss
|

comment rss

11 comments:

B Cazz | 12/07/2017 11:10 PM | Flag
This comment has been removed by the author.

Colleen Lynn | 12/07/2017 11:46 PM | Flag
You can learn more about Emily here:
https://www.facebook.com/emily.frazier.33

Also, her husband's page:
https://www.facebook.com/eric.colvin.148

Colleen Lynn | 12/07/2017 11:49 PM | Flag
Emily had a fenced-in yard. Unclear how any of her small dogs participated in livestock attack.

Farmer Jane | 12/08/2017 10:01 AM | Flag
I wish that Sheriff Phillips' ho hum "clarification" of the previous attack by these dogs on livestock could be further clarified by a statement from the llama's owners. Or anyone that is actually willing to give some truthful information on that attack. The importance of these dogs taking on large livestock cannot be emphasized enough. Dogs, especially pits, do not look at a human victim and think, "Oh, that's a human, not livestock. I'd better leave that one alone because it's morally wrong to kill a human." It's the same to them. Just easier because humans can't run as fast.

BeKind StopbreedingBullyDogs | 12/08/2017 12:39 PM | Flag
Suggesting that her dog attacked previously might be victim blaming.

BeKind StopbreedingBullyDogs | 12/08/2017 12:45 PM | Flag
Since pits have been bred to be Ted Bundy hand grenade psychopaths, no species is safe when mutant instinct to attack meets opportunity to reach a victim.

Horse thieving was a capital offense. Few dogs would kill horses. Those who owned fighting dogs knew how deadly pits could be and kept them safely chained.

Christy D | 12/09/2017 9:27 AM | Flag
It has been said before, but having neighbors with pit bulls is like having a neighbor with lions. You hope to God the rickety fence holds. You hope that the dogs don't figure out that if they try, they can jump over the fence. You hope they don't start digging under it out of boredom. You are always viligent for any quick movement out of the side of your eye that may be a pit bull running free. You alway know when the dogs are in the yard. Your ears perk up when you are outside and you hear their barking, quickly pinpointing their location and breathing a sigh of relief that they are still behind the fence.

I know this well. There are no fewer then 10 pits in a one block radius of my house. Many households have at least two of them. You cannot for one moment ignore your gift of fear.

Your Quiet Neighbor | 12/09/2017 10:17 AM | Flag
Why is the reporter being prevented from seeing the dogs? Will that make it harder for them to be, ahem, rescued?

Ka D | 12/10/2017 10:20 AM | Flag
How the hell is homicide a misdemeanor?

Your Quiet Neighbor | 12/10/2017 12:26 PM | Flag
It's a misdemeanor when it's committed by a dog that just wants to lick you to death.

Colleen Lynn | 12/10/2017 12:38 PM | Flag
Like most crimes, the degree of "intent" is what is at stake. Negligent homicide would be the lowest degree of intent and is therefore a misdemeanor. You saw the last part of the statute right? "except in cases in which the criminally negligent homicide is caused by the driver or operator of a vehicle or vessel who is driving or operating the vehicle or vessel in violation of Section 32-5A-191 or 32-5A-191.3 ;  in these cases, criminally negligent homicide is a Class C felony." AKA driving under the influence is a higher degree of intent.

This page breaks down the levels of culpability in homicide charges in Alabama. States with better laws could have resulted in manslaughter charges in this case.

https://www.alabamacriminalandfamilylawyerblog.com/2016/09/14/alabamas-criminal-laws-murder-manslaughter-criminally-negligent-homicide/

The grand jury will have to determine in this case if the dogs' owner "failed to perceive a substantial and unjustifiable risk that the result will occur or that the circumstance exists. The risk must be of such nature and degree that the failure to perceive it constitutes a gross deviation from the standard of care that a reasonable person would observe in the situation." The maximum penalty is one year in jail.

"gross deviation from the standard of care that a reasonable person would observe in the situation."

Let's remember the neighbor now, who states "the dogs never used to snarl, bark or nothing … if anything they would lick you to death."