Thursday, January 19, 2017
Pit Bull Owner Charged with Felony Involuntary Manslaughter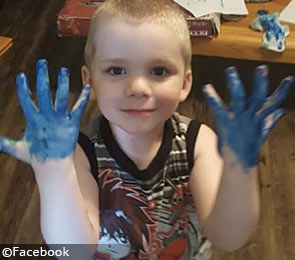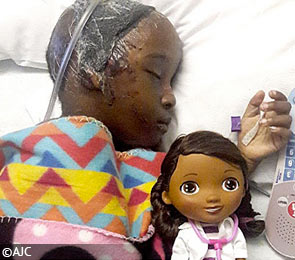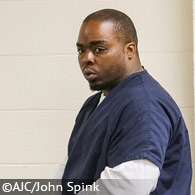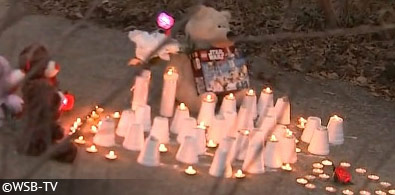 Logan Braatz, 6, Syrai Sanders, 5, Cameron Tucker (pit bull owner) and memorial near the attack.
City Leaders Respond
UPDATE 01/19/17:
On Tuesday morning in southwest Atlanta, a group of children walked along Cerro Street on their way to the school bus stop when two loose pit bulls launched a horrifying attack. The dogs eviscerated 6-year old Logan Braatz, who did not survive his injuries, and critically injured 5-year old Syrai Sanders -- the pit bulls ripped off her scalp. Both children were students at F.L. Stanton Elementary. The
aftermath of this attack
was captured by aerial footage.
The owner of the pit bulls,
Cameron Tucker
, was taken into custody and charged with several misdemeanors. The charges were upgraded the next day to include involuntary manslaughter, a felony. Tucker's next court appearance is scheduled for February 1, according to news reports. Two witnesses on scene,
Angie Smith
and
Shamonta Clayton
, provided chilling accounts about what happened that morning. A formal community vigil is planned for Saturday on Stafford Street.
Response from City Officials
In the wake of this savage attack, the Atlanta Public School system (APS) announced that it would add a new bus stop. "APS Transportation immediately conducted a safety assessment and plans to add a new bus stop within the one-mile walk zone to ensure the safety of our students," states the release provided to WSB-TV. The children in the neighborhood previously had to
walk past an abandoned house
and through some woods to reach the bus stop, according to Logan's uncle.
Just hours after the deadly attack,
Atlanta City leaders began discussing legislation
to prevent future maulings. Councilwoman Keisha Bottoms
introduced legislation
that recognizes local governments can enact stricter dog regulations than the minimum standards of state law. These new regulations have not yet been determined, but ideas include restricting owners of dangerous breeds from living near a school or school bus stop, or requiring these owners to have a fence.
"These children are living in fear, rightfully so. These dogs are predators."

- Atlanta City Councilwoman Keisha Bottoms, Fox 5 Atlanta, January 18, 2017
Bottoms promised that over the next week, councilmembers would discuss the dangerous dog issue on many levels. "We are going to delve into state law, county law, city law and see what, if anything, we can do and it is absolutely of no solace to this family, but I do hope that it will at least stop this from ever happening again," said Bottoms. Two days after the deadly attack, Bottoms met with nervous neighbors close to where the attack happened and promised to contact APS.
"Border Collie" and "Unidentified Breed"
Six or seven hours after the horrific attack on Tuesday -- after many news articles were already published, along with photographs and video of the two pit bulls --
Fulton County Animal Control relayed information via phone to reporters
that the dogs involved in the attack were a pit bull-mix, "
border collie
" and "unidentified breed."
The police report stated the two dogs involved are a pit bull and pit bull-mix.
Fulton County Animal Control
alone
is culpable for this grave obfuscation.
In high profile fatal dog attacks, we understand that information can initially be relayed poorly or even incorrectly, but in this case it is a sham. The police report states the correct breeds of dogs, a pit bull --
the bloody black dog
-- and a pit bull-mix,
the white and black dog
. Images of both dogs were captured
before, during and after
being loaded into the animal control truck. A third dog was also seized by animal control, apparently a poor border collie, but no media images captured it.
CBS46 spoke with Tucker's attorney
, who said that Tucker lives with his fiance, mother, mother-in-law, and six-month-old daughter.
"The two other family members that are a part of the family are the two dogs that are in custody,"
attorney Cinque Axam said. The family does not own three dogs -- just the two the media captured being taken into custody. Also, though the white and black pit bull-mix is
not pictured
in Tucker's 2012 Facebook post, the
coloring indicates close lineage
.
---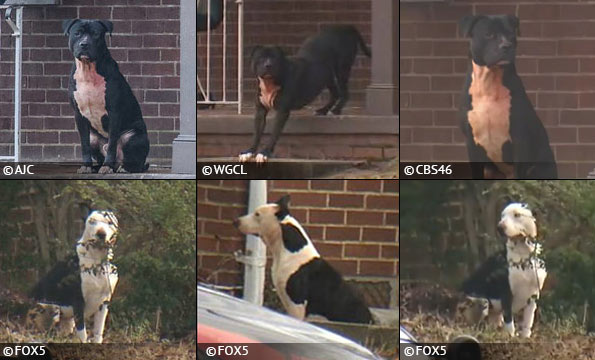 ---
01/18/17: Involuntary Manslaughter
The owner of two dogs that killed a boy and severely injured a girl is now facing a felony charge. On Wednesday,
Cameron Tucker
was charged with
felony involuntary manslaughter
in connection to the death of 6-year old Logan Braatz. A judge set his bond to $70,000. The surviving child, 5-year old Syrai Sanders, remains hospitalized. Officials said the dogs
severed her scalp from her skull
. A witness who saw the child after the attack said, "Her face was totally dismembered."
Another witness,
Shamonta Clayton
, who carried Logan's body to the ambulance, also described Syrai's injuries. "I run up on the little girl and she had been mauled very badly -- the dog just had ripped into her," he said. Then he saw Logan, his unconscious body lying in the grass. "I picked the child's body up, because his mom couldn't do nothing except to sit there and cry. I carried his bloody body to the ambulance," he said. Clayton also said the dogs commonly roamed the area.
"If a prosecutor is aggressive, they could charge him with cruelty to children in the second degree. And for any child that dies, bring it up to murder."

- Attorney Page Pate, 11alive.com (WXIA), January 18, 2017
Also, despite numerous images of the dogs taken by the media yesterday, Fulton County Animal Control claims that of the three dogs, one is a "border collie" and the other is an "unidentified breed." Tucker is not a border collie type, but
he is a pit bull type
, according to his own Facebook page. We do not know
which
dog animal control is claiming to be a border collie or unidentified breed. If it is the
white and black pit bull-mix
that would be an outrageous and
deliberate
distortion.
---
01/17/17: Children Identified
On Tuesday, as a group of children walked along Cerro Street in southwest Atlanta to their school bus stop, up to three loose pit bulls brutally attacked them. Logan Braatz, 6-years old, died of his injuries. Syrai Sanders, 5-years old, suffered horrific facial damage. Angie Smith, who witnessed part of the attack said the little girl's "face was totally dismembered." Syrai is being treated at Egleston Hospital. A third child sustained minor injuries in the attack, according to police.
The owner of the pit bulls,
Cameron Tucker, was arrested
on two misdemeanor counts of reckless conduct. Police shot and hit one pit bull that tried to flee the scene,
the black dog
. The animal was later captured. A
white and black pit bull
was also taken into custody. Investigators are trying to determine if a third pit bull (belonging to someone else) was also involved in the deadly mauling. The children attended F.L. Stanton Elementary. Earlier the school released this statement:
"Atlanta Public Schools can confirm that two F.L. Stanton Elementary students walking to the bus stop were attacked by pitbulls. Both students were transported to Egleston Hospital. One student was transported back to Grady Hospital's trauma unit and later passed away. The female student at Egleston is in stable condition. Atlanta Public Schools sent a crisis team to F.L. Stanton this morning to provide grief counseling for students and staff. Our deepest condolences go out to the family."

- F.L. Stanton Elementary School
---
SIDEBAR:
We were shocked earlier to see that the
Atlanta Journal-Constitution
had named the breed in their report, much less in their headline -- that is how pit bull sympathetic they are, and have been for years.
In their latest update
, at the bottom of the article is a large video of a shelter pit bull with a
message on the front
: "A majority of pit bulls in shelters have no history of violence, their owners voluntarily surrender them."
Pimping for pit bulls after these brutal child maulings!
A major regional newspaper in Georgia is
perpetuating the Nanny Dog myth
and pleading, "Dear public, please adopt our unwanted shelter pit bulls," after two pit bulls savagely attacked and killed a little boy and "dismembered" a little girl's face. The most recent
medical study highlighting the severity of pit bull injuries
was a retrospective review of 1616 consecutive child dog bite injuries at Children's Healthcare of Atlanta at Egleston (CHOA) where both injured children were sent.
---
01/17/17: Pit Bulls Kill Child
Atlanta, GA - Pit bulls killed one child and
critically injured another
as they walked to school Tuesday morning. A third child was also injured, but his condition is unclear. The children were ages 5 to 6 years old. The deadly attack occurred in the 1200 block of Gideons Drive in southwest Atlanta at about 7:20 am. Three pit bulls killed a little boy and critically injured a girl. Neighbors flew outside after awaking to screams. Aerial footage captured the horrific aftermath of the attack.
"I looked down at her to see what I could do for her. And when I looked at her, I knew that there was nothing I could do."

- Witness Angie Smith
Police officers shot and killed one pit bull and the two others were taken into custody by animal control. The
Atlanta Journal-Constitution
reports that
authorities have arrested the dogs' owner
. Sgt. Warren Pickard said the children were walking with a group of children to school when the pit bulls attacked. "We had some brave kids. Some kids ran back to the scene to try to pull the dogs off the children that were injured," Pickard said. Neighbors also intervened to rescue the children.
WGCL-TV reports the children attend F.L. Stanton Elementary School, and were
walking to their school bus stop
when they were attacked. Aerial footage from a chopper shows a
white and black pit bull
sitting in a nearby driveway. A
black pit bull
, photographed on a nearby porch, was also involved, according to police. The dogs lived about a block away from the attack, police said. Fox 5 reports
neighbors rushed to the scene
with a baseball bat and knives to stop the mauling.
Smith: "I ran to the baby and I said, I looked down at her to see what I could do for her. And when I looked at her, I knew that there was nothing I could do."
Reporter: "Was she gone at that point?"
Smith: "I couldn't tell if she was gone. I just knew, she had on a jacket and a book bag so I couldn't tell if she was breathing or not. I think that kind of saved her skin.

I knew that her face was totally dismembered.


Reporter: "Have you ever seen the dogs before?"
Smith: "I actually saw the dogs Saturday. They were running around. I told myself,

'I should call the humane society because dogs are just roaming. But by the time they get here, the dogs will probably be gone and they don't usually look for them.' And so, I did not call.

This is just so unfortunate.
Reporter: "Did you hear anything beforehand?"
Smith: "Yes. I heard the kids screaming. The kids were screaming very loudly, but they usually in the morning -- because they walk to the bus stop -- they are sometimes loud and they are playing, they are chasing each other. So, I sat there for a couple of seconds, because I was like, maybe the kids are playing. But after a few minutes, maybe two minutes or so, I realized that the kids weren't playing. It was a different kind of cry. It was a different kind of screaming. Then I heard adults screaming as well, so that prompted me to come outside."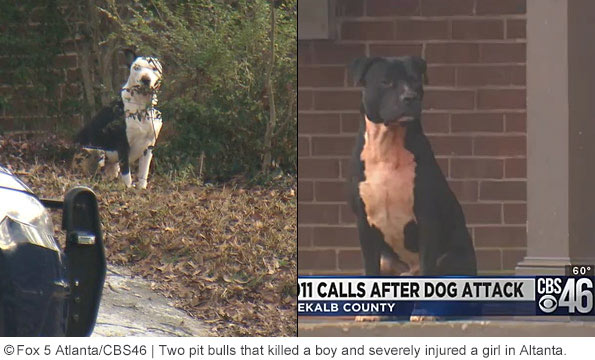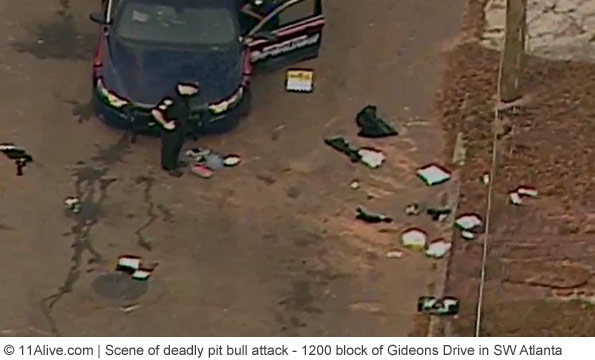 View the DogsBite.org Google Map:
Georgia Fatal Pit Bull Maulings
.
Related articles:
10/10/16:
Special Report: Level 1 Trauma Center Dog Bite Studies in All U.S. Geographical...
08/04/16:
2016 Dog Bite Fatality: Woman Mauled to Death by Her Boyfriend's Pit Bull in Georgia
12/12/13:
Video: Mother of Fatal Pit Bull Attack Victim Shares Story with State Representative
05/23/13:
2013 Dog Bite Fatality: Fulton County Infant Killed by Family Pit Bull
---
Baseline reporting requirements:
Law enforcement departments across the United States should release consistent "baseline" information to the media and the public after each fatal dog mauling,
including these items
.
Labels: 2017 Dog Bite Fatality, Criminal Charges, Georgia, Georgia Pit Bull Fatality, Police Shoot Aggressive Pit Bull

Please donate to support our work
DogsBite.org is a 501(c)(3) tax-exempt public charity organization. Learn more »
posted by
|
permalink
|
32 comments
|

email
|

blog rss
|

comment rss

32 comments:

Kay Cee | 1/17/2017 2:32 PM | Flag
"We had some brave kids. Some kids ran back to the scene to try to pull the dogs off the children that were injured..."

That is more bravery than what the insecure pitbull owner will ever show in a lifetime.

Catherine Hobbs | 1/17/2017 4:02 PM | Flag
Another terrible tragedy. The pit nutters should be ashamed of their promotion of a fighting dog as a family pet.

K-Hart | 1/17/2017 4:02 PM | Flag
My prayers are with the families of these victims. I can barely get through one of these DBFRs without tears in my eyes, especially when the innocent victims are the same age as my own children.
What really makes me sick and enraged is the pro pit bull BS laced throughout the article about the death and the ultra violent mauling of 2 little kids. The AJC should be absolutely ashamed of themselves! Wtf?! Would you ever see articles titled "Pedophiles : Dangerous or Misunderstood?" or "Serial Killers: Why People Fear Them" ? No... but they continue to advocate for dogs with explosive, unpredictable violence that have a real propensity for ruining the lives of children. Unacceptable in humans, but totally fine in dogs. Makes sense.
Pit bull ownership is a valid sign of mental illness.

Your Quiet Neighbor | 1/17/2017 4:45 PM | Flag
Isn't this the same AJC that libeled Richard Jewell after the Centennial Olympic Park bombing in 1996?

Where The Sand Pea Grows | 1/17/2017 5:26 PM | Flag
K-Hart, they don't call it the Atlanta Journal of Prostitution for no reason.

mary conner | 1/17/2017 6:08 PM | Flag
I don't even know what to say anymore. These damn pit bulls kill one thing or another very damn day.

Mary Ann Redfern | 1/17/2017 8:53 PM | Flag
This saddens and sickens me. What must happen for those who make laws to rectify this despicable situation? This simply cannot continue.

LibertarianThinker | 1/18/2017 2:37 AM | Flag
Extremely sad. I wish the neighbor had called when she saw the pitbulls running loose on Saturday. Ignoring a pit bull running loose is no different then ignoring a tiger running loose! Sickeningly enough, the 2 murderous pitbulls that weren't shot by the police officer will probably be rehomed to some completely unsuspecting family. :(

Lucu Lencia | 1/18/2017 9:41 AM | Flag
With a description stating "looking for a home without children or with older children only" (this is a red flag that the dog has bitten kids before or has been otherwise aggressive around them).

I want a cute purse | 1/18/2017 1:53 PM | Flag
Just devastating! After watching the body cam footage I can't stomach thinking about what these little kids endured. Another little life stolen.

owens roofing | 1/18/2017 4:09 PM | Flag
Unreal.

Bailey | 1/19/2017 8:26 PM | Flag
We should not be living in a world where children are at risk of getting attacked or killed by dogs while walking to school. The pits being loose is already disgusting on it's own, but if it was any normal breed these children would not have endured this pain. Logan would be alive and Syrai would not be as injured. Why do people think this is acceptable? Why do they think having a creature that can do this to children is okay? No one needs a bully breed. Any one that would be so depressed to not have this murderous animal anymore us seriously sick in the head. Pit supporters are the reason why this happened and the fact that they don't feel the slightest bit of care or sympathy to their fellow human (though sometimes I wonder if they are human with how a lot of them act and speak) is repulsive. Pit nutters are the lowest of the low.

Sandra Fuller | 1/19/2017 9:17 PM | Flag
Yes better hope the next potential adopter doesn't have neighbors with kids either.But pitbull advocates don't give a shit about anything but their precious sweet pibbles.They don't care about the children,elderly or other animals that are killed every year by their pibbles.

Patricia | 1/19/2017 10:15 PM | Flag
I'm so tired of people making up excuses for all the pitbull attacks.
They say it's the way they were raised, or the kids did something to provoke the attack. One person even tried to tell me that the kids were playing tug of war with the dogs.
So , now it's the kids fault!
I'm tired of people making excuses for this breed

Farmer Jane | 1/20/2017 6:06 PM | Flag
So, they are claiming the two killer dogs as family members? I just don't have the words to express how I feel about this. What a horrible, unfeeling thing to say when you are responsible for a tragedy like this. It's so disrespectful of the victims and their real, human families. Like they're trying to make others think that the loss of two animals (who will hopefully be HUMANELY euthanized) could compare to the loss that these families of the victims are feeling, when their actual children suffered in pain and fear, literally being eaten by monsters. These dog owners really are psychopaths.

Farmer Jane | 1/20/2017 6:25 PM | Flag
https://www.yahoo.com/news/child-dies-2-injured-pit-bull-attack-atlanta-163829380.html

This is an AP article that is a "correction" of the original. It states that one of the dogs was a border collie. I own a border collie/blue heeler. It in no way looks like anything like either of those two dogs. There are no pics with the article, so you just have to take their word for it.

Colleen Lynn | 1/20/2017 9:48 PM | Flag
We think the legal tactic will be to deny his dogs were involved. Must have been "someone else's" dogs. There will be DNA, etc, to prove which dogs attacked. Fortunately, witnesses (many) saw the attack happen. So this will not be the like the Dallas fiasco.

Colleen Lynn | 1/20/2017 9:58 PM | Flag
Farmer Jane, we are certainly aware of the AP correction. Did you see that the author of "Pit Bulls for Dummies" has spoken out? (https://www.facebook.com/caroline.coile/posts/10211177505449616) The police report states pit bull and pit bull-mix -- matching the photographs exactly. Whatever Fulton County Animal Control is trying to pull, we shall see how this works out, once the criminal trial advances.

joelande | 1/21/2017 5:49 AM | Flag
Fulton County Animal Control.

I hope that people remember that a pit bull lobbyist, married to a man connected to dog fighters, was the Fulton County Animal control officer until a news investigation revealed animal cruelty, hiding a pit bull involved in an attack, allowing pit bulls to kill other dogs in kennel runs, releasing pet cats outdoors to die or use as bait, and many other problems (in the name of pit bull advocacy & No Kill.)

Perhaps Dogsbite could provide a link to their blog entry for this?

This county has had problems for a long time

joelande | 1/21/2017 5:55 AM | Flag
I ask everyone who cares to fight very hard for strict dog legislation in their communities.

No tolerance for loose dogs, responsive animal control, leash laws, identification of dangerous dogs before they attack, strict dangerous dog punishments and seizures, kennel licensing, quick court intercession with dog owners who do not follow laws.

Your Quiet Neighbor | 1/21/2017 10:33 AM | Flag
And, IMHO, this would be much more feasible -- and enforceable -- than BSL.

Your Quiet Neighbor | 1/21/2017 10:34 AM | Flag
I have often said that shelters lie. Well, so does animal control.

Unknown | 1/23/2017 9:44 PM | Flag
No need for anyone to own a pitbull. Noway they should be able to run free at all anywhere. I own an English Mastiff that will soon top 200 pounds and although very gentle with me I would not let her run free or even take her to a dog park as it would be irresponsible to do so.

joelande | 1/25/2017 3:33 AM | Flag
In your sidebar, about the reporting by the Atlanta Journal Constitution

did you mean they had NOT mentioned the breed in their article or title?

Colleen Lynn | 1/25/2017 9:18 AM | Flag
joelande AJC did use "pit bull" in the title of the article (very unusual for them) -- at least at that time. It likely has been revised since. All initial reports were based upon a police report that stated the dogs were a pit bull and pit bull-mix. About 7 hours after the attack, Fulton County AC began disseminating the information that one of the dogs was a "border collie." In breaking news, titles are frequently revised as is the copy within the article.

joelande | 1/26/2017 10:01 AM | Flag
Colleen Lynn, thank you. Now I understand. They actually did use the proper breed designation instead of hiding it. A miracle.

I am sorry to say there was a terrible attack on a 96 year old woman in Philly by two pit bulls. She is critically injured. her husband tried to save her.

http://philadelphia.cbslocal.com/2017/01/25/person-hospitalized-in-germantown-animal-attack/

Dayna Hamilton | 1/26/2017 4:30 PM | Flag
Is there jail time with manslaughter in the 2nd degree? This owner, as all owners, need to be made an example of to show the rest of the pit owners what to expect when their pits "somehow" get loose.

Your Quiet Neighbor | 1/28/2017 8:55 AM | Flag
Manslaughter convictions usually involve jail time.

Unknown | 4/06/2017 3:56 PM | Flag
was he to lazy to put his dog on a chain logan goes to my son school and this boy lost his life at six year old syrai is terrfied of dog so he should get life in prison because you could of got up and put them dog on the chain.

Belinda Knoblock | 4/29/2017 6:14 AM | Flag
Why didnt the officers just kill them? It is crazy how people will defend these dogs over and over no matter what or who they kill. Then when i read the news about people SEEING coyotes. I live in a rural area and hear coyotes nearly every night and have done so for about 25 years. I have never had issues with the wild dogs, but a pb from down the road came here a couple or 3 times and beat up my dogs. They were scared to death of him. I had animal control come get him the first time. I was really thinking about how my granddaughter would have most likely ended up in the middle of it to defend "her dogs".

Victoria Stephens | 6/26/2017 3:37 PM | Flag
This is so sad.Pit bulls do not have to be provoked to attack. Some people try to say it depends how the pit is raised if that is true then why have so many pit owners made the statement he or she never showed any previous signs of being aggressive or vicious after there pit brutally attacked an innocent person and or killed them.It makes no difference who or how it was raised.Its in there DNA to kill.There not ment to be pets Idk how many times I have heard about a pit being so sweet & loving & then it viciously attacked an innocent person and even the owners innocent children & sometimes even the owners.They should be banned 100% in the world.Pits are an extreme danger to society.Many innocent children cannot even walk to there bus stops without being viciously mauled and or killed theres a serious problem with these vicious pit bulls.How many innocent people have to be almost killed or killed b4 they are banned 100%. Actions speak louder then words with the several 100's of pit bull attacks on innocent people.I carry bear spray and a 9 mm any pit bull walk or run up on me it will b a dead pit bull. I live in one the most dangerous city's in the US I don't fear the people at all I fear the damn pit bulls. I had a pit years ago and I would never own another one.He ate through a wire and wood fence 6 feet high and went into my neighbors house and nocked her down thank God she wasn't mauled
and she was able to get out of her house and come and let me know what happened she was scared to death but she was ok.I was going to have him put down but a lady that raises pits wanted him.I probably didn't make the best choice because a week b4 that incident he snapped at my face & almost bit me and he didn't growl or show any anger b4 he snapped at my face.I realize there are some pits that are really sweet and loving to there owners and there innocent kids but there is that very high chance that sweet loving dog could attack without warning & without being provoked it's not worth the risk.


Hector Bello | 9/21/2017 8:14 PM | Flag
Let's stop praying and begin to demand these agressive dogs banned. Yes they'll go underground but guess what, they won't be out killing other people's kids anymore. And, locking this idiot up won't fix the problem, although it may be helpful. Banning these dogs from Atlanta will start to fix this issue.