Wednesday, July 20, 2016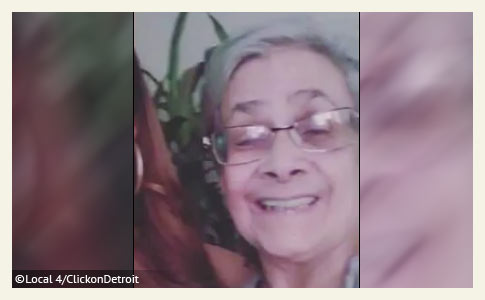 Elizabeth Rivera, 71-years old, was killed by a family pit bull in southwest Detroit.
Previous Attack Photos
UPDATE 07/20/16:
The Wayne County Medical Examiner's office said that 71-year old Elizabeth Rivera died of "crush injury to the neck." The manner of death was ruled an accident. The autopsy was performed on July 17, reports the
Detroit Free Press
. The following day, Detroit police stated they had completed their investigation, though it was unknown if one or more family pit bulls were involved in the fatal attack. Rivera was found dead inside her home by a relative Saturday night.
WXYZ Detroit reported new details in a news video Monday, along with
photographs of Rivera's injuries
involving a previous attack by a different pit bull. That attack was first reported as occurring last August. However, the WXYZ video states that it was several years ago, and Rivera had to undergo extensive surgeries and skin grafts after that family pit bull attacked her face. It was later put down. The loved one who spoke to WXYZ would not appear on camera in fear of retaliation.
In both attacks, the severe facial attack and the attack that killed her, Rivera's daughter and her daughter's "boyfriend" owned the pit bulls.
"I was astonished. I couldn't believe it because of what happened prior. I never thought this would happen again," states the person. "She was the heart of our family. She was a wonderful sweet woman, very compassionate. She went to church all the time, and she does not deserve this. This should have never happened to her," states the person. There aren't words to describe how difficult her funeral services will be.
What could the daughter and her "boyfriend" possibly say?
---
07/16/16: Killed by Family Pit Bull
Detroit, MI - A 71-year old woman was attacked and killed by her own pit bull in her southwest Detroit home. The attack happened about 8 pm at her home in the 2000 block of Ferdinand Street, Sgt. Michael Woody of Detroit Police said. The pit bull attacked the woman, knocking her down then latched onto her neck and executed the killing bite, severing her jugular vein. She died on scene. There were three other dogs in the home at the time. Animal control seized the pit bull.
Click on Detroit reports that
all four dogs are pit bulls
and were seized by authorities. Family members identified the victim as Elizabeth Rivera. The victim's granddaughter discovered Rivera lifeless on the home's first floor. Family members said the dogs belong to a "boyfriend" of a family member, but Rivera had been around the dogs regularly. Rivera survived a pit bull attack last August from a different dog. It is unclear who owned that pit bull, the "boyfriend" or someone else.
Rivera's home is about a 15-minute drive from where
4-year old Xavier Strickland
was brutally struck down by a pack of pit bulls that escaped their owner's property on December 2. Last month, a jury convicted the owner of those pit bulls, Geneke Lyons, on manslaughter. On June 30, Judge James Callahan
sentenced Lyons below the guidelines
in connection to the boy's death to 5-years probation with the first year to be spent in the Wayne County prison work release program.
---

Medical study:
Pitbull Mauling Deaths in Detroit,
by Cheryl L. Loewe MD et al.,
The American Journal of Forensic Medicine and Pathology
, Vol 28, December 2007.

View the DogsBite.org Google State Map:
Michigan Fatal Pit Bull Attacks
.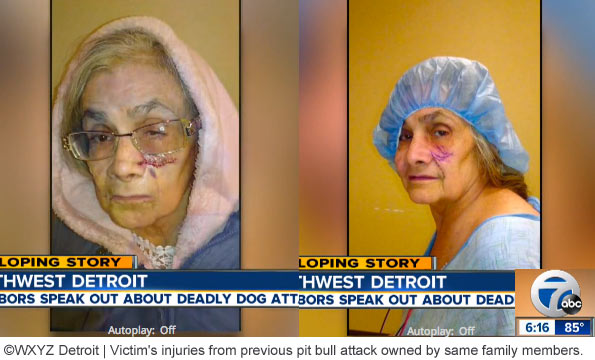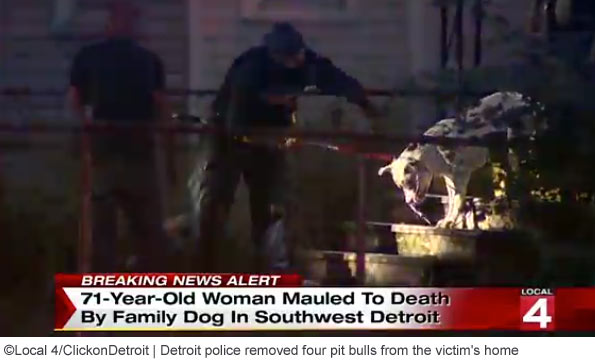 Related articles:
06/30/16:
Criminal Trial: Detroit Pit Bull Owner Convicted on Two Counts of Manslaughter...
01/07/16:
2015 Dog Bite Fatality: 4-Year Old Boy Savagely Killed by Four Pit Bulls in Detroit
09/15/15:
Detroit Man Suffers Catastrophic Injuries in Violent Pack Attack by Pit Bulls
Labels: 2016 Dog Bite Fatality, Detroit, Fatal Pit Bull Attack, Michigan, Pit Bull Kills Owner, Senior Citizen Fatality, Wayne County

Please donate to support our work
DogsBite.org is a 501(c)(3) tax-exempt public charity organization. Learn more »
posted by
|
permalink
|
11 comments
|

email
|

blog rss
|

comment rss

11 comments:

Ka D | 7/16/2016 10:43 PM | Flag
Even full grown men have been taken out by ONE pit bull. This is no dog for the elderly.

Illinois Pitbull Attacks | 7/16/2016 11:11 PM | Flag
Detroit really needs to get it together and ban pit bulls. They are just tearing people apart left and right over there. Glad you put up the link to the study Pitbull Mauling Deaths in Detroit. They all need to review that.

Colleen Lynn | 7/17/2016 1:13 AM | Flag
Oh goodness -- tracking on FB threads now. The "boyfriend" apparently was the owner of the pit bull that attacked her in August.
----
"Terri Strong Kelley It was my neighbor and they were pit bulls they were not her dogs they belonged to her daughter and son in law. Unfortunately it wasn't the first time she had been attacked by these dogs. It's very very sad when you hold dogs above your family member. May she rest in peace!"
----
https://www.facebook.com/detroitfreepress/posts/10154416197395530

Ka D | 7/17/2016 9:42 AM | Flag
"Boyfriend with pit bull" should garner the same amount of derision as "boyfriend on the sex offender list" and should be avoided at all costs. I've seen many cases of "boyfriend with pit bull" getting a woman's kids mauled.

Ka D | 7/17/2016 9:45 AM | Flag
One of the things that makes the elderly particularly vulnerable is they grew up at a time when a dog killing a chicken was not tolerated. They have no idea how the lunatic fringe of dog ownership has come out in the last 30 years. Up until the late 1990's I had never in my life heard of a person being killed by a dog, now it's routine thanks to pit advocacy.

I want a cute purse | 7/17/2016 10:21 AM | Flag
It's risk enough to own 1 pit but Pit hoarding??! Poor woman, surrounded by an extremely selfish family who put the dogs first. She was already attacked before, it shouldn't have happened again.
I always shake my head when people call them "dogs"... And people still think these demons are just like any other dog??? They are in a class all their own.

joelande | 7/17/2016 12:20 PM | Flag
It is elder abuse.

This is what happens over & over with these situations

The owners of the dogs have vicious dogs. They have issues. They get kicked out. They can't get a place that will allow vicious dogs to attack neighbors and other tenants.

So they take advantage of older women or men- fathers, mothers, grandfathers, grandmothers. Some impaired, some not able to make safe decisions or pushed into a situation they don't really want, but there is a pressure to take in the dogs of these relatives

The elderly person then pays the price.

It is a shame that no other family members stepped in long ago and had these dogs removed, especially after she had been attacked before.

Many times these are breeding operations & greed is at the heart of it.

If anyone knows an elder being pushed into a situation like this, I hope they will contact elder services or the police before it is too late.



Miss Margo | 7/20/2016 2:33 PM | Flag
So, let me get this straight:

"I was astonished. I couldn't believe it because of what happened prior. I never thought this would happen again," states the person.

You couldn't believe that something that happened in the PAST could possibly re-occur...?

This is the opposite of rationality. The fact that it happened is proof-positive the event could occur again. It's like saying "I never thought my car could be broken into in a parking garage TWICE," or "I never thought I could get a second DUI drunk-driving arrest."

truthbirdtoo | 7/20/2016 2:47 PM | Flag
I wonder how the person felt about Elizabeth still living with a pack of pit bulls AFTER the first attack? How did Elizabeth feel? Mark my words, the family will try to get the other 3 pit bulls back!

les | 7/20/2016 8:08 PM | Flag
"latched onto her neck and executed the killing bite, severing her jugular vein", that's exactly what they were bred for, to sense a weakness and attack and kill.

These animals are supposed to banned in all of Ontario, yet on a daily basis I see then in downtown Toronto, and I'm seeing puppies, and un neutered males with cropped ears, people taking them to big street festivals, and no one does anything.

Lawrence Phelps | 9/13/2016 1:44 AM | Flag
Was it the jobless baby daddy boyfriend or one of the other three?