Wednesday, June 8, 2016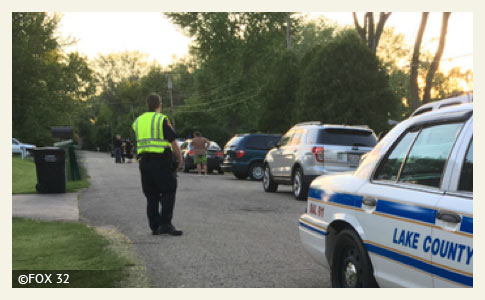 Police at scene where a 71-year old woman was found bitten and dead in Antioch.
Dead Before Mauling
UPDATE 06/08/16:
An autopsy on the 71-year old woman found dead yesterday in her Antioch home covered in dog bites determined she died of a massive stroke before the family dogs inflicted severe bites all over her body. Deputy Coroner Orlando Portillo said Elizabeth Flood "was dead before the dogs got to her." Portillo said they are not releasing the number of bites that were discovered during the autopsy. The death of Elizabeth Flood is a post-mortem mauling case.
Previously, the Lake County Sheriff's Office said that Flood was mauled so badly, it would take dental records to positively identify her. Flood's 23-year old grandson arrived home after work at about 5:30 pm yesterday and found her dead inside a bedroom in the home. As we expressed earlier,
post-mortem dog mauling cases are rare but do occur
. It is unclear why, however, officials will not release the number of bite injuries, except that it might make dog owners uncomfortable.
06/07/16: Dog Mauling Suspected
Lake County, IL - A 71-year old woman was found dead in her home covered in dog bites. Authorities suspect the family dogs. An autopsy will be performed Wednesday. Her grandson discovered her body at their home on the 26000 block of West Channel Avenue after he returned from work at 5:30 pm, Detective Christopher Covelli with the Lake County Sheriff's office said. The family dogs, a lab-chow mix and German shepherd had bitten her multiple times, Covelli said.
"The bites were very extensive, there were multiple bites all over the 71-year-old's body from her head to her toes."

- Christopher Covelli
The woman was mauled so badly, the sheriff's department says
it will take dental records
to positively identify her, reports Fox 32. This is a red flag and may indicate she died before the mauling. Authorities also said there were no signs of a struggle for the victim. It is also unclear if both dogs were involved. The German shepherd, described as "calm" by a neighbor, was found wandering the area and the grandson indicated the attack was by done by a "dog" (singular).
1
Post-Mortem Mauling Cases
Just a month ago, a high profile "post-mortem mauling" occurred in Brownsburg, Indiana. Lola Endres, 61, an animal rescue advocate, was
found bloody and dead,
covered in significant dog bite injuries inflicted by one or both of her family dogs. Both dogs were English bulldogs. The Hendricks County Coroner later determined that all of the bites were inflicted post-mortem, thus none contributed to her death. Endres had a heart condition and suffered a fatal heart attack.
These cases are rare, but do occur. To have two cases so close together would be very usual.
1
In the NBC Chicago video -- that posted just after we published -- Covelli stated, "She had been with the dogs home alone 'several' times in the past." That detail strongly indicates a fatal dog attack scenario.
Related articles:
05/10/16:
Coroner: Dog Bite Injuries Inflicted After Death; Woman Found Dead in Brownsburg
Labels: Illinois, Post-Mortem Mauling, Post-Mortem Predation

Please donate to support our work
DogsBite.org is a 501(c)(3) tax-exempt public charity organization. Learn more »
posted by
|
permalink
|
8 comments
|

email
|

blog rss
|

comment rss

8 comments:

Sputnik | 6/07/2016 11:39 PM | Flag
I'm looking forward to release of photos of the dogs. "Lab chow" mix? I suspect the key word here will in fact turn out to be bulldog.

Virginia Farley | 6/08/2016 7:36 AM | Flag
I'll be surprised if the German Shepherd was involved. Chow mix I wouldn't doubt it

Annie B | 6/08/2016 7:36 AM | Flag
Yep

PutMeInCharge41Day | 6/08/2016 8:17 AM | Flag
Sputnik, I agree. The number of "Chow" mixes on pet finder that are clearly pit mixes is astronomical. Such as this chow lab mix

https://www.petfinder.com/petdetail/31568090



Unknown | 6/08/2016 9:17 AM | Flag
not typical behavior of a german shepard, lab chow is very possible

Colleen Lynn | 6/08/2016 9:33 AM | Flag
The Fox 32 video shows what appears to be a black chow-mix. It is towards the end. It shows the dog in the backyard.

http://www.fox32chicago.com/news/local/155557677-story

Also this ABC Chicago video shows the black dog (more obviously at the beginning).

http://abc7chicago.com/news/grandmother-found-dead-in-antioch-with-dog-bites-on-body/1376314/

joelande | 6/08/2016 2:31 PM | Flag
I have the awful feeling none of these were her dogs.

I hope the elderly out there insist that if relatives move in with them, nothing more than a beagle or the equivalent family pet, and no dogs with previous issues.

I have seen may cases where younger relatives move in with elderly relatives precisely because the younger one's dogs have issues and they have been kicked out of other situations.

Like kids, the elderly have been bearing a lot of the brunt of dog attacks.

joelande | 6/08/2016 2:38 PM | Flag
Chow, and Akitas too, have a lot of issues. People get them for looks, but don't understand the behavior issues with them

They are given up all the time.

Nowhere near the problems with pit bulls of course, but another breed with issues.

Someday, some have to be held responsible for producing and selling these deeply screwed up breeds. Consumers need to have protections as they do in other areas. People just don't know what they are getting because these animals are sold like fluffy toys. They don't stay that way.