Sunday, April 3, 2016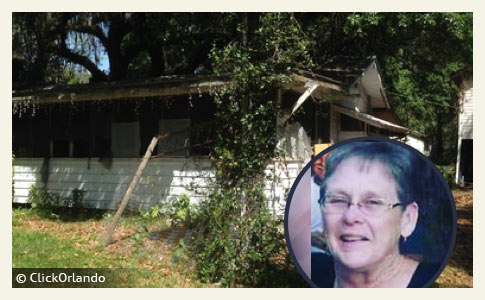 Home on South Street where Sonda Tyson, 66, was mauled to death by her dog.
Conflicting Reports
UPDATE 04/03/16:
On Friday, the
Daily Commercial
provided
details about previous incidents
with dogs from the same home. In 2008, a reddish brown pit bull bit a child on the leg as she rode a bicycle. Her boots prevented any injury. In 2012, a 3-year old child tried to kiss the same dog and was bitten in the face. In 2014, a child at the home was bitten or scratched by a dog named "Hercules" after getting in the middle of two dogs playing, according to an animal services report.
The Commercial also added the detail that paramedics initially tried to block the attacking pit bull-mix by pushing a refrigerator into its path.
A report from News 13 on the same day states that family members said Sonda Tyson lived alone with her four dogs, including the attacker, a pit bull-bullmastiff mix named "Hercules." Tyson's son -- who lives next door -- found the dog when it was a puppy and gave the dog to his mother "for protection." Family members said the dog was never aggressive before. It is unclear if the "reddish brown" pit bull is the same dog as "Hercules," but certainly there were biters in the household.
Grandparents and Senior Citizens
To our readers who are grandparents or
senior citizens
, please do not ever accept a
recognized dangerous breed
from one of your children who makes a similar claim, "for protection." You see how it worked in this case? There have been other cases like this too, including senior citizens killed by their
own "trained" attack dog
. Tyson already had three dogs in her household, each capable of barking and scaring away potential intruders who already dislike homes with dogs.
This 66-year old woman suffered a horrific death at the jaws of a 100 pound pit bull-bullmastiff mix. This is an animal that Tyson never could have controlled. She never could have stopped it from attacking a postal carrier or a person walking down the street or from a child or friend visiting her home. She obviously could not stop the dog from attacking herself either. There was absolutely no reason for Tyson to ever have a
dangerous animal like this
and she paid the highest price of all.
04/01/16: Pit Bull-Mix Kills Owner
Leesburg, FL - Yesterday evening it was reported that Leesburg police
shot and killed a large "vicious" dog covered in blood
that was blocking access to a home, preventing first responders from entering to provide emergency medical assistance to a female victim inside. By the time paramedics reached the woman, she was dead. Today, Leesburg police Lt. Joe Iozzi identified the victim as Sonda Tyson, 66, and confirmed that her own dog viciously attacked and killed her.
"It was a pretty vicious attack and it was a pretty gruesome scene for everybody that was there."

- Leesburg police Lt. Joe Iozzi
Due to the threat the aggressive dog posed, "it was immediately necessary to incapacitate the animal in order to provide for public safety and to allow medical personnel inside the location. An officer assigned with a patrol rifle positioned himself to stop the existing threat and to mitigate the possibility of collateral damage to anyone else,"
states a release issued by police
. "A second shot was then necessary to render the scene safe, and to allow the medical personnel to enter."
"Preliminary results from the medical examiner indicate the death was caused by massive blood loss, resulting from the mauling," states the release. After next of kin were notified, investigators determined the dog belonged to the victim and she had acquired the animal as a puppy, according to the release. News agencies report the dog is described as a
large brindle pit bull-mix dog
in the police report. The deadly attack occurred at a residence on the 1200 block of South Street.
The
Daily Commercial
reports that police Lt. Joe Iozzi said that Tyson was found in a large pool of blood
with significant flesh tears on the rear porch
of the home. "It was a gruesome scene," Iozzi said. A relative reportedly discovered Tyson on the floor and called 911. Lake County Animal Control was
called out to the home at least once
in the past, but it was not clear if the call was related to the same animal, Iozzi said. Residents of the home refused talk to reporters last night.
Portion of the 911 Call
The
Orlando Sentinel
reports it was the victim's granddaughter and daughter-in-law who found Tyson critically injured lying in a pool of blood on the back porch.
Amber Fletcher, her daughter-in-law, called 911
. "She's bleeding everywhere, I don't know. Her bones are showing…" Fletcher told dispatchers. When asked where she was bleeding from, Fletcher said, "Her arms. You can actually see the bones in her arms. She has a bigger dog, so I don't know if her dog bit her."
The
Sentinel
reports it was the 13-year old granddaughter who made the grisly discovery. Fletcher told police that she had left the home earlier in the day to pick up her daughter from school. When the two arrived back at Tyson's home on South Street, the 13-year old rushed out to see her grandmother on the back porch and began screaming at the horrible sight. The article also states that the police officer who shot the dog with a rifle, did so positioned from the top of a fire truck.

View the DogsBite.org Google Map:
Florida Fatal Pit Bull Maulings
.
Related articles:
02/12/16:
2016 Dog Bite Fatality: Woman Killed by Pet Pit Bull in Perquimans County, NC
01/29/16:
2015 Dog Bite Fatality: Gridley Woman Mauled To Death by Her Two Pet Pit Bulls
01/08/15:
2015 Dog Bite Fatality: Maryland Man Mauled to Death by Adopted Rescue Pit Bull
Labels: 2016 Dog Bite Fatality, Fatal Pit Bull Attack, Florida, Pit Bull Kills Family Member, Pit Bull Kills Owner

Please donate to support our work
DogsBite.org is a 501(c)(3) tax-exempt public charity organization. Learn more »
posted by
|
permalink
|
12 comments
|

email
|

blog rss
|

comment rss

12 comments:

PutMeInCharge41Day | 4/01/2016 6:10 PM | Flag
Do we start the count down before apologists are telling us the dog was actually trying to give medical aid to its owner and that's how the injuries occurred.....

At least some family member will not be trying to keep the dog alive.





EyesOpened | 4/01/2016 9:40 PM | Flag
The pro-pit people will be insisting it wasn't a pit bull. Because it was a pit mix, they'll claim it was just a mutt...or not an APBT...or that the media sensationalizes these reports because of a supposed bias against pit bulls and that they report any muscular dog with short hair as a pit bull.

Then the claims of abuse will be trotted out. They'll say this owner must have done something to the dog, or it was a resident dog and not socialized. Some will moan about the "poor dog" being shot; others will start in with the nanny dog myth or how they've never had a problem in 30 years of owning pit bulls. There are a few other types of comments we'll see, but I think that about covers the major ones.

Yeah, I've been reading these news reports for a few months now... Shaking my head. I've decided that it's just cognitive dissonance: pit bull owners CAN'T believe anything negative about pit bulls because then that means they and their dogs could wind up in the headlines. They come up with all these excuses to help themselves feel safe. It's kind of sad, actually. When I say that my dog would never hurt me, I don't doubt it. He's never even given a warning signal of any kind, and he's of a breed of dog that would give warning signals, unlike pit bull-type breeds. I think pit bull owners who have encountered some of the facts about their breeds must have at least a little bit of doubt, though they'll never admit it. That's why they argue so aggressively.

Chris Becker | 4/01/2016 10:10 PM | Flag
This is going to sound terrible, and it i, but there's a part of me that doesn't feel so bad when the person killed by the pitbull is the actual adult owner. There's a part of me that's relieved that it wasn't another family member, especially a child. I often wonder what goes through a person's mind the moment of an attack by a dog that they defend as being so gentle it wouldn't hurt a fly. I especially wonder about this when the person who was attacked is a known and vocal pitbull advocate.

truthbirdtoo | 4/01/2016 11:34 PM | Flag
Advocates who follow this issue closely feel similarly -- you are not alone Chris. I thank God the dog was not still "raging on" when the young girl arrived or that it did not break out of its property and fatally attack an innocent person walking down the street.

Maybe what goes through their mind is that 35-year time honored beaten drum MYTH that "pit bulls are the most loyal of all dogs..."

nlbchi | 4/02/2016 9:25 AM | Flag
I noticed in the news stories that they put the words "aggressive" and "vicious" in quotation marks which makes it seem like they are doubting that the police needed to shoot the dog. One of the headlines isn't even about the dog killing the owner- it's about the police killing the dog!

BeKind StopbreedingBullyDogs | 4/02/2016 4:07 PM | Flag
We say that we'd not have a problem with bully dog if the only pit/bully victims were their "consenting adult" owners.

But more commonly, the bullies' victims are visitors/neighbors pets/people.

That is never acceptable.

BeKind StopbreedingBullyDogs | 4/02/2016 4:10 PM | Flag
Loyal? Ted Bundy was loyal, sometimes returning to his victim's bodies, until they decomposed.

Stalkers are loyal, too.

LibertarianThinker | 4/02/2016 7:48 PM | Flag
Eyes Opened-I think you called it, it is cognitive dissonance. I've also wondered how pit bull owners can be completely blind to all the viscous deaths their Pitbulls cause. But I suppose its no different from an abused spouse who always has an excuse for the abusive spouse, a smoker who talks about all the smokers s/he's heard of who live to be 100, or the people who are still collecting beanie babies today thinking they will be worth a fortune,and all the other blind spots and irrationality that people have in their lives. The difference is, most cognitive dissonance/blind spots/irrationality don't have the tremendous potential to kill and destroy so many people and so randomly. Everyone has some cognitive dissonance about something in their life, but most cognitive dissonances can be ignored by the public, because it only affect one person or their family. Pitbulls & their cognitively dissociated defenders can not be ignored because of their vast number of victims. Like others here, while I feel sad for the owner, I am relieved that it was the owner that was killed and not an innocent neighbor or child. Because that pitbull would have killed someone, better the owner who wanted to treat a viscous animal like a household pet, than someone else.

PutMeInCharge41Day | 4/02/2016 9:15 PM | Flag
I have read elsewhere that there have been incidents with a dog at the same residence. Has that been verified?



Colleen Lynn | 4/02/2016 11:47 PM | Flag
We are still waiting on that clarification. There were 3 previous incidents, 2 involved a pit bull, but that pit bull was described as reddish brown. It is probably the same one. Reddish brown = brindle.

PutMeInCharge41Day | 4/03/2016 8:56 PM | Flag
Your advice in the update literally gave me goosebumps.

You are so right. No one of any age needs this kind of protection. I have always said my job is to protect my dogs not the other way around.

Today at a lure coursing event was a gigantic, intact,male Cane Corso who they could not catch after the run. The judge was smart enough not to grab at it as he had a small dog that did not want to be caught after the run. Had that dog turned nasty there was nothing anyone could have done to stop it. Of course there was also an "Am Staff" lure coursing as well.

The last thing I want to be around is those kind of dogs that are riled up into full prey drive. I will not participate in those events since its inevitable that there will be a tragedy at some point.

joelande | 4/04/2016 5:35 AM | Flag
The hypocrisy looms over us all.

In Sugar Creek Missouri recently, local government leaders and officials passed emergency restrictions to force a citizen to remove a vegetable garden from their yard.

Because lots of locals complained.

Meanwhile, all over the US, those same kinds of officials and leaders turn the other way as violent dogs offend again and again.

The reason is that the squeaky wheel gets the grease

When people join together and complain and put pressure on those officials and leaders, then things change.

People need to get active and organize and demand changes to dog laws and animal control functioning. Their lives depend on it.