Tuesday, February 9, 2016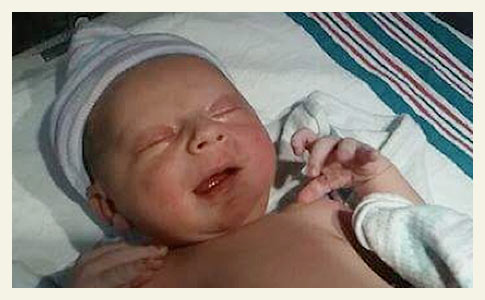 Aiden Jonathon Grim, 3-days old, died after being bitten by a family dog.
No Criminal Charges
UPDATE 02/09/16:
No criminal charges will be filed in connection to the death of a newborn that was bitten on the head by a family dog and died, according to Youngstown police. The decision comes after the Mahoning County Coroner's Office ruled the manner of death as accidental. Virtually all dog attacks resulting in death are ruled as accidental; that fact alone does not dismiss criminal charges. About 21% of all dog bite fatalities result in significant or felony criminal charges.
For instance, after four pit bulls
disemboweled a 4-year old boy in Detroit
, the Wayne County Medical Examiner's Office ruled the manner of death as accidental. The owner of the pit bulls, Geneke Lyons, will soon stand trial for murder in the second-degree, involuntary manslaughter and possessing dangerous animals causing death. The manner of death identifies how the "non-natural" death arose. There are four types: accident, homicide, suicide and undetermined.
In the case of another baby's death, coincidentally also named Aiden (no relation), Dorchester County Coroner Chris Nisbet ruled
the manner of death a homicide
. Nisbet said parental neglect contributed to the 2-month old's death. In that case, the father left the infant in the living room all by itself while the father slept in the bedroom. The family's newly adopted dog dismembered and killed the infant while his father slept.
This is not what occurred in Youngstown this past Sunday.
Not even remotely close. Thus, no child neglect charges.
After the death of 3-day old Aiden Jonathon Grim, Dr. Joseph Ohr, a forensic pathologist with the Mahoning County Coroner's Office explained: "At three days old the child's skull is very fragile and the dog's jaw was able to penetrate the skull, causing injuries to the brain and ultimately the death." Essentially, the dog picked up the child by the head and its teeth punctured the infant's soft skull causing brain injuries and death. Dr. Ohr
did not characterize the bite
as a "mauling."
Compounding The Tragedy
In an earlier report by WFMJ
today, the report stated, "the brother of the infant's mom is the owner of the dog and would like to have it returned." This was excluded in the afternoon update and restated as, the dog's "possible return remains uncertain and still under discussion." The fact that the brother wants the animal back compounds this tragedy much further. It also speaks volumes about the dysfunctional nature and people within that household.
May Baby Aiden rest in peace.
02/08/16: Additional Information
In a heart wrenching evening update, the baby's mother, Kristy Grim, told WFMJ that she and the baby were sleeping in the living room that morning. The infant was lying on a blanket inside a
plastic laundry basket
that was on the floor. Grim was lying next to him sleeping on the couch when she woke up to the baby screaming and covered in blood. The 21-year old mother said she saw bite marks on the newborn's head and she knew the dog had bitten the helpless baby.
While it is jarring to learn the baby was sleeping in the laundry basket, it is more jarring and relevant that the dogs used these baskets as beds.
Grim said the dog "was never aggressive before; he never did anything like that." The dog that attacked the baby was described as a "mix-breed shepherd" and was one of five dogs in the house.
Four of these dogs appear to be related
in various Facebook photos, each being golden and brown mixed-breeds. Earlier, Grim said it was her brother's dog that attacked. Regardless, as stated already by one commenter: "Five dogs in a house and a newborn. What could go wrong?"
02/08/16: Newborn Dies After Dog Bite
Youngstown, OH - Police are investigating the death of a 3-day old baby boy that was bitten by a family dog. Officers were called to a home on the 3500 block of Valerie Drive early Sunday and found the infant on a bed with a head injury. The baby's 21-year old mother, Kristy Grim, was next to the baby and in tears. Grim's brother and grandmother where also home at the time of the attack, according to police. Emergency medical first responders determined the newborn had died.
"The baby was here in the basket, and I woke up, and it was horrifying. He was ... His head was just covered in blood."

- Baby's mother, Kristy Grim
Grim told 21 News
that she left her baby on the floor and fell asleep on the couch. When she awoke, her baby was crying and his head was covered in blood. Grim said she wiped off the blood and called 911. The Mahoning County Dog Warden seized the dog described as a mixed-breed. Four other dogs remain in the home.
Lt. Doug Bobovnyik
of the Detective Bureau said the injury was not severe, but that it was a "noticeable injury." The coroner will determine the cause of death.
Additional Facebook Notes
Before Grim deactivated her Facebook page, several comments were captured. In one comment, she states the dog
belonged to her brother
. "Yes, he bit the baby, my brother's dog. And now they're putting it to sleep," Grim wrote. In another, Grim states the
dog is not a pit bull
. "I know people who have pit bulls around their newborns at least the dog wasn't a pit bull," she wrote. Grim also said that she was waiting on a crib. "I had everything for him besides a crib because a few months ago I was told I would receive a free crib so I did not bother buying one," Grim wrote.
Also, as usual, some people are attacking the young mother on
Baby Aiden's GoFundMe page
, blaming Grim for the baby's death. Another is calling her a "pos mother" because she had not yet
gotten a car seat for the newborn
. There is also focus on the makeshift crib the baby was laying in. It is being described as a small basket or laundry basket -- it is unknown which is true. Police must wait until the coroner determines the cause of death before deciding if charges are warranted.
Facebook photos do show the dogs (described as siblings) using the laundry baskets as beds.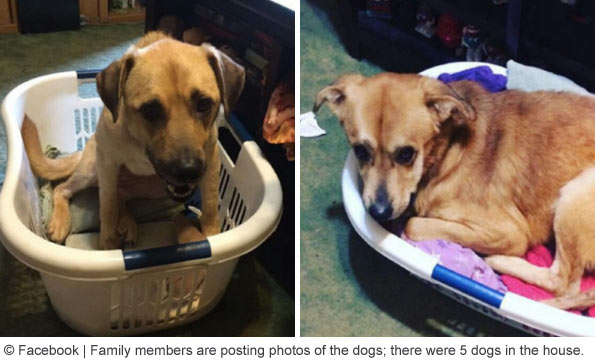 Related articles:
12/11/13:
2013 Dog Bite Fatality: Baby Dies in Columbus, Injuries Consistent with Dog Attack
03/08/12:
2012 Dog Bite Fatality: Newborn Dies After Severe Dog Bites in McKeesport
09/21/11:
2011 Dog Bite Fatality: 9-Day Old Infant Mauled to Death by Family Dogs
Labels: 2016 Dog Bite Fatality, Newborn Fatality, Ohio

Please donate to support our work
DogsBite.org is a 501(c)(3) tax-exempt public charity organization. Learn more »
posted by
|
permalink
|
27 comments
|

email
|

blog rss
|

comment rss

27 comments:

PutMeInCharge41Day | 2/08/2016 3:41 PM | Flag
There is a conversation on this Facebook page which is alarming. Who knows if it is true, but one person has alleged that she washed the baby off before the police got there and another said she had tried to commit suicide while she was pregnant.

https://www.facebook.com/permalink.php?story_fbid=1077476082284361&id=397812250250751

PutMeInCharge41Day | 2/08/2016 3:44 PM | Flag
Her Facebook page has reappeared.

Colleen Lynn | 2/08/2016 4:57 PM | Flag
Oh my goodness - it is SO bad.

truthbirdtoo | 2/08/2016 5:04 PM | Flag
What a hoot! The ASPCA gives recommendations for introducing babies to dogs that not even a middle class family can afford. This young mother had far less! People are starting to say too that the hospital should not have allowed her to take the baby home -- environment way too unstable. This is just AWFUL! Everything about this is just terrible. (http://www.wfmj.com/story/31168665/aspca-offers-tips-for-introducing-babies-to-dogs)

PutMeInCharge41Day | 2/08/2016 5:07 PM | Flag
I still have her facebook page open and am reading it. Just shocking.

She says " he was trying to see the baby but I pushed him away, bu he was happy and wagging his tail around him" "and was guarding him from everyone to protect him too"

Guarding a baby is NOT appropriate behavior for any dog in any household.

Colleen Lynn | 2/08/2016 5:22 PM | Flag
This was posted to the GoFundMe 5 minutes ago: "Just watched you on the news. Your baby just died. Not a tear in your eye. Your a piece of shit. Hope you are charged with this. Why the hell did you have a baby you couldn't even afford a crib or a car seat. If I know what funeral home I'll take money to them won't give you a penny."

PutMeInCharge41Day | 2/08/2016 5:31 PM | Flag
She is definitely at odds with some in her family.

She posted the following on her Facebook- I added the asterisks to the F words

"
Kristy Grim
23 hrs ·
You find out who you're true family is at times like this. Sometimes "real" family isn't real. Especially when you have ignorant botched like my niece Britanny. Going through a really tough time now and she's gonna say were sick and should all be punished for the babies death. F** her."


Kristy Grim
Yesterday at 3:55pm ·
So apparently my half "brother" Truman said it's my fault the baby died and I should have never been allowed to bring the baby home. He can go to he'll. I don't need this right now. F*** him. No longer family.

Kristy Grim
19 hrs ·
Whoever reported me to the police for Making suicidal videos is an asshole. I never posted such a thing thank you. I was scared as fuck thinking they were.gonna take me away. People lying and causing when I'm dealing with this tragedy.
Share
12 people like this.
Comments
Delorese Grim
Delorese Grim Wow
1 · 19 hrs
Kristy Grim
Kristy Grim I wish I knew who it was but I have a feeling it was a family member
1 · 19 hrs

Your Quiet Neighbor | 2/08/2016 7:29 PM | Flag
This gal doesn't sound like Youngstown's mother of the year.

truthbirdtoo | 2/08/2016 7:51 PM | Flag
Scary:
https://www.facebook.com/photo.php?fbid=1011577308914970&set=p.1011577308914970&type=3&theater

Colleen Lynn | 2/08/2016 8:04 PM | Flag
Someone screenshot the car seat:
----
https://www.facebook.com/photo.php?fbid=10153311316171373&set=p.10153311316171373&type=3&theater

Melissa Delaney | 2/08/2016 8:07 PM | Flag
Dogs are a product of their environment. She obviously doesn't have the cognitive ability to know better than to put a baby in a laundry basket, so one can assume that she isn't capable of properly training one dog let alone five.

joelande | 2/08/2016 8:23 PM | Flag
Houses packed with dogs, possibly breeding them, possibly picking them up freestyle from animal control that just offloads them to anyone

We see this scenario over and over, whether it is breeders, private households, or No Kill hoarders or "sanctuaries."

There need to be ground rules for this.

There needs to be breeder licensing, there need to be rules for having large numbers of dogs, there needs to be social worker visits, there needs to be some civilization to all this.

I am also disturbed by comment "at least it wasn't a pit bull." What a completely strange comment for her to make. It makes me wonder what it was.

Dayna Hamilton | 2/08/2016 8:45 PM | Flag
She had put the baby in a laundry basket to sleep. Then I scroll down and see two pics of dogs in laundry baskets. She put the baby in one of the dog's beds! Some dogs are possessive of things like that. I don't know if these dogs have any pit in them or not. What a screwed up situation all around.

Colleen Lynn | 2/08/2016 8:56 PM | Flag
You are exactly correct. She put the baby in one of the dog's beds. The entire situation is surreal. That and a 5 dog household with a newborn. We do not know what police will do. Apparently, the mother has a long track record of making mistakes.

Melissa Delaney | 2/08/2016 9:12 PM | Flag
The dog is a shepherd mix, could be mixed with anything. I saw all the photos of the dog in the laundry baskets and immediately thought the dog must have been confused and territorial towards the baby, which is the mother's fault. I do not know in what universe one would think it is ok to put a baby in the same basket a dog usually sleeps in. Lack of common sense is the problem.

Katrina Wolfe | 2/08/2016 9:56 PM | Flag
The baby's injuries were all to his face...its apparent that the dog tried to move him.
Mother just gave birth,arrived home the night prior. Anyone knows how this is with a new born. Excitement,overwhelmed and sleep deprived...results in not using good judgment. Plus, not enough introduction time to the family pets.
Its a unfathomable, horrific accident and no doubt mom is in a zombie/shock mode.
None of us would want to be in her place right now.

Your Quiet Neighbor | 2/09/2016 7:28 AM | Flag
Dogs are also a product of their breedings.

Your Quiet Neighbor | 2/09/2016 7:30 AM | Flag
People have to come first. It is high time that we stopped catering to the dog industry.

Heather Myers | 2/09/2016 12:23 PM | Flag
This baby was my nephew. I talked to Krissy about stuff while she was pregnant she was always complaining that she didn't have food and was hungry. He mother wanted her out and didn't want the baby to be there that night. The father wanted to take the baby and she wouldn't let him. He was worried about the household and the dogs. He knew of one that was vicious. She told me in a message that the baby was in the dogs bed. I'm so angry and upset by this. They should have never let that baby come home with her. I don't even know if she was prepared to be able to feed him at home. I'm just sick and too far away to have done anything about it.

Colleen Lynn | 2/09/2016 12:45 PM | Flag
My heart aches for you Heather. I am so sorry for everyone involved. You can always contact my nonprofit for additional help (http://www.dogsbite.org/dogsbite-contact.php)

joelande | 2/09/2016 2:19 PM | Flag
Heather, she mentioned that the dog responsible for this was her brother's dog.

Why did she have so many dogs in this household? Where did they come from?

I am sorry for your family's loss.

DonnellyLassie | 2/09/2016 4:20 PM | Flag
This is a tragic story. An innocent new born here and gone within a matter of hours. A young naive incompetent mother making a series of mistakes, struggling for food let alone a place to stay the night with her hours old infant. A grandmother who wanted her daughter and grandchild out of her house, and who didn't think or care to protect the baby either? And finally a dog, a pet, one of five, as a culprit. Tho... there are many culprits in this sad sad story. I hope the girl is being given some professional counseling before this story gets even worse.


DonnellyLassie | 2/09/2016 4:40 PM | Flag
To the admin, owner, creator, of this site... I came here to see what was so misleading about this site (per pit bull advocates description). I find no bias, no junk statistics, etc. If anything, it is perhaps one of the most informative and thorough sites I've come across. Once again I am baffled by their adamant denial of fact and science, coupled with a complete lack of logic and reasoning. Not to mention empathy, which often seems feigned if present at all. This is a whole new sub-set of our culture I didn't previously know existed.

Great site, champion on...


Bailey | 2/09/2016 7:19 PM | Flag
This story truly sickens me. This baby got only 3 days in this world. And to be taken out in such and painful way is extremely heartbreaking. Not to mention that this death, like SO MANY others was completely preventable. Now I know the mother was going through tough times and whatnot, but I cannot excuse her negligence. How in the hell do you put your baby in a laundry basket, that your dogs use as beds no less, and leave him alone while you go sleep on the couch? In a house with 5 freaking dogs. That is completely unacceptable. If anything, this woman should be charged with negligence at the very least.

I've seen reports saying that the killer dog in question crushed the baby's skull. At first that screamed pit to me, but honestly at 3 days old, any large breed dog could have done this. I'm in no way suggesting it wasn't a pit or similar breed, though. Heck, to me, any "mixed breed" dog that kills someone is a pit unless proven otherwise. The fact that they still haven't said anything with regards to the breed makes me even believe even more that the dog had some bully breed DNA blood.

This is a tragic situation all the way around. I'll be praying for this baby's family.

Colleen Lynn | 2/09/2016 7:49 PM | Flag
Bailey, in the most recent update by WFMJ, they do name the breed and show photos. It was one of the golden/brown dogs... Also, "Dr. Ohr says the dog is a male Labrador and Shepard mix that has never attacked anyone and has no history of aggression." http://www.wfmj.com/story/31180204/death-of-youngstown-infant-ruled-an-accident

a.chandanais | 2/10/2016 12:23 PM | Flag
Precisely. Everyone is so quick to judge though.. off facebook posts. Disgusting

Bailey | 2/10/2016 7:34 PM | Flag
Colleen Lynn, thank you for the update. If this is true, I'm personally a bit surprised that it's not a form of bully breed. I don't like Shepards either or any large breed for that matter so it's not a huge shocker for me. Regardless, of the breed, this is still a horribly sad situation all around.