Friday, March 13, 2015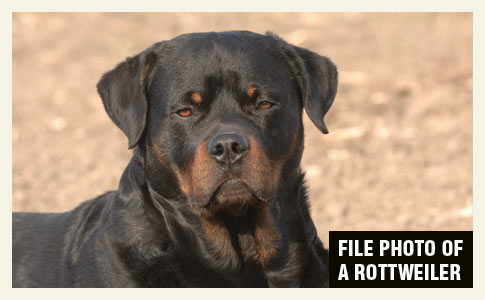 Rottweiler Kills Owner
Sulphur Springs, TX - An elderly woman was mauled to death by her pet rottweiler on Thursday night, according to Sulphur Springs police. Betty Wood, 78-years old, was attacked and killed by the dog in her home in the 1400 block of North Davis Street. Police Chief Jay Sanders said his department responded to a call of a possible deceased person about 7 pm. The woman's daughter, who lives next-door, discovered her mother's body. Wood lived alone in the home.
"It was really bad. Just a terrible situation." - Police Chief Jay Sanders
Through an initial investigation, his department determined that she was killed by her own dog, which she had owned for about 5-years. The
Medical Examiner's Office in Dallas
confirmed their findings. Sanders told KLTV News, "I've been doing this 30 years and that scene was about as gruesome as I've ever seen." The family rottweiler was initially quarantined then euthanized on Friday. The Texas Rangers assisted the Sulphur Springs Police Department with the case.

View the DogsBite.org Google Map:
U.S. Fatal Rottweiler Attacks By State
---

Texas Dog Bite Victims' Advocacy
-
Join our Texas email list to stay informed
Related articles:
02/11/15:
2014 U.S. Dog Bite Fatality Statistics - DogsBite.org
04/04/14:
Fatal Rottweiler Attacks - The Archival Record
03/20/13:
Report: Texas Dog Bite Fatalities, January 1, 2005 to February 17, 2013
Labels: Fatal Rottweiler Attack, Senior Citizen, Senior Citizen Fatality, Texas

Please donate to support our work
DogsBite.org is a 501(c)(3) tax-exempt public charity organization. Learn more »
posted by
|
permalink
|
2 comments
|

email
|

blog rss
|

comment rss

2 comments:

herzeleid | 3/13/2015 9:45 PM | Flag
Had it been a pit bull there would have been a huge campaign to save it.

freefromsexpozzies | 3/15/2015 11:45 AM | Flag
I was literally just thinking this.
When it's not a pit it's PTS ASAP, no one complains.
When it's a pit, hoardes if people offer to adopt it.