Friday, December 7, 2012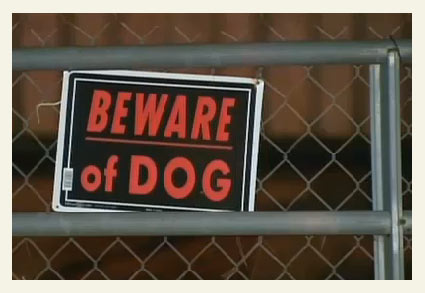 Beware of Dog sign on fence of child mauling victim's home.
Local Club Acts
Spaulding County, GA - This week we learned about
another
airlift to
Children's Healthcare of Atlanta at Egleston
due to a life-threatening pit bull mauling. 5-year old Lilly Goodson was brutally attacked by the family pit bull on Wednesday in her own fenced-in backyard. Capt. Dwayne Jones told the Atlanta Journal-Constitution, "When the officer arrived, the dog was latched onto the child's face." The officer was forced to shoot the pit bull
while it still had the child in its jaws
.
1
A "landing zone" for the helicopter was established in a nearby shopping center to pick up the child and fly her to Egleston.
Today, it was announced that the Griffin Shrine Club of Georgia stepped in to help Lilly. This is the third child pit bull mauling victim from a southern state taken into the
Shriners Hospitals for Children program
since 2011. Other victims include:
Brandon Williams
of Cocke County, TN and
George Sumrall
of Columbia, SC -- both also suffered severe facial injuries. All three children are being treated at
Shriners Hospital for Children in Cincinnati, Ohio
-- a Verified Burn Center.
Prior to the attack, the Griffin Shrine Club had already adopted the Goodson family for Christmas, buying gifts for Lilly and her three brothers and sisters.
2
After learning about the horrific pit bull mauling, the Griffin Club put plans in motion to transfer Lilly free of charge to the Cincinnati hospital. "She is going to need several extensive surgeries. There is no way without the help of Shriners hospital that the family could afford to do that," said club member Bill Hatchet.
The child was listed in critical condition yesterday and is still not stable enough to transfer.
1
Griffin Police Cpl. Stan Phillips shot the dog once. Phillips fired a second round after the pit bull went to re-engage again. At that point, the dog fled. Phillips pursued the dog and fired "several more rounds until it dropped."
2
The last thing this child's struggling family ever needed was a pit bull.
Related articles
07/29/12:
Cocke County Dog Mauling Victim Moves into New Home Built by Volunteers
09/04/11:
Update on 2-Year Old Pit Bull Scalping Victim George Sumrall
05/26/11:
Shriners Step in to Help South Carolina Pit Bull Mauling Victim
Labels: Georgia, Pit Bull Attack Survivor, Shriners Hospitals for Children, South Carolina, Tennessee

Please donate to support our work
DogsBite.org is a 501(c)(3) tax-exempt public charity organization. Learn more »
posted by
|
permalink
|
5 comments
|

email
|

blog rss
|

comment rss

5 comments:

Your Quiet Neighbor | 12/08/2012 10:38 AM | Flag
Is there any way for the Shriners to say "We'll pay for treatment, but no more pit bulls for this family," or something else that's equally forceful? It seems like they're in need of some Pit Bull Reality Education.

Decatur AL livin nt to 4 pits | 12/08/2012 11:43 AM | Flag
The Grandmother is interviewed and she is saying the dog that latched on and would not let go was the beloved .... AMERICAN BULLDOG !!!

maultalk | 12/08/2012 11:52 AM | Flag
The missing teeth "hero" grandmother? There aren't words.

Decatur AL livin nt to 4 pits | 12/08/2012 12:01 PM | Flag
I want to know what the breed or mix of all 3 dogs was - Police 1st said Pit Bull now Granny says American Bulldog - "SOMEHOW" ALL THE HEROISM FALLS FLAT CONSIDERING THE CHILD WAS ALLOWED TO PLAY AROUND THOSE 3 DOGS TO BEGIN WITH APPARENTLY FOR HER ENTIRE LIFE.

maultalk | 12/08/2012 12:21 PM | Flag
It was never going to happen to "her" grandchild, which is why the dangerous dog sign was hanging on the fence? Except that it did, and it required a special airlift, a police officer shooting the dog to death -- God knows how many first responders in total -- hospital workers at Egleston, all of the neighbors that helped and of course now Shriners as well. "It takes a village" to care for a child mauled by a pit bull? That would be an understatement. The fact that all of the dogs were removed isn't uncommon after an attack. What would be common is if Granny (or a brother or uncle at the home) was breeding. Here's to the Nanny Dog!